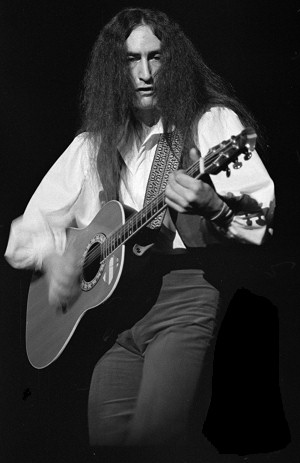 Ken Hensley
---
Hello,
Today we celebrate again a birthday of a rock legend. If you ever heard of Uriah Heep you should know also Ken Hensley. Ken Hensley was one of the band's members in the '70s and the composer of the biggest hits Uriah Heep had. Ken Hensley was born on 24 August 1945 in England. His real name is Kenneth William David Hensley.
He was a member of Uriah Heep from 1970 to 1980 and had several roles besides composing, such as voice, keyboard and guitar.
The most famous song where he was the lead vocalist and the composer was Lady in Black which appeared in 1971 on the album Salisbury.
---
Hallo,
heute feiern wir wieder ein Geburtstag einer Rock Legende. Wenn ihr von Uriah Heep je gehört habt, solltet den Namen
Ken Hensley kennen. Ken Hensley war einer der Band Mitglieder in den 70'er und der eigentliche Komponist der größten Hits die Uriah Heep hatte. Ken Hensley wurde am 24 August 1945 geboren. Sein eigentlicher Name ist Kenneth William David Hensley.
Er war Mitglied bei Uriah Heep von 1970 bis 1980 und hatte mehrere Rollen neben komponieren, wie zum Beispiel Stimme, Keyboard und Gitarre.
Das bekannteste Lied wo er die Haupt Stimme war und selber komponiert hat war Lady in Black das 1971 erschienen ist auf den Album Salisbury.
---
Uriah Heep - Lady In Black
---
Another song he wrote and where his voice is the lead one is Look At Yourself from 1972.
---
Ein anderes Lied das er geschrieben hat und wo seine Stimme die Haupt Stimme ist Look At Yourself von 1972.
---
Uriah Heep - Look At Yourself
---
I will now mention two songs that he wrote and which stormed the charts in the 70s. The first one is Easy Livin' and was released in 1972.
---
Ich werde jetzt noch zwei Lieder erwähnen die die Charts in den 70er gestürmt haben und die er geschrieben hat. Das erste ist Easy Livin' und ist 1972 erschienen.
---
Uriah Heep - Easy Livin'
---
The second is Stealin and was released in 1973 on the album Sweet Freedom.
---
Der zweite ist Stealin und wurde 1973 veröffentlicht auf den Album Sweet Freedom.
---