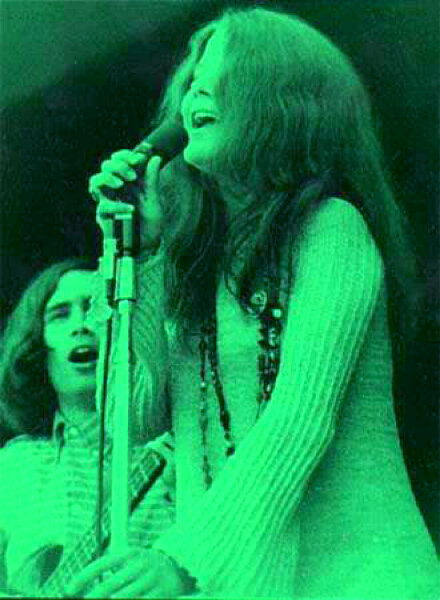 Janis Joplin
---
Hello,
Today I'm taking a day off with the challenge because today's topic is very difficult and I do not want to comment on that.
Today I felt like listening to old rock again. One of my favorite voices is that of Janis Joplin, born Janis Lyn Joplin. I will not write a lot about her life but I will introduce you to the songs that are good or at least that I like them. Her short and intense life has been exciting, through the many trips, relationships, concerts, Woodstock and everything that happened in that time.
Janis moved to San Francisco where she released together with Big Brother and the Holding Company her first album Big Brother & the Holding Company.
The first single was a cover to Piece of My Heart where the original is by Erma Franklin. The version of Janis is the best of the published in my opinion.
---
Hallo,
heute mache ich ein Tag Pause mit der Challenge weil das heutige Thema sehr schwer ist und ich möchte da mich nicht äußern.
Heute hatte ich wieder Lust gehabt auf altes Rock. Eines meiner Lieblings Stimmen ist die von Janis Joplin, gebürtig Janis Lyn Joplin. Ich werde jetzt nicht über Leben viel schreiben sondern euch Lieder die gut sind vorstellen. Ihr kurzes und intensives Leben war schon spannend, durch die vielen Reisen, Beziehungen, Konzerte, Woodstock und alles was in der Zeit geschehen ist.
Janis ist nach San Francisco gezogen wo sie zusammen mit Big Brother and the Holding Company veröffentlichte ihren ersten Album Big Brother&the Holding Company.
Die erste Single war ein Cover Piece of My Heart im Original von Erma Franklin. Die Version von Janis ist die Beste von der veröffentlichten meiner Meinung nach.
---
Janis Joplin - Piece of My Heart
---
Right after that came another cover, Summertime by George Gershwin. The song is special and very sad in this interpretation.
---
Gleich danach kam ein anderes Cover, das von Summertime im Original von George Gershwin. Das Lied ist besonders und in dieser Interpretation sehr traurig.
---
Janis Joplin - Summertime
---
If we're on covers, I have to mention Me & Bobby McGee. The original is from one of the lovers of Janis namely from Kris Kristofferson. Yes, thatKris Kristofferson was one of the lovers she had.
---
Wenn wir bei Covern sind, muss ich den von Me & Bobby McGee erwähnen. Das Original stammt von einer der Geliebten von Janis nämlich Kris Kristofferson. Ja, der Kris Kristofferson war einer der Geliebten die sie hatte.
---
Janis Joplin - Me & Bobby McGee
---
A song that suited your voice Cry Baby. The song changes often and can show the strength of the voice. I think it's one of the best of Janis, if not her best song.
---
Ein Lied das passend für Ihre Stimme war Cry Baby. Das Lied wechselt oft und kann die Stärke der Stimme zeigen. Ich finde es ist einer der besten von Janis, wenn nicht das Beste Lied.
---
Janis Joplin - Cry Baby
---
I almost forgot these To Love Somebody cover. It's a song from the Bee Gees.
---
Ich hätte fast diesen Cover von To Love Somebody vergessen. Es ist ein Lied von den Bee Gees.
---
Janis Joplin - To Love Somebody
---
The blues voice can be recognized in Ball and Chain.
---
Die Blues Stimme kann man in Ball and Chain erkennen.
---
Janis Joplin - Ball and Chain
---
The last recorded song was Mercedes Benz 3 days before her death. The song was recorded in one take which was also remarkable. It's a socially critical song. What may seem funny is that Janis drove a Porsche, not a Mercedes Benz. (I hope that you hear the voice singing when you read the last line)
---
Das letzte aufgenommene Lied war Mercedes Benz und das 3 Tage vor Ihrem Tod. Das Lied wurde in einem Schuss aufgenommen was auch bemerkenswert war. Es ist ein sozial kritisches Lied. Was witzig erscheinen kann ist das Janis eine Porsche gefahren hat, kein Mercedes Benz.
---