Although it isn't completely sure for the moment if I can go (due to planning issues in the family :) ) my intention is to be at Steemfest this year. @anomadsoul had this great idea to let us talk a bit about ourselves for the next weeks in the time towards the @steemfest date. @soyrosa asked me to join so of course I did ;)
So here are three fun-fact's which you problably didn't knew about me.
originally I am a Chef and pastry chef
yes, I can cook :). I have learned to become a chef and I do have my diploma's for it too. So why am I not working as a chef?... Well, the time when I came from school I did started to work in a restaurant as a sous-chef, but after a while I couldn't handle the working times. And with "couldn't handle" I mean that I really had a problem with being day's of while other (friends) were working and vice versa, being at work when others where free. I think it had very much to do with my age at that time (19) , I wanted to party with friends and not alone :)
Before Steemit I never blogged in my life
My first time of blogging was on Steemit, that was january 2018. Before that I never blogged or vlogged before.
My kids are saying I am crazy when I am sitting in my music room recording a steemit video while bassplaying. They make fun of me all the time. We all have a great laugh about it, but I really like doing this on Steemit. I love the interaction with all the other people. When recording a video I am still quite nervous because I am normally not the person to do so.. :)
I have been local champion in Fencing
When I was 12 or 13 I played Fencing for sports. I have done it several years and enjoyed it at that time.
I became the Champignon in Zutphen on foil and epee. It sounds like if I was quite good, but there were only 3 participants ;)....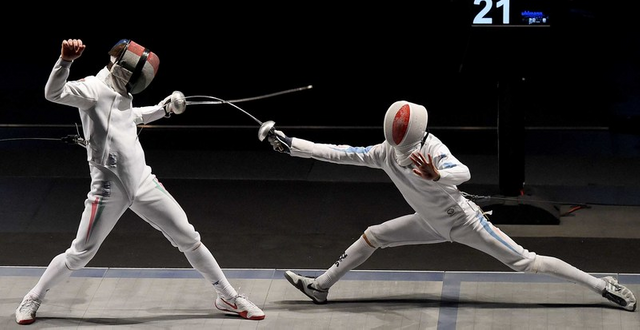 Source