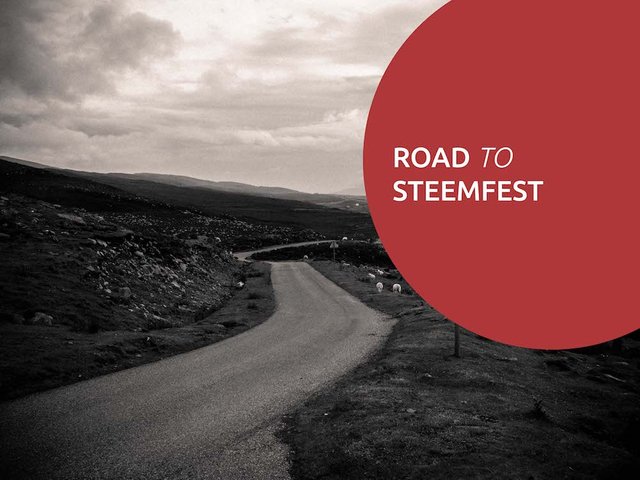 Wh00p! Free time! Thanks for this weeks #roadtosteemfest topic @coruscate and @anomadsoul!
I'm super curious about all the speakers at SteemFest and in case I now sound like a nerd, well - I was always a real student who listened to her professors speak and took notes and basically just likes being fed with stories and info and... Anything, really. And, you know, if the speakers are not that interesting after all we all have something to gossip about - did you know people bond more easily over things they both don't like than over things they both do like?
Hmmm - is that why Steemians are complaining all the time and in the meanwhile feel so connected to one another?
---
Is this an introductionary paragraph of a psychologist maybe?
Will you make notes on all of us @soyrosa?
(Yes, I will)
---
But now, more serious, I do love being able to take part in the 'serious' part of the SteemFest, but the Fest ofcourse is where it will all happen: the chatting, laughing, the awkwardness dissolving thanks to a few gulps of cheap beer. The moments where we'll connect to that one Steemian we never got to know before, to connect deeper to that one we 'already know' (or some met last year, lucky bastards), and cry and laugh about differences and similarities in our lives.
There will be some 'free time' at SteemFest (which is basically just planned social time so the introverts can't hide behind a schedule, but well) and I personally will spend them:
Drinking coffee before arriving anywhere in the morning in some obscure/hipster roaster type café
Eating amazing Polish street food specialties while ignoring the cold (puts buying a wool coat before November on checklist)
Taking pictures of the lovely architecture that Pinterest promises me
Going to Auschwitz
Drinking red red wine in a cozy café with those who don't like clubbing but do like being social without overly loud music and/or aggressive elbows and/or sweaty bodies and/or being hit on by pretty people (ooooooooh, okay, now I know why you're going clubbing, but you can also join me and my glass of red wine :D)
Going to a museum or the art district (I still need to put up a list of my cultural wishlist for Kraków) and at least one off-the-beaten-track
Stroll around Kazimierz, Kraków's Jewish Quarter
Stroll around the Old Town
Stroll alongside the river because water calms my mind and body
Make a fool out of myself during the bowling event @roelandp made up for us (if you want to be in the coolest and 'most glorious at losing team' join me :D Losers are allowed more drinks!)
Do some window shopping: galleries, vintage shops, antique shops - I value anyone who takes the time to make things beautiful
Write a quick post because the excitement needs an outlet and you guys at SteemFest will all be as excited as me so talking with you won't help
Sitting on a bench at a random square or inside a little café and observe people (Honestly, I'll teach you a lot about observing people. I have a university degree in observing people.)
---
Now, I'll arrive in Kraków the 6th and leave the 15th - so anyone who wants to hang before, during and/or after SteemFest with me, pick one of the options from the list above (morning coffee is solo time though :P) and let me know in the comments :D
---