Money, Money, Money. When thinking about Steemfest Bangkok edition the only think we really want to think about is being there, having a good time, spending some, learning and sharing about crypto, but reality is. Some Benjamins will have to will drawn for it for us all to get there.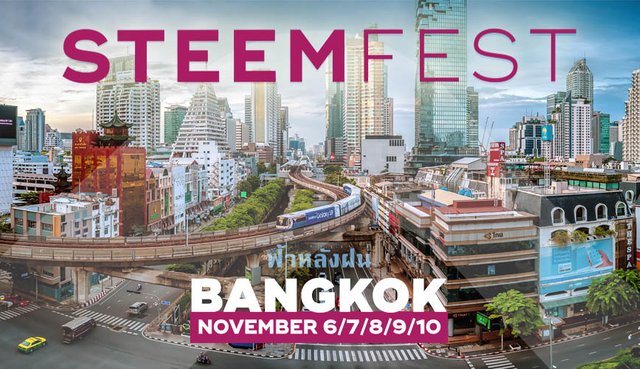 Ow where even to begin with on thinking how the funding of my own trip will work on this on. My intention is on staying a bit longer in Thailand like a week of two, so I am going to treat this trip like a vacation, so the saving for it has already long time started. I travel a lot, I know travel just costs money. Period! So many things to think about. Flights, hotels, food, stuff to do. Well let us see, how this all works!
This year I will not travel alone but my non Steeming active +1 will join me. This means double on the tickets, but that will also split the hotel costs in half as well, which is a good thing. Also eating and transport is dirt cheap in Thailand so that will surely help on reducing the costs.
One thing already to think about is are the hotel costs. Last year at #SF3 I stayed at the Qubus hotel (the venue where a lot of the events were held), which was for Polish behalfs very expensive I found, but on the other hand it did save me a lot of costs in Ubers but most importantly, walks alone home in the middle of the night. Convenience was the bomb when you look at it. The down side with that was the hangover walk of shame in the morning to the breakfast buffet, which often also turned out nicely with mingling there. So pro's and con's about staying at the venue hotel. But @roelandp did a really awesome job in getting these deals and lazyness might just take over so so we will see about that.

Now for the fest tickets. Here you can see the pricing of it, and according to this I am a minnow which will cost me $333 or speaking on Tuesday 6 August with a Steemprice of $0.21 this is 1585 Steem as we speak. Hmmmmm, that is a load of liquid to work for very long. One the one hand side, I have been saving liquid Steem for events and chances like these, on the other hand I don't want to spend all my precious Steem so I am going to look for fiat options for this one. Also I remember somewhere that these prices last until end of August, and after that the price will go up, am I right? So time to make some choices very soon on this one!
One thing I surely will be using is the info off of @gtg post about discounts on planedeals. I think it is truly amazing how many airlines he got on board and I will surely make an effort of giving the personal thanks at #SF4 , because these ones save bucks ej! I'm not sure how he pulled this off, but apparently it never hurts to ask on these kinds of things. This will most likely save half of my Steemfest entry ticket in reducing plane costs, which is a LOT
Conclusion?
I still haven't taken care of anything as yet, but this will work out in the end I am sure. Now let's support all the people who are working their asses off to make this all happen. As well in the organisation, as the people who are trying to attend!

Want to join in on the Steemfest fun, and maybe even make a small buck funding your ticket while doing so? Here is the small set of rules to follow coming from @anomadsoul post:
You have until Monday 12th of August to post about this topic.
Use the tag #roadtosteemfest and #blocktradescontest so we can all find the posts and get to vote on our posts to hoelp out our funding.
Every Steemian who makes a quality post about this topic, will get a vote from @blocktrades - percentage may change depending the quality of the post, just make sure to use the tags "roadtosteemfest" and "blocktradescontest".