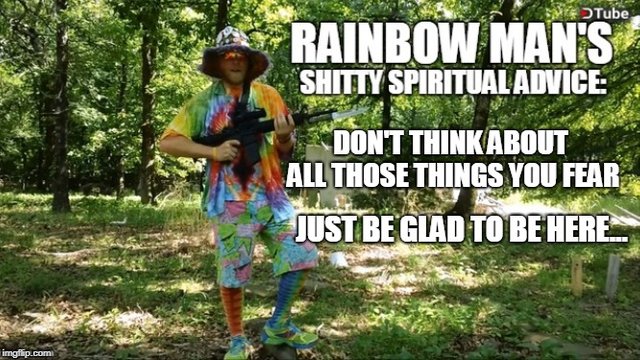 ---
As an activist, one way I help keep my sanity despite all the SHTF going on around the world and here in the States today is by jamming out to music. Usually because most music I listen too has an inspiring mind breaking truthful message that connects with me on a deeper spiritual level. I mean we all have our favorite songs and music right? I have an eclectic taste in music. Usually I find myself listening to hard, classic, or psychedelic rock that I have on vinyl from the 60s, 70s, and 80s. Sometimes I'm jamming out to heavy metal and even some German death metal. Sometimes I find myself listening to techno/electronica. My wife Bridget even got me listening to this new music genre going around called electro-swing.
Then there are times I will find myself listening to something that is totally off the wall. Something so nuts that it inspires me to want to share this music video that I am about to share with you all that has today's message in it.
Don't think about all those things you fear. Just be glad to be here...
Don't worry this music video isn't graphic full of violence or nudity. So your kids can watch this if you want them too.
---
This is by far the tripiest music video that I have EVER seen yet. The beat, the rhythm, the robot coming out of the piano, and the repetitiveness of the message, "Don't think about all those things you fear, just be glad to be here." These are the only lyrics in this song. This video really is the ultimate paradox. As above, so below. In fact, this music video is now on my shit list of videos to watch with a head full of acid. Seriously, on one hand this video is the truth. The other, this video is Orwellian. What kind of Big Brother New World Order CIA bullshit are they trying to tell us by putting this music video out there? It will make sense once you watch the video. Notice the crown too on the robot at 2 mins and 35 seconds. Hmmm
Regardless of what you think of the video I hope its message helps calm your anxieties bringing you back to reality in a more peaceful state. It sure does help center me allowing me to find peace in my heart keeping me focused on what really matters in life. Especially on the days I'm having that are more stressful than others. Like the days when I'm feeling down or depressed and pissed off that I can't stab a nice long flat head screw driver through the ear of one of these little gun grabbing, pro-vaccine, Tide Pod eaters twisting their heads off like I want too! We can't have that can we? NO! Don't think about all those things you fear, just be glad to be here...
Just be glad to be here...
Just be glad to be here...
See, I feel better already!
Thanks for looking and enjoying the video assuming you watched it.
Stay Un-Tune-Ed
---
Join the TRUTH Party, The Radical Underground Tyrant Haters Party!!!
Comedy through activism, activism through comedy.
Keep your democracy off of my Sovereignty!
Welcome to the NEW West!!!