[AD] Incentivized Testnet Phase 2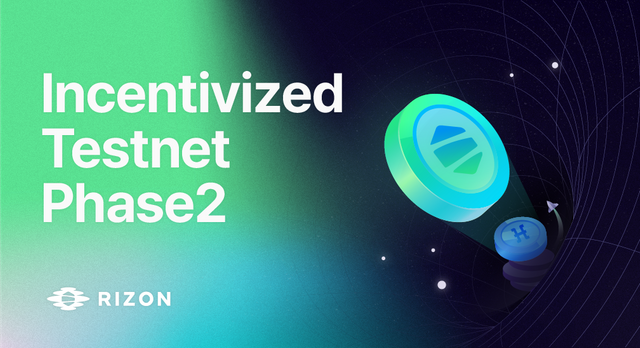 The testnet Groot-07 of the Rizon blockchain started on June 10th. During Phase 1, over 1000 teams actively participated in node operation and various community activities.
Phase 2 — Token Swap Test and Cold Boot (2021/08/01 ~ )
Phase 2 will continue as an incentivized testnet following Phase 1, and the token swap test will be conducted to safely switch from Hdac to Rizon. In addition, Genesis Validators will be selected to test the same environment as the actual mainnet launch. For this purpose, validators participating as the Genesis Validator must submit GenTx. Submission guide will be delivered soon.
Schedule: August 1st ~
Highlights: Token Swap from Hdac Testnet Chain to Rizon Testnet
Swap test participants: 100 teams (Identity verification is mandatory)
Hdac testnet mnemonic to be delivered after creation
In the Phase 2 of the testnet, same as the Phase 1, the Faucet will be provided when participating in the testnet. The participants will be rewarded for the testnet missions such as bug reports, network attacks, product development, marketing, network stress test, and ecosystem contribution.
Thank you for your active participation and interest.
Participate in Testnet | https://discord.gg/xucNVbtx
Participation form | https://forms.gle/gXRNJND6ULSejZtbA
Testnet Explorer | https://testnet.mintscan.io/rizon/
Suggest a Partnership | [email protected]
Disclaimer
By checking this form, on your own behalf or in the capacity as a duly authorized representative of an entity (in either capacity, as applicable, "you") hereby represent, warrant and covenant, in each case, as applicable, to, and for the benefit of, HDAC Technology AG ("HDAC") (each, a "Certification" and, collectively, the "Certifications") that:
You neither are a citizen, resident nor tax resident of the United States of America (hereinafter referred to as the "U.S."), Canada, Philippines nor otherwise constitute a "U.S. person" (as defined in Rule 902 of Regulation S under the U.S. Securities Act of 1933, as amended (the "U.S. Securities Act")), "Canada person", "Philippines person" and you are not otherwise present or located in the U.S., Canada, Philippines on and as of the date hereof;
Official Channels
Website | https://www.hdactech.com
Medium(Global) | https://medium.com/hdac
Medium(Korean) | https://medium.com/hdackorea
Facebook | https://www.facebook.com/hdacrizon
Twitter | https://twitter.com/hdac_rizon
Youtube | https://www.youtube.com/channel/UCGQXVXTs7RllAirD3YjjZIQ
Official Communities
Global(Eco-system) | https://discord.gg/DvZFA7mpuX
Global(Newsroom) | https://t.me/rizon_atolo_news_en
Global(Community) | https://t.me/rizon_atolo_en
Chinese(公告) | https://t.me/rizon_atolo_news_cn
Chinese(网络) | https://t.me/rizonatolo_cn
Korean(공지) | https://t.me/rizon_atolo_news_kr
Korean(소통) | https://t.me/rizon_atolo_kr
Original post : https://medium.com/hdac/incentivized-testnet-phase-2-4949b6a34563