Menunggu dan Melupakan | Waiting and Forgetting
Menunggu dan Melupakan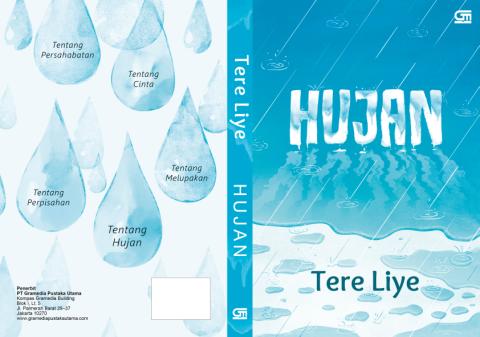 "Hidup ini memang tentang menunggu. Menunggu kita untuk menyadari, kapan kita akan berhenti menunggu."(hlm. 228). Suatu penggalan kalimat yang membuat saya untuk tidak berhenti menunggu apapun, karena menunggu itu suatu hal yang tidak menyenangkan bagi saya.
Tokoh utama yang dipertemukan pasca terjadi bencana gunung meletus pada tahun 2042. Yang mengakibatkan bumi hancur dan meluluh lantakan isinya, serta hanya menyisakan 10% manusia berikut mengacaukan iklim serta cuaca di bumi. Kedua tokoh utama itu adalah Lail dan Esok. Lail yang merupakan seorang gadis sederhana yang tinggal di panti sosial dan menjadi seorang relawan kemanusiaan, serta melanjutkan studinya di sekolah perawat, sedangkan Esok seorang anak laki-laki yang jenius dan pintar yang berhasil menciptakan mobil terbang yang pertama pada saat itu.
Menggambil latar tahun 2042-2050, novel percintaan ini menceritakan tentang dunia masa depan dengan teknologi yang sangat canggih. Ilmu pengetahuan dan teknologi yang sangat canggih. Sehingga bisa di kategorikan sebagai novel bergenre science-fiction. Dalam ceritanya manusia sudah dapat digantikan oleh teknologi-teknologi muktahir sejagad raya. Manusia sangat dimanja oleh teknologi sehingga tidak perlu memasak lagi, berpergian dengan sopir atau membawa sendiri. Tetapi manusia tidak bisa meninggalkan kodratnya yang memiliki rasa cinta, benci, rindu, sedih, senang dan sebaginya. Hal tersebutlah yang menjadi konflik jalannya ceritanya.
Cerita ini dimulai dari peristiwa kedatangan Lail ke Pusat Terapi Saraf untuk menghilangkan ingatannya terhadap suatu hal. Dengan bertemunya Eljiah yang merupakan seorang paramedis senior, Lail langsung meminta kepadanya untuk membantu menghilangkan ingatannya terhadap Hujan. "aku ingin melupakan hujan"kata Lail. Sebab delapan tahun yang lalu, 21 Mei 2042 terjadi Letusan gunung Purba tersebut. Dengan seketika Lail yang waktu itu masih berusia 13 tahun, mendadak sebatang kara. Kedua orang tuanya meninggal dalam peristiwa tersebut. Dalam kejadian itu Lail yang ditolong oleh Esok dari keruruntuhan tangga kereta api bawah tanah. Dan Esok yang msih berusia 15 tahun. Mulai dari situh Lail dan Esok mulai dekat dan sering main bareng. Esok pun menjadi sosok kakak untuk Lail, yang suatu hari nanti ia akan menjadi sosok yang sangat berharga bagi Lail.
Suatu hari ada berita Esok akan diadobsi oleh keluarga yang memiliki ekonomian yang baik. Dengan seketika, Lail merasa sedih karena harus berpisah. Dan waktu yang bersamaan Lail dapat tinggal di Panti Sosial, tempat penampungan anak-anak seusianya. Di sinilah Lail dan Maryam bertemu, gadis kecil yang akan menjadi sahabat baik Lail. Dengan tegar Lail menjalani hidupnya, waktu berlalu begitu cepat, hari berganti demi hari. Lail beranjak tumbuh dewasa, sambil terus berkata "kan kemana ujung kisah hidup ku akan bermuara". Dengan sambil merenungkan saat-saat bersama Esok.
Segala pahit manis kehidupan telah dilewatinya. Berjuta memori mengisi hari-hari Lail yang berisi tentang kebahagiaan, tentang kesedihan, tentang pertemuan, tentang perpisahaan, tentnag cinta, tentang hujan. Semuanya berkelanyut dipikiran Lail. Sehingga membuat Lail Sedih, bingung dan merasa sesak, yang akhirnya Lail nekat menemui dokter ahli saraf untuk menghapus sebagian ingatnnya, yakni ingatannya tentang hujan, terutama tentang Esok.
Pada detik-detik terakhir, sebelum melakukan penghapusan ingatannya, Lail memutuskan untuk memeluk erat semua kenangan menyakitkannya. Dan pada waktu yang bersamaan, Elijah meyakinkan Lail untuk tidak melakukan penghapusan ingatan tersebut, Elijah menyampaikan kepada Lail bahwa bukan melupakan yang menjadi masalahnya. Tapi menerima. Barang siapa yang bisa menerima, maka dia akan bisa melupakan, hidup bahagia. Tapi jika dia tidak bisa menerima, dia tidak akan pernah bisa melupakan hal tersebut.
Novel yang menjadi Besteller pada 2016 ini sangat menarik. Dengan penggunaan bahasa yang ringan dan mudah dipahami. Banyak kejutan-kejutan yang terjadi dalam novel ini dan tidak pernah dibayangkan sebelumnya. Sehingga tidak membuat bosan para pembacanya. Walaupun halaman yang cukup tebal dan karakter Lail yang masih kurang kuat dalam cerita tersebut, novel ini tetap menginspirasikan para pembacanya dengan kalimat-kalimat menyentuh hati.
Novel ini saya sangat rekomendasikan bagi kalian para pencinta sajak puitis dan terkhusus bagi para remaja masa kini.
Judul Novel : Hujan
Penulis : Darwis Tere Liye
Penerbit : PT. Gramedia Pustaka Umum
Tahun Terbit : 2016
Tebal Buku : 320 hlm, 20 cm
ISBN : 978-602-03-2478-4
Waiting and Forgetting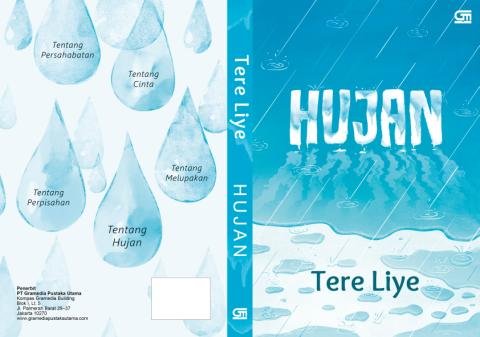 "Life is about waiting, waiting for us to realize when we will stop waiting" (page 228). A fragment of sentences that made me not to stop waiting for anything, because waiting is an unpleasant thing for me.
The main character who met after the catastrophic eruption of the volcano erupted in 2042. The earth's odor was destroyed and devastated by its contents, leaving only 10% of the people following disrupting the climate and weather on earth. The two main characters are Lail and Tomorrow. Lail who was a simple girl who lived in a social home and became a humanitarian volunteer, and so her studies at nursing school, while tomorrow a genius and clever boy who managed to create the first flying car at the time.
Picking up again in 2042-2050, this romance novel tells the future of the world with highly sophisticated technology. Science and technology are very sophisticated. It can be categorized as a science-fiction novel genre. In the story of human beings can be replaced by advanced technologies world wide. Humans are so pampered by technology that it does not need to be cooked anymore, travel with a driver or take it yourself. Of course humans can not have the nature that has a sense of love, hate, longing, sad, happy and so on. It is the conflict of the story.
The story begins from the event leading up to the Lail to the Center for Neural Therapy to eliminate his memory of a thing. With the meeting of Eljiah who is a senior paramedic, Lail immediately asked to wake up to help eliminate his memory of the Rain. "I want to forget the rain," Lail said. For eight years ago, May 21, 2042 occurred the eruption of the ancient mountain. Immediately Lail who was then aged 13 years, suddenly alone. Both parents in that period. In that event Lail is helped by Tomorrow from the underground railroad crash. And tomorrow is msih 15 years old. Starting from situh Lail and Tomorrow start close and often play together. Tomorrow became a brother figure for Lail, who someday he will become a very superior figure for Lail.
One day there will be news tomorrow will be adopted by families who have a good economy. Immediately, Lail felt sad at having to part. And at the same time Lail could live in a Social Home, a shelter for children her age. This is where Lail and Maryam meet, the little girl who will be Lail's best friend. Lail firmly Lail through life, time passes so fast, day after day. Lail grows up, while it keeps saying "right where the end of my life story will lead". By contemplating moments together Tomorrow.
All the bitter sweetness of life has passed. Millions of memories fill Lail's days of happiness, of sadness, of meeting, of separation, of love, of rain. All of them wander in mind Lail Make Lail Sad, confused and feeling crowded, Lail finally reckless as expert doctors to remember some of his memories, his memory of the rain, the issue of tomorrow.
At the last moment, before undoing her memories, Lail decides to embrace all her painful memories. And at the same time, Elijah convinced Lail not to abolish the memory, Elijah conveyed to Lail who was not a decoy bait. But accept. Whoever can accept, then he will be able to forget, live happy. But if he can not accept, he will never be able to follow it.
The novel that became Besteller in 2016 is very interesting. With the use of language that is light and easy to understand. Many surprises are happening in this novel and never imagined before. Not boring the readers. The page age is quite thick in this story, this novel still inspires its readers with important sentences heart.
This novel I highly recommend for you lovers of poetry poetry and especially for the