English - German
Introduction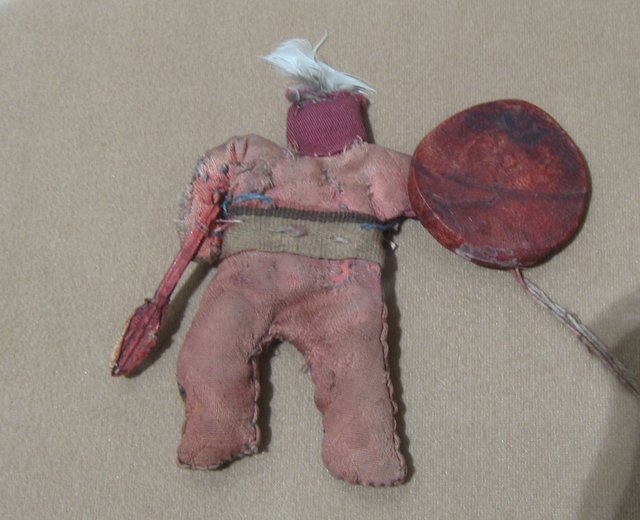 In this part of the shaman attributes, we consider objects whose ideological content is the root of a shaman's power. The word idol is used for objects with abstract shapes.
The idol - Eeren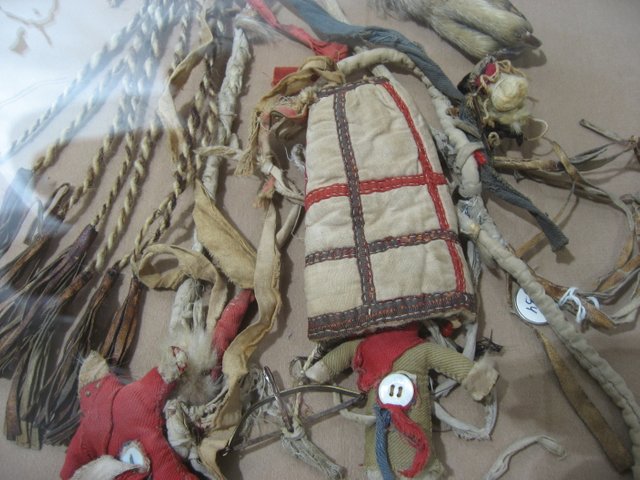 The idols used are considered containers for the spirit inherent in them. The shapes are very varied and each has its own purpose. Features are low complexity and low artistic value, task is the representation of primitive symbols. In the example of a rite we experience the essence of an idol in the understanding of the shaman.
Example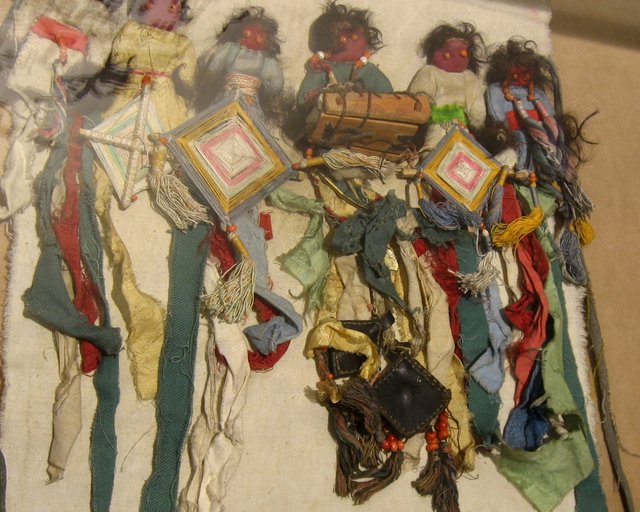 My root, my colorful honors,
He became my weapon, my cattle.
My root, my colorful honors,
He made me shiver at my shoulders and at my neck.
My root, my zeal,
He made me shiver my shoulder blades and my neck.
You are my withered, you are my broken one,
You are My Risen One.
You died and disappeared,
Its extinguished fire caught fire again.
We swim across the river, which forbids swimming,
We go through the Kesenek ridge.
The Osilim Pass, where ascent is forbidden,
Together we will drown in a golden lake.
Meaning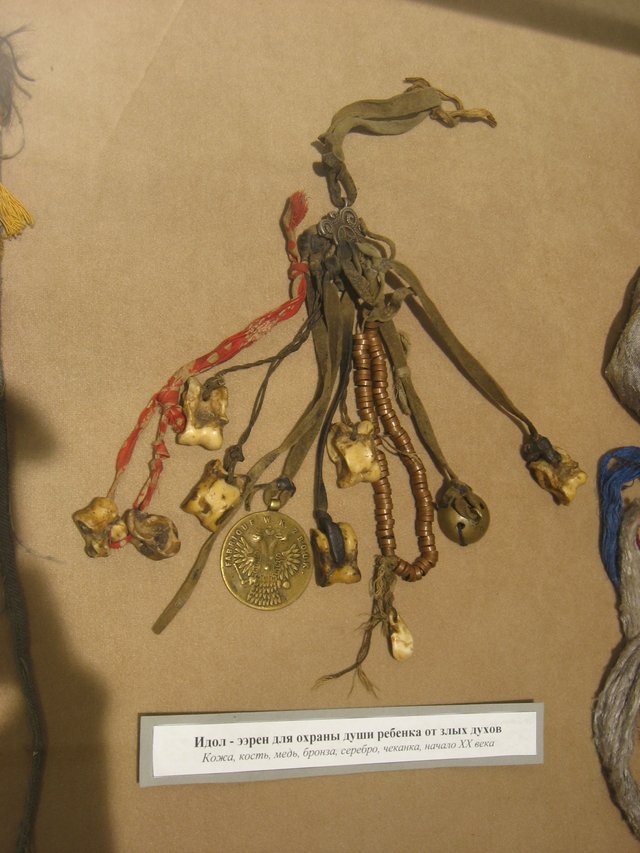 In this rite, the idol seems to be the bearer of shamanic ideology, that is, the root of the shaman's power. Without the worship of the idol, every rite loses its purposefulness and also its poetic power, which heightens the authority of the shaman. Normally shamans have two idols of different categories. For example, I have an idol with the mental power of the bear and other animals, and a second with the spiritual heritage of an ancient Tuvinian shaman from its healing rituals. Both were given to me personally in the context of special rituals and conveyed their inherent spiritual dimension.
Source
The information comes from the Russian book "Tuvan Shamans" by Kenin Lopsan, the living monument of the shamans, they have been translated by me and edited so that it is understandable. Photos by @schamangerbert from the National Museum of Tuva.

Einleitung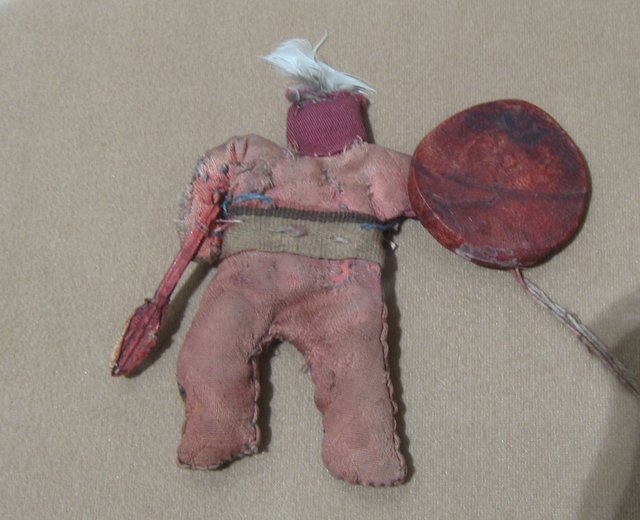 In diesem Teil der Schamanenattribute betrachten wir Objekte, deren ideologischer Inhalt die Wurzel der Kraft eines Schamanen darstellt. Das Wort Idol wird für Objekte mit abstrakten Formen benutzt.
Das Idol - Äären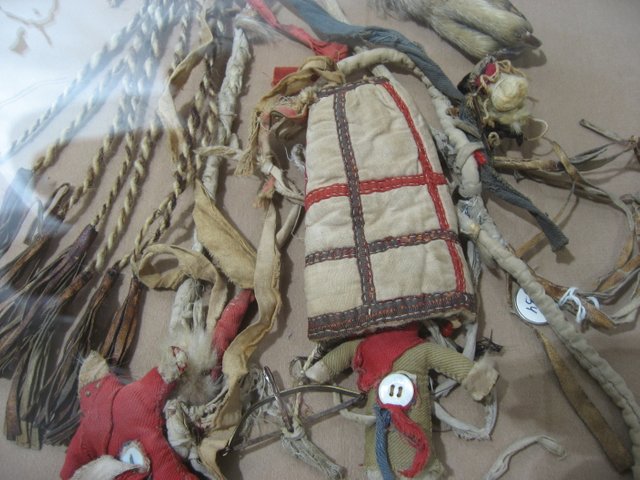 Die benutzten Idole gelten als Behälter für den Geist, der ihnen innewohnt. Die Formen sind sehr vielfälltig und jedes hat seinen eigenen Zweck. Merkmale sind geringe Komplexität und geringer Kunstwert, Aufgabe ist die Darstellung primitiver Symbole. Im Beispiel eines Ritus erleben wir die Essenz eines Idols im Verständnis des Schamanen.
Beispiel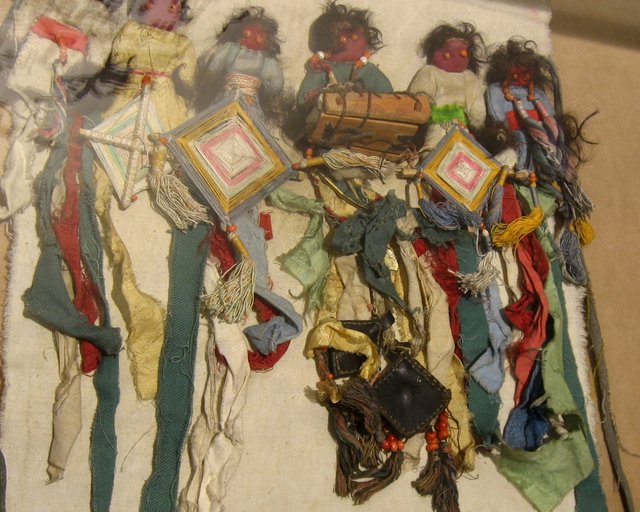 Meine Wurzel, meine bunten Ehren,
Er wurde meine Waffe, mein Vieh.
Meine Wurzel, meine bunten Ehren,
Er brachte mich dazu, an meinen Schultern und an meinem Nacken zu zittern.
Meine Wurzel, mein Eifer,
Er brachte mich dazu, meine Schulterblätter und meinen Nacken zu zittern.
Du bist mein Verdorrter, du bist mein Gebrochener,
Du bist Mein Auferstandener.
Du bist gestorben und verschwunden,
Dessen ausgelöschtes Feuer fing wieder Feuer.
Wir schwimmen über den Fluss, durch den es verboten ist zu schwimmen,
Wir gehen durch das Kesenek-Grat.
Den Osilim-Pass, wo der Aufstieg verboten ist,
Zusammen werden wir in einem goldenen See ertrinken.
Bedeutung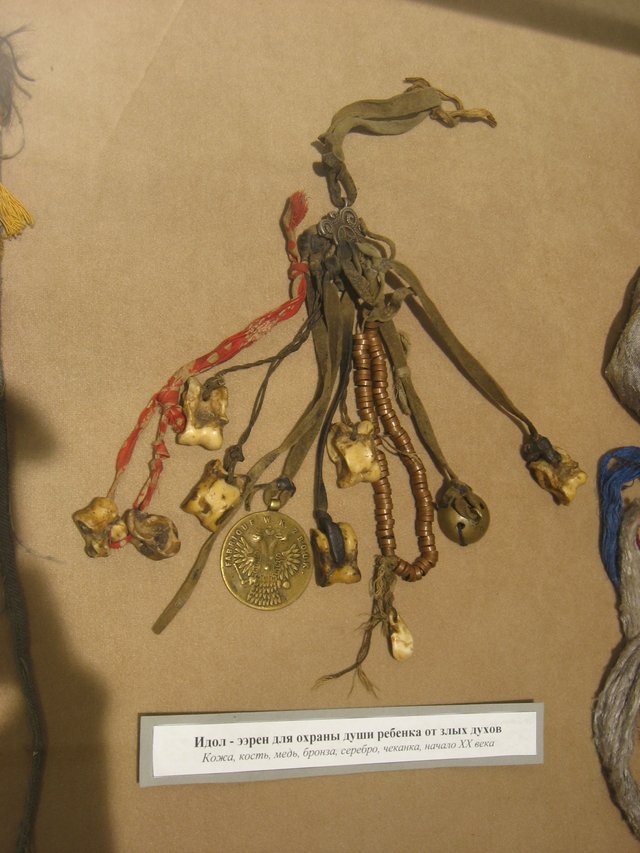 In diesem Ritus scheint das Idol der Träger der schamanischen Ideologie zu sein, das heißt die Wurzel der Macht des Schamanen. Ohne den Kult des Idols verliert jeder Ritus seine Zielstrebigkeit und auch seine poetische Kraft, die die Autorität des Schamanen erhöht. Normalerweise haben Schamanen zwei Idole von verschiedenen Kategorien. Ich besitze zum Beispiel ein Idol mit der geistigen Kraft des Bären und weiteren Tieren, sowie ein zweites mit dem geistigen Erbe eines alten tuvinischen Schamanen aus dessen Heilritualen. Beide wurden mir persönlich im Rahmen spezieller Rituale überreicht und die ihnen innewohnende geistige Dimension vermittelt.
Quelle
Die Informationen stammen aus dem russischen Buch "Tuwinische Schamanen" von Kenin Lopsan, dem lebenden Denkmal der Schamanen, es wurden von mir übersetzt und soweit bearbeitet dass es verständlich wird. Fotos von @schamangerbert aus dem Nationalmuseum von Tuva.

See you next time! / Bis nächstes Mal!
Thank you for your attention! / Danke für Deine Aufmerksamkeit!
Original content by