Shaman Knowledge - Shaman Attributes Part 1: Drum / Schamanenwissen - Schamanenattribute Teil 1: Trommel
English - German
Introduction
In the next articles I will describe the invocations of the shaman attributes. In the notes of the travelers and scientists who visited Tuva the attributes are described in great detail, the invocations and rituals were mentioned briefly or not at all. This is explained by the visual impact these objects have had on foreign visitors. Here are the shamanic songs for invocation and animation set out.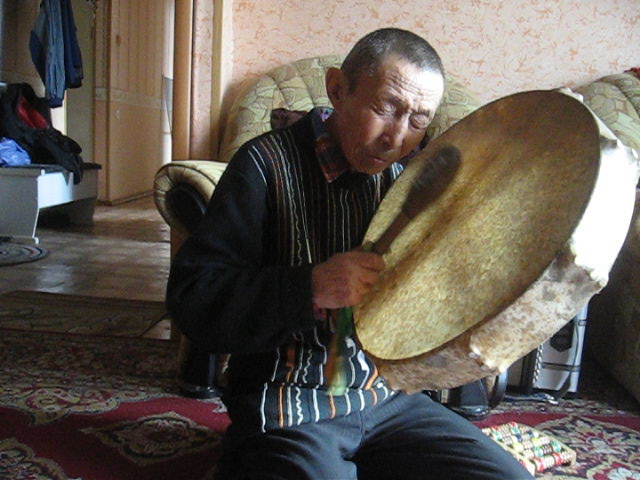 The invocation and animation of the drum
After the drum and the bat were made by a master on behalf of the shaman, the animation of the drum began. This ritual was not a personal matter of the shaman, but a public act that took place in a solemn atmosphere.
This ritual was attended by all the friends and relatives of the shaman, he invited them to an open house. On that day, he allowed everyone to touch and take hold of his attributes. With their faces to the door and their backs to the fire, they were allowed to shake the attributes, while the shaman in the back of the yurt, facing the fire, began his journey.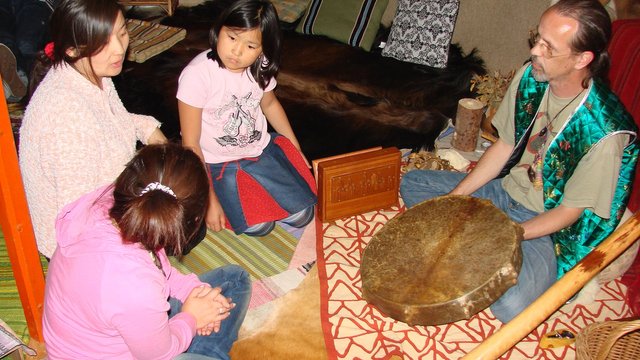 Excerpt of a large revival ceremony:
Slowly slowly. Silently, oh-oh!
The one who became (the Capricorn) the master of my sixty mountains,
The one who became the beast of my golden mountain, oh-ooy.
Who eats the grass of my mountains,
The one who drinks water from the spring, ooo-ooy.
He has twelve foreheads, oh-ooh,
His horns are bent backwards,
His beard sweeps the earth, oh-ooh,
His yellow horns reach into the sky.
His shadow under a black stone,
His flock is where the steep mountains, oo-oo,
Dancing (Capricorn),
My black and white Capricorn, oo-oo.
Dancing (Capricorn),
My Capricorn with long hair, oh-ohh.
Go quiet,
Slowly go, oh-ooy.
His hands (forelegs), crooked, long,
He has humpback balls, oo-oo.
Let's go to the country, to the milk lake,
Where is Mount Sumber, oo-oo?
Try 60 flowers, oh-ooy.
Fields holy water source, oo-oo.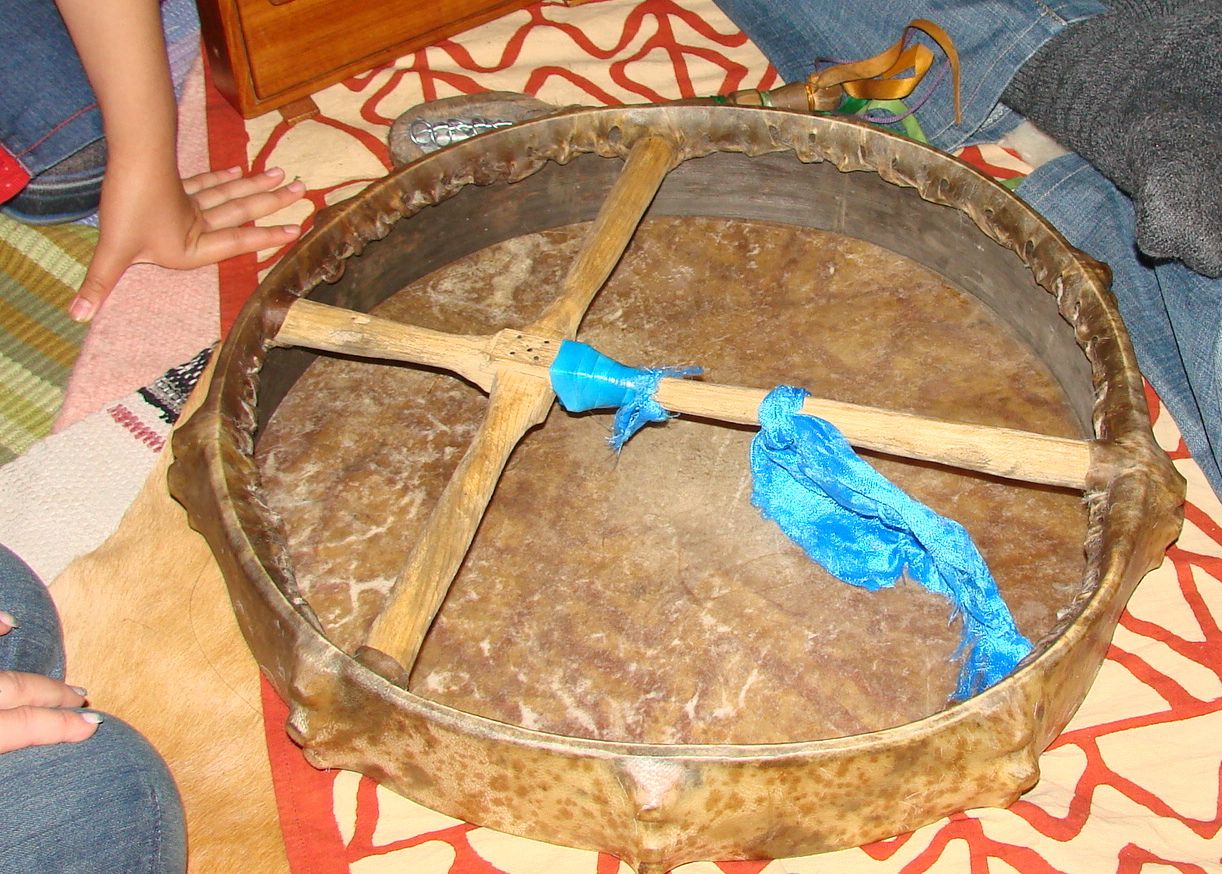 Explanation of the song
As the text of the above passage indicates, the material for this drum is the fur of an ibex that became the main hero of the shaman's invocation poetry. He, an ibex, a beautiful mountain, his portrait is painted with lush words of poetry. In this song, realism is associated with romance. First, we see the age of a real Capricorn, for example "he has twelve foreheads", for every Tuvinian it is clear that this goat was 12 years old.
Then the shaman sings about the beauty of the place of residence, finally describing his journey to distant lands. It turns out that the true home of Capricorn is where he lived under the steep cliffs, the leaves rushing in the fairytale world, where he dips into the seething waves of the Milk Lake and climb the mythical mountain Sumber. Thus, the skin of the ibex, with which the new drum is covered, became the "embodiment" of the invocation of the shaman.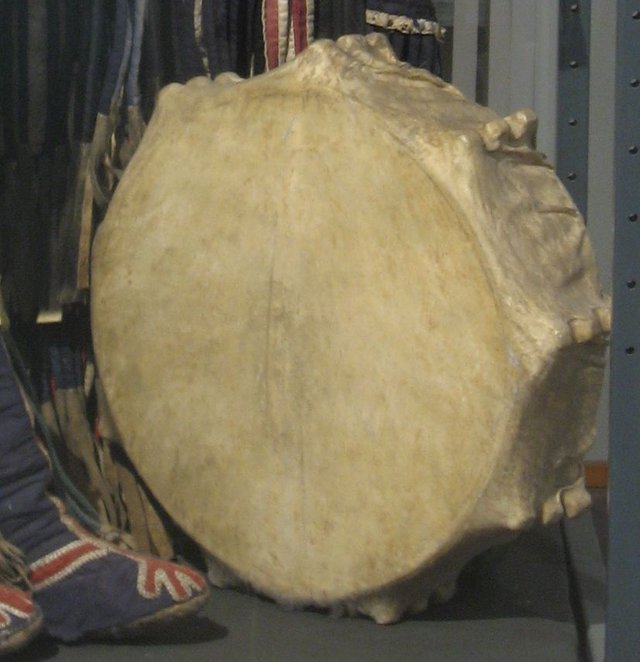 The drum as a musical instrument
The hymn to the drum does not end with the "revival" of the drum. The drum has always been considered by the peoples of Siberia as a musical instrument and the shamans love to sing their drum, here is an example:
Let it fly (a bad spirit)
Under the echo of the tambourine, where they will beat (with a bat).
Let the breeze roll
Under the echo of a thundering tambourine.
According to shamanic ideas, any misfortune is driven away by the imperious beating of the drum - that is the general content of the poetry above to this musical instrument. No matter how spectacular and musical, it can not play alone.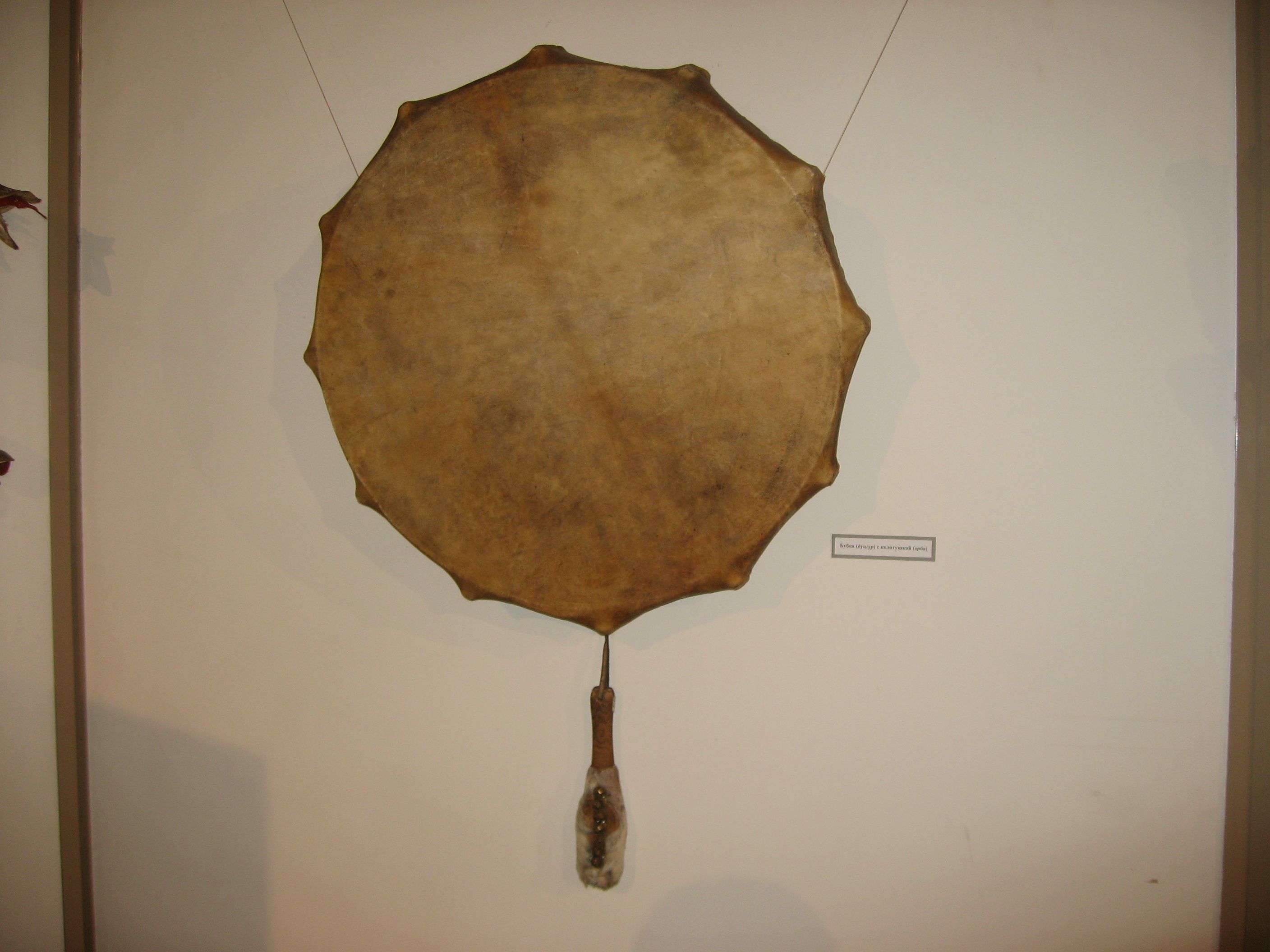 Source
The information comes from the Russian book "Tuvan Shamans" by Kenin Lopsan, the living monument of the shamans. Photos by @schamangerbert.

Einleitung
In den nächsten Artileln werde ich die Anrufungen der Schamanenattribute beschreiben. In den Aufzeichnungen der Reisenden und Wissenschaftlern die Tuva besucht haben werden die Attribute sehr ausführlich beschrieben, die Anrufungen und Rituale wurden kurz oder gar nicht erwähnt. Das erklärt sich aus der visuellen Wirkung, die diese Objekte auf die ausländischen Besucher ausgeübt haben. Hier werden nun die schamanischen Lieder zur Anrufung und Belebung dargelegt.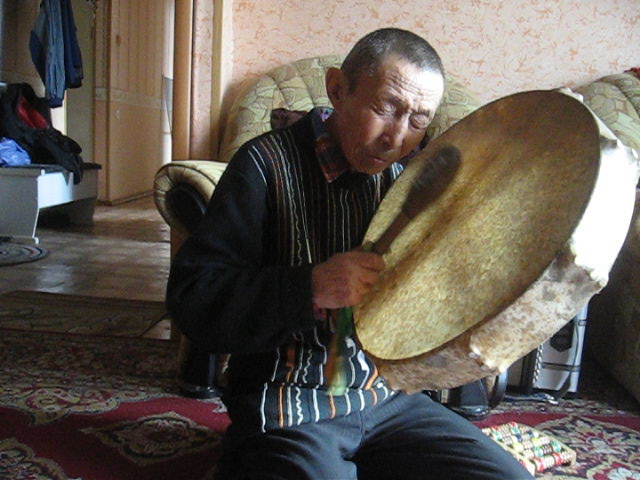 Die Anrufung und Belebung der Trommel
Nachdem die Trommel und der Schlögel im Auftrag des Schamanen durch einen Meister hergestellt wurde begann die Belebung der Trommel. Dieses Ritual war keine persönliche Angelegenheit des Schamanen, sondern ein öffentlicher Akt, der in einer feierlichen Atmosphäre stattfand.
Dieses Ritual wurde von allen Freunden und Verwandten des Schamanen besucht, er lud sie zu einem Tag der offenen Tür ein. An diesem Tag erlaubte er jedem seine Attribute zu berühren und in die Hand zu nehmen. Mit dem Gesicht zur Tür und dem Rücken zum Feuer durften sie die Attribute schütteln, während der Schamane im hinteren Teil der Jurte dem Feuer zugewandt seine Reise antrat.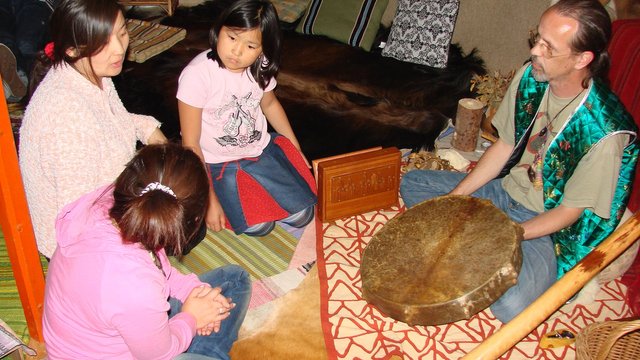 Auszug einer großen Belebungszeremonie:
Langsam langsam. Leise still, oh-oh!
Derjenige, der (der Steinbock) der Meister meiner sechzig Berge wurde,
Derjenige, der das Tier meines goldenen Berges geworden ist, oh-ooy.
Wer das Gras meiner Berge isst,
Derjenige, der Wasser aus der Quelle trinkt, ooo-ooy.
Er hat zwölf Stirnen, oh-ooh,
Seine Hörner sind nach hinten gebogen,
Sein Bart fegt die Erde, oh-ooh,
Seine gelben Hörner reichen in den Himmel.
Sein Schatten unter einem schwarzen Stein,
Seine Herde ist, wo die steilen Berge, oo-oo,
Tanzen (Steinbock),
Mein schwarzer und weißer Steinbock, oo-oo.
Tanzen (Steinbock),
Mein Steinbock mit langen Haaren, oh-ohh.
Geh ruhig,
Langsam langsam gehen, oh-ooy.
Seine Hände (Vorderbeine), krumm, lang,
Er hat Buckelbälle, oo-oo.
Lasst uns zu dem Land gehen, zum Milchsee,
Wo ist der Berg Sumber, oo-oo?
Versuche 60 Blumen, oh-ooy.
Felder Weihwasser Quelle, oo-oo.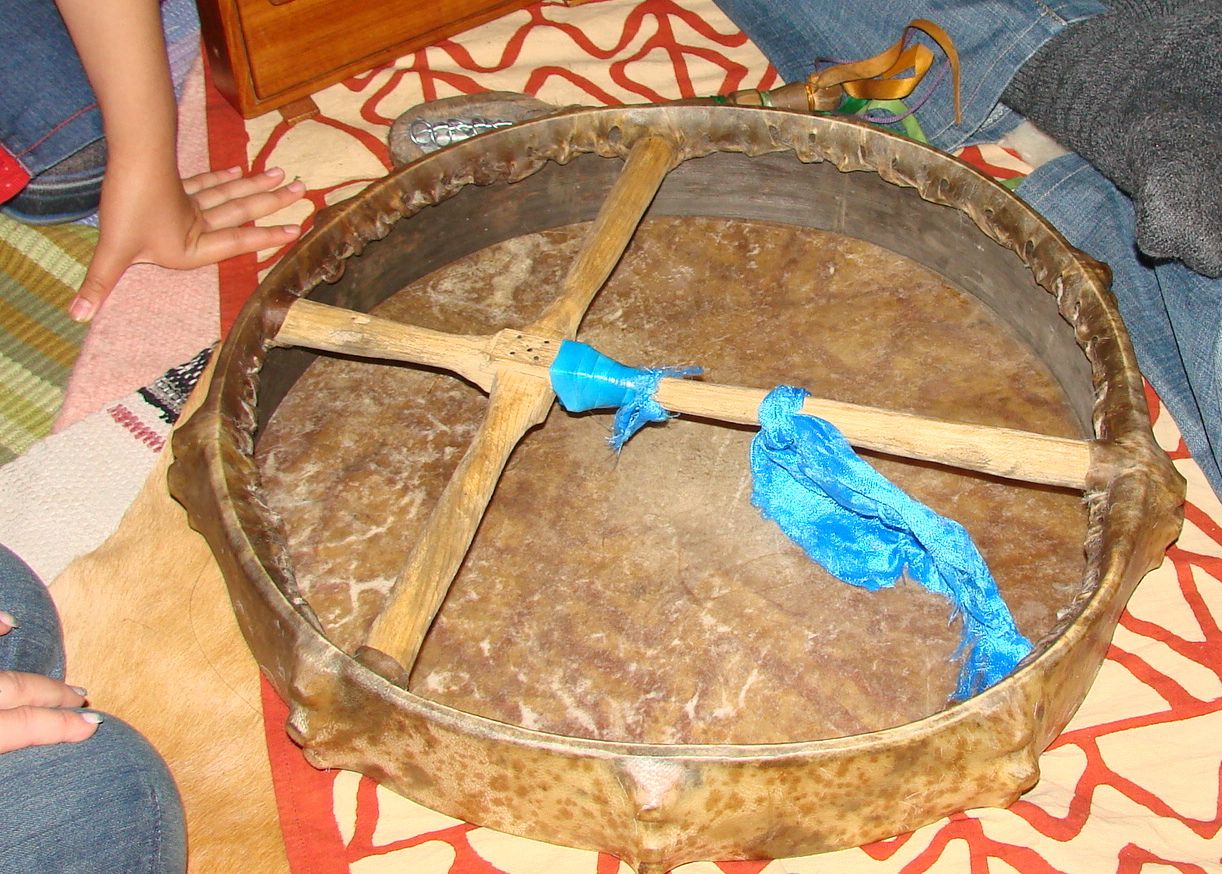 Erklärung des Gesangs
Wie aus dem Text der obigen Passage hervorgeht, ist das Material für diese Trommel das Fell eines Steinbocks, der zum Haupthelden der Anrufungspoesie des Schamanen wurde. Er, ein Steinbock, ein schöner Berg, sein Porträt ist mit üppigen Worten von Poesie gemalt. In diesem Lied ist der Realismus mit der Romantik verbunden. Zuerst sehen wir das Alter eines echten Steinbocks, zum Beispiel "er hat zwölf Stirnen", für jeden Tuvinier ist es klar, dass diese Ziege 12 Jahre alt war.
Dann singt der Schamane über die Schönheit des Wohnorts, schließlich beschreibt er seine Reise in ferne Länder. Es stellt sich heraus, dass die wahre Heimat des Steinbocks dort ist, wo er unter den steilen Klippen lebte, die Blätter in der Märchenwelt rauschen, wo er in die brodelnden Wellen des Milchsees und auf den mythischen Berg Sumber hoch steigt. So wurde die Haut des Steinbocks, mit dem die neue Trommel bespannt ist, zur "Verkörperung" der Anrufung des Schamanen.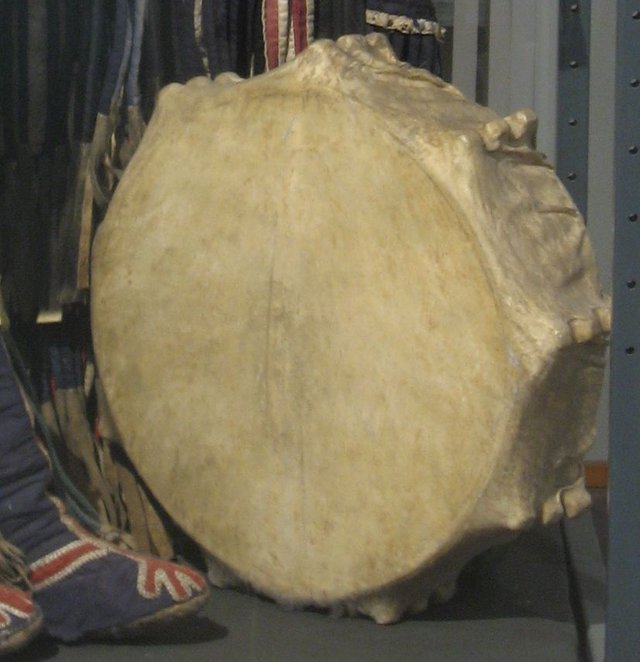 Die Trommel als Musikinstrument
Die Hymne an die Trommel endet nicht mit der "Wiederbelebung" der Trommel. Seit jeher wird die Trommel bei den Völkern Sibiriens als ein Musikinstrument gesehen und die Schamanen lieben es ihre Trommel zu besingen, hier ein Beispiel:
Lass es fliegen (ein böser Geist)
Unter dem Echo des Tamburins, wo sie schlagen werden (mit einem Schläger).
Lass die Brise rollen
Unter dem Echo eines donnernden Tamburins.
Schamanischen Ideen zufolge wird jedes Unglück durch das herrische Schlagen der Trommel verjagt - das ist der allgemeine Inhalt der obigen Poesie gegenüber diesem Musikinstrument. Egal wie spektakulär und musikalisch es auch sein mag, es kann nicht alleine spielen.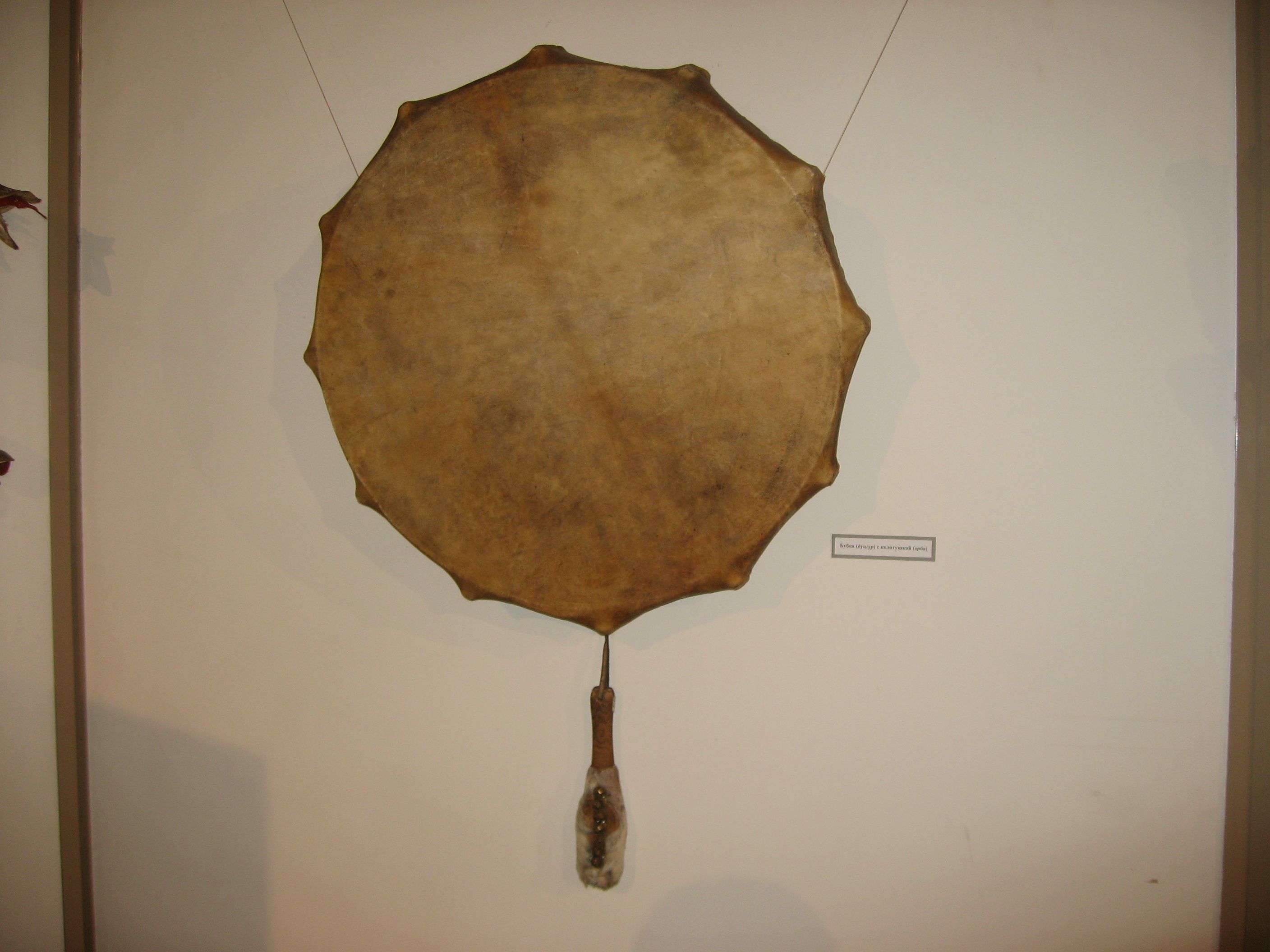 Quelle
Die Informationen stammen aus dem russischen Buch "Tuwinische Schamanen" von Kenin Lopsan, dem lebenden Denkmal der Schamanen. Fotos von @schamangerbert.

See you next time! / Bis nächstes Mal!
Thank you for your attention! / Danke für Deine Aufmerksamkeit!
Original content by