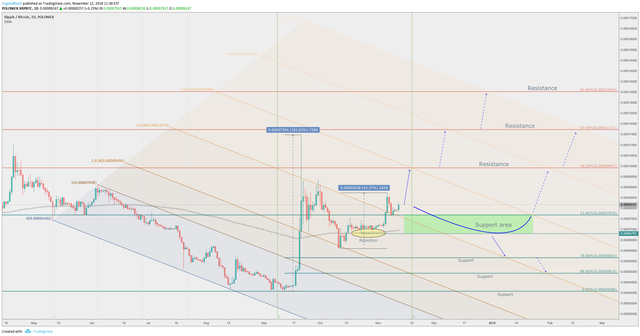 Ripple has been performing very well since it bottomed out on the September 12. The first strong wave resulted in a 181% growth against the Bitcoin. XRP/BTC skyrocketed from 4068 satoshis low, up to 11465 satoshis high.
Nevertheless, the correctional wave down followed, Ripple wend down to the 7k satoshis support area . On the 12th of October price started to move up again, printing higher highs and higher lows. It found the support at 200 Moving Average, bouncing off, breaking 23.6% Fibonacci resistance and reaching 8721 high on the 6th of November. It was a strong 43% gain in just 25 days.
After the recent bounce off the Fibonacci support at 7675 satoshis, seems like the uptrend continuation might be the case. This scenario will only remain valid as long as the 7k satoshis support area is holding. XPR/BTC would have a strong probability for more gains, while price is expected to touch on of the Fibonacci resistance levels. First resistance is at 9900 satoshis, that is very close to a strong physiological level at 10k. But break above this resistance, could send price even further up, either towards 11.7k or 13.5k satoshis.
First sign of the bullish trend invalidation would be break below the current support at 7675. Then Bitcoin can start winning the battle, sending XRP lower, down to the 7k satoshis support. But only break and close below 7k would imply even more risk for XRP. Perhaps this could be interpreted as a continuation of a downtrend or at the very least a stronger correctional move down.
---
See the latest prices across multiple exchanges at https://www.cryptaldash.com