October 11, 2019 Unionville Indians at Rustin Golden Knights Football Game - Homecoming Game
Summary: Congratulations to the Golden Knights football team for their 28-7 win over the Unionville Indians. This brings the team's record for the season to 6-2 overall and 4-1 in-conference. This post contains a photo-essay from the game.
---
Original photo taken by

@remlaps
Tonight was a special game night for a variety of reasons. First, as noted in the title, it was Rustin's Homecoming game. To celebrate homecoming, many past graduates come to watch the game, and the marching band was joined in the stands by a number of alumni, including at least two former drum majors. Additionally, the marching band was joined in the stands by 8th grade students from the local middle school, and also by members of the school concert bands, who don't normally come to the football games.
It seems that it was also a visiting night for the cheerleaders, as they were joined by some younger kids who were presumably also from local schools in the district.
In football, Unionville scored a touchdown in the first quarter, and Rustin responded with a touchdown of their own in the second quarter. Things were looking ugly, however, when Rustin threw for an interception in the second quarter and Unionville got the ball back with decent field position. Fortunately, however, Rustin's #14 made an interception in response, and Rustin dominated the 2nd half with three unanswered touchdowns. A nice change in tone from recent games is that nearly all of the penalties broke in Rustin's favor, and I didn't notice any serious-looking injuries.
---
Here is the box score
---
| Team | Location | Name | Q1 | Q2 | 1st Half | Q3 | Q4 | 2nd Half | Final |
| --- | --- | --- | --- | --- | --- | --- | --- | --- | --- |
| Unionville | Visitor | Indians | 7 | 0 | 7 | 0 | 0 | 0 | 7 |
| Rustin | Home | Golden Knights | 0 | 7 | 7 | 7 | 14 | 21 | 28 |
The remainder of this post will contain a photo-essay from the game. If you're viewing this in steempeak.com, you can click on photos to make them larger. On other platforms, you might have to open them in new tabs.
Unless otherwise noted, all images are original photos that were taken by @remlaps.

---
Marching Bands
Once again, Rustin played the half-time show, so my photos of the Unionville band (taken during daylight/dusk) came out better. After dark, it's just blind luck that determines whether my photos come out in focus or blurred.
Unionville - Pregame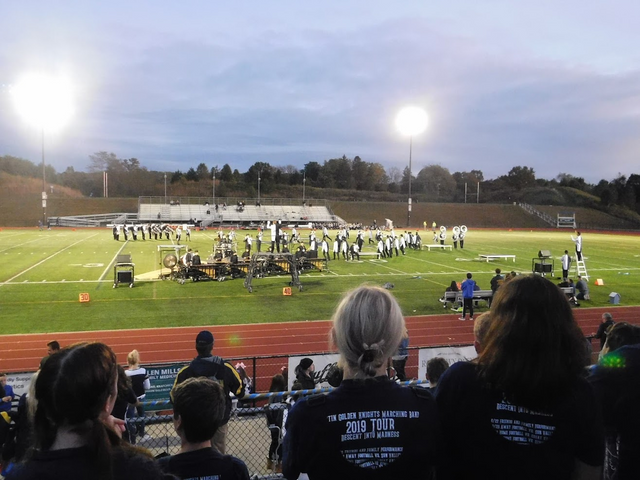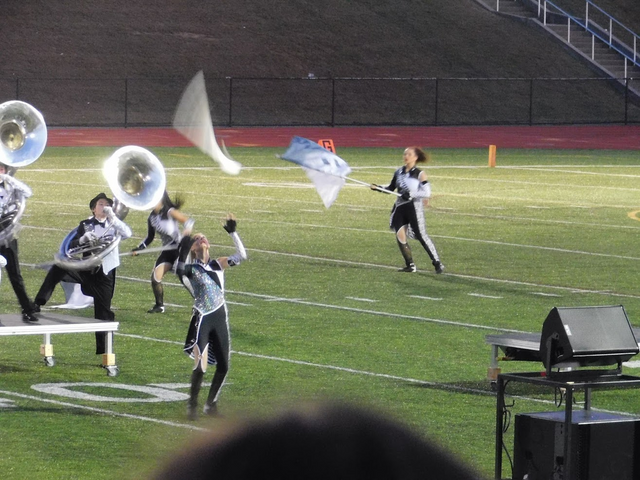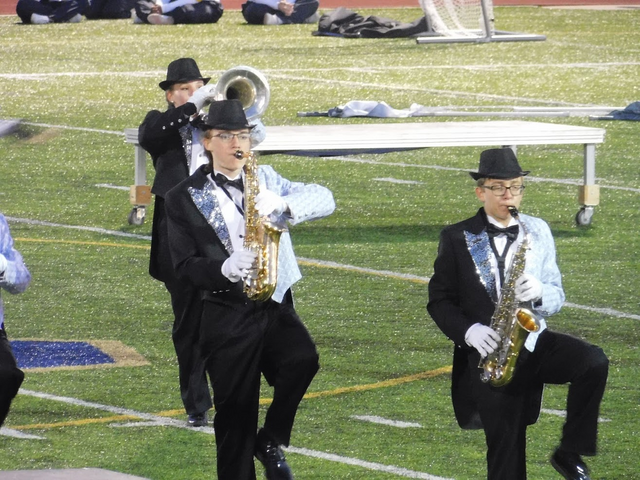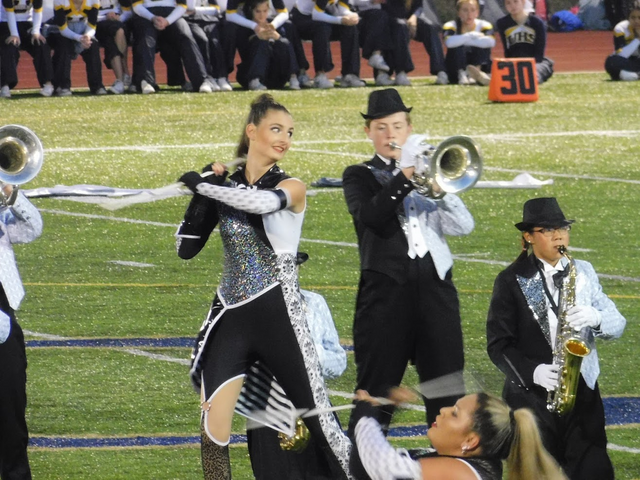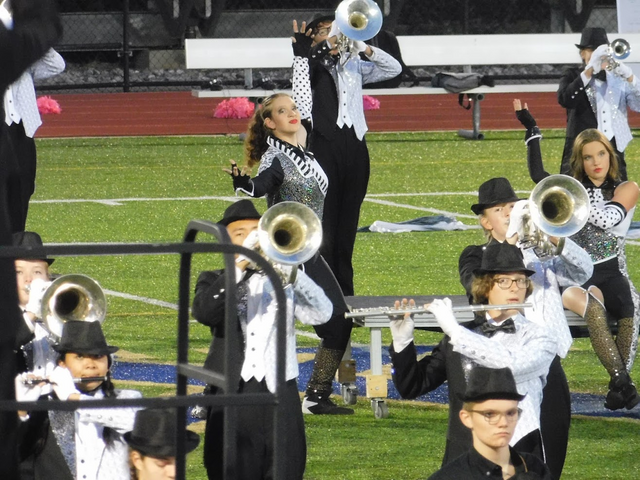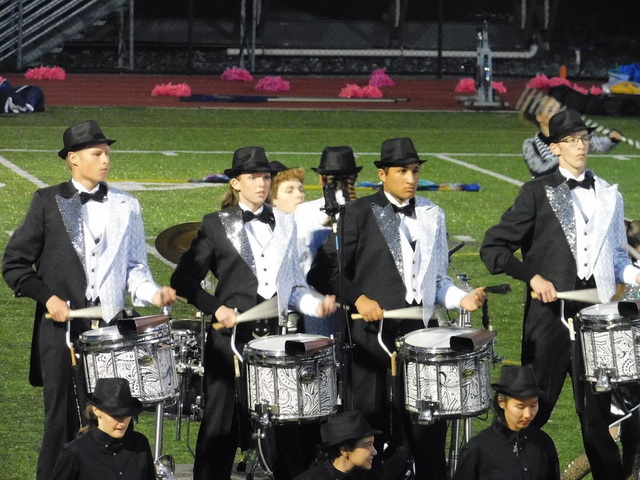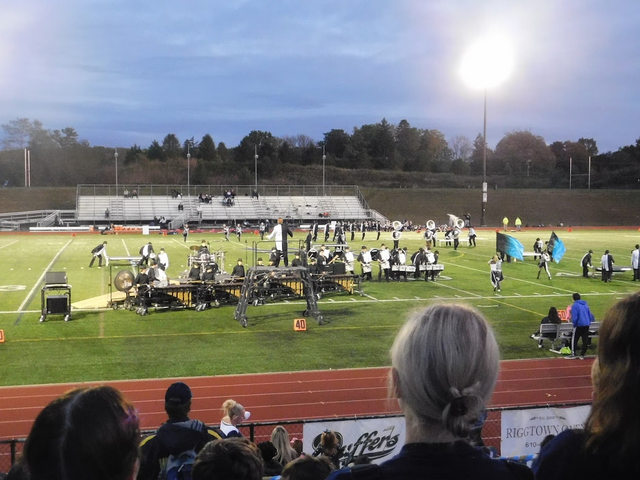 Rustin - Half Time
Rustin's show this year is called, "Descent into madness," and it features Green Day's Basket Case, Leonard Cohen's Hallelujah, and Queen's Bohemian Rhapsody. The bass guitar solo in Bohemian Rhapsody got quite a bit of applause from Unionville's band.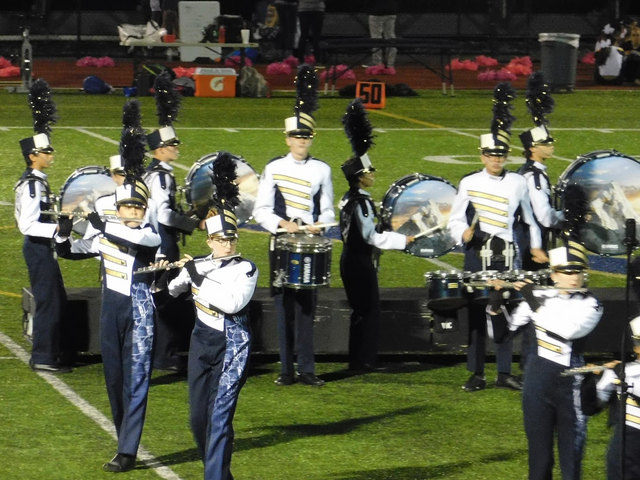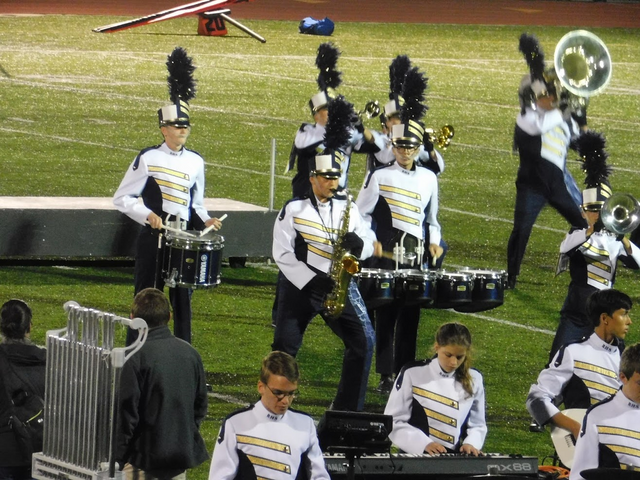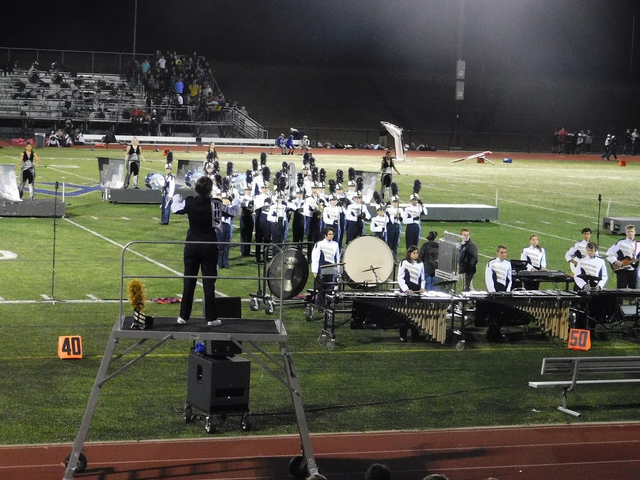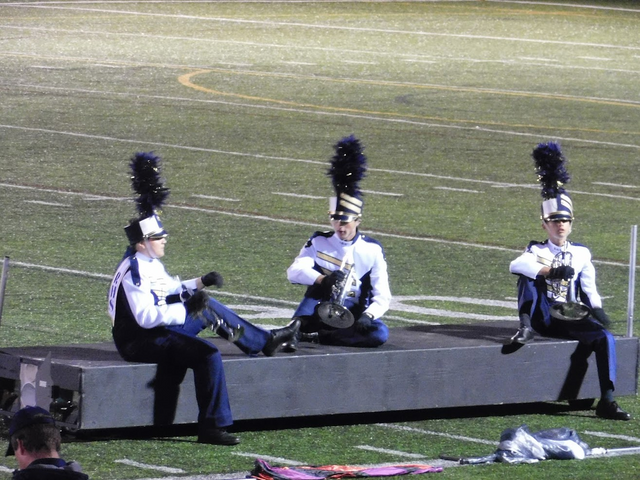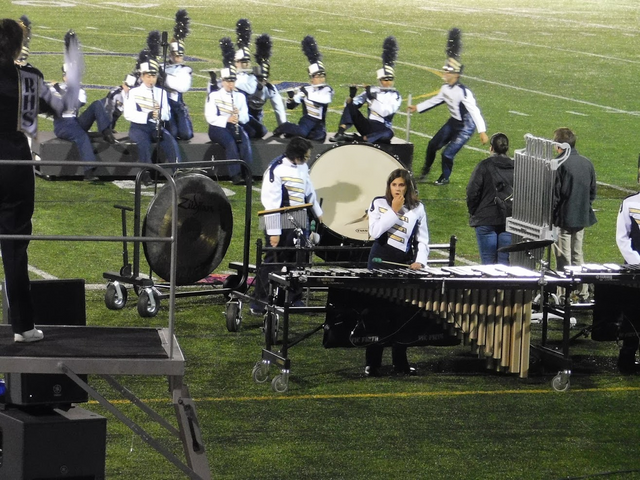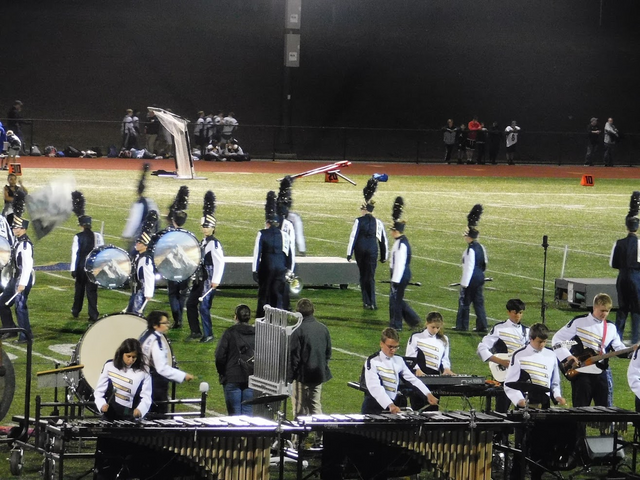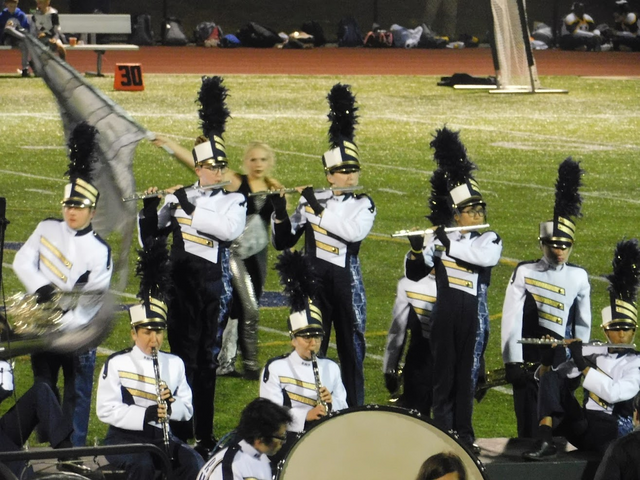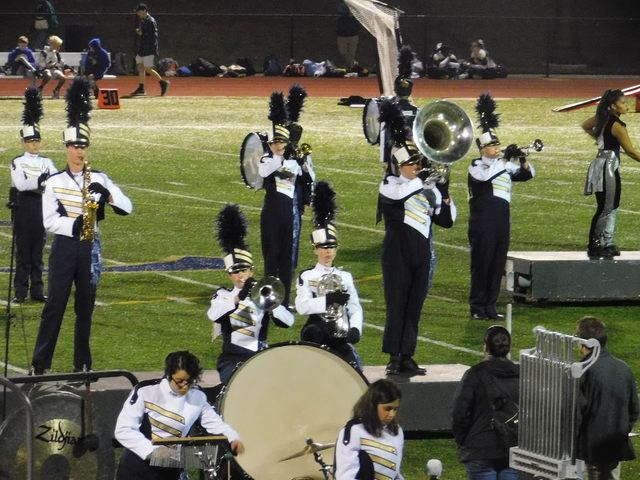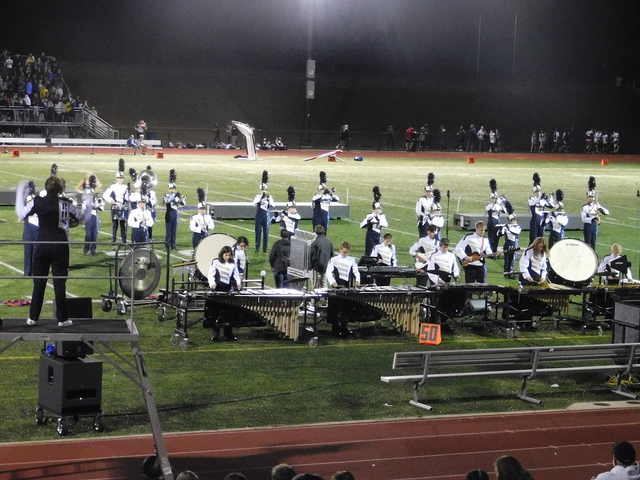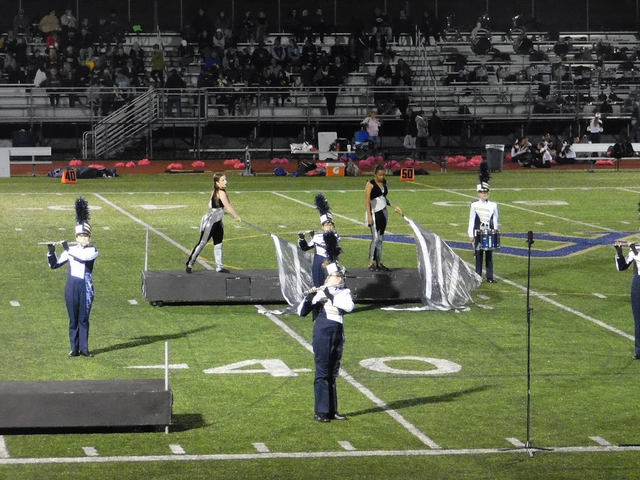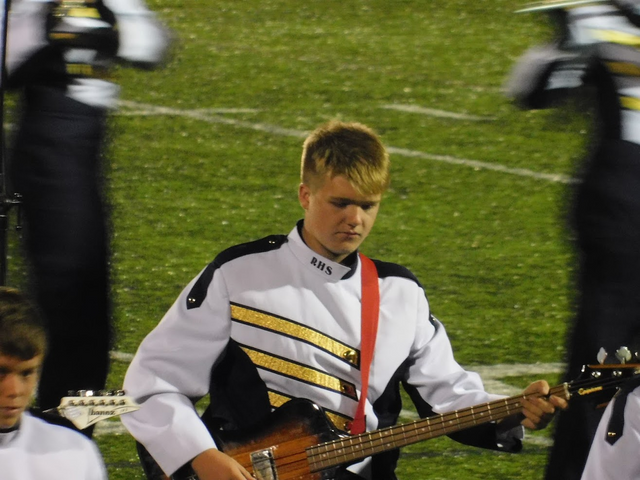 ---
Football
Rustin's offense had a tough time moving the ball in the first half. In the second half, #8 and #21 really got rolling, though. #8 even had a long-yardage reception on a pass from #4. Also, #4 carried the ball across the goal line for a touchdown of his own.
On defense, as with most weeks #1 was involved in many tackles, and the whole defense did a great job at shutting Unionville down after their 1st quarter TD.
Rustin is in the blue and gold uniforms.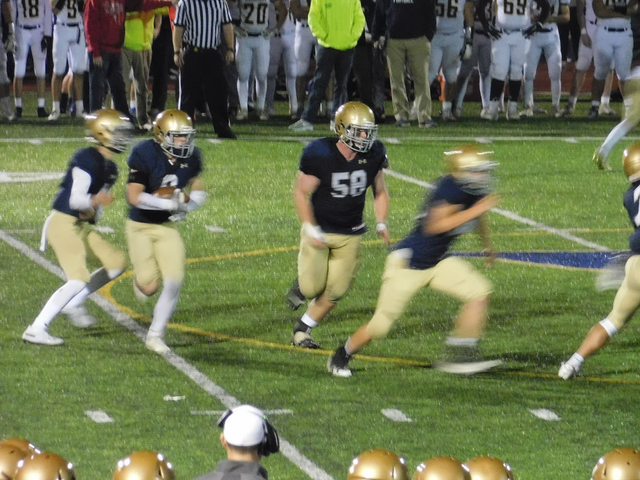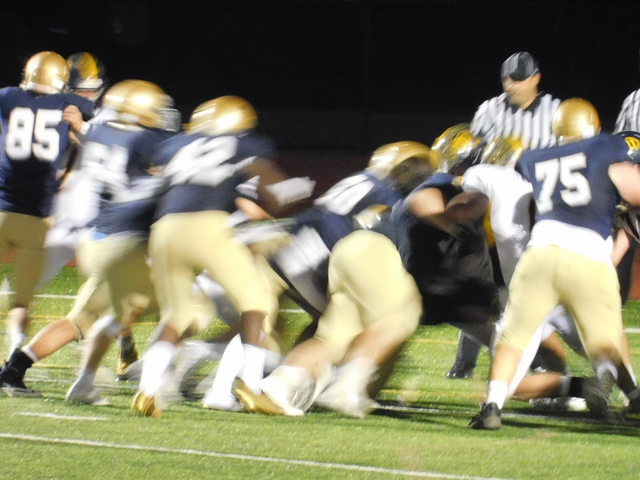 It's out of focus, but the above photo is the play that made the score 14-7 in the third quarter, putting Rustin ahead for the rest of the game.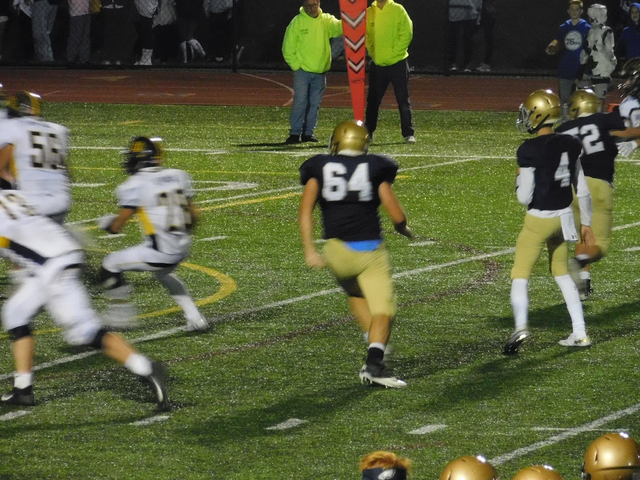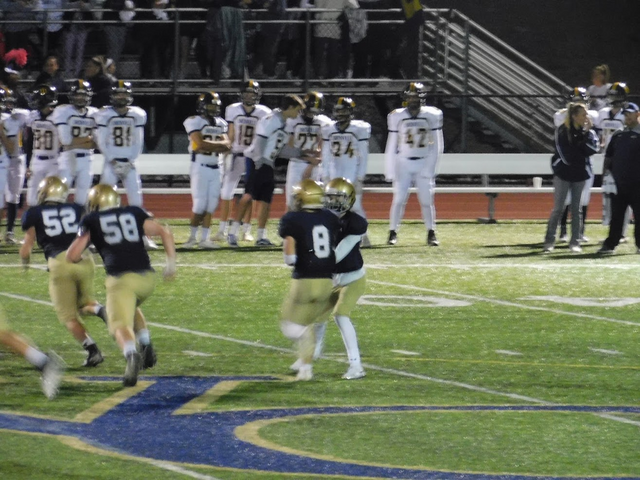 ---
Cheerleading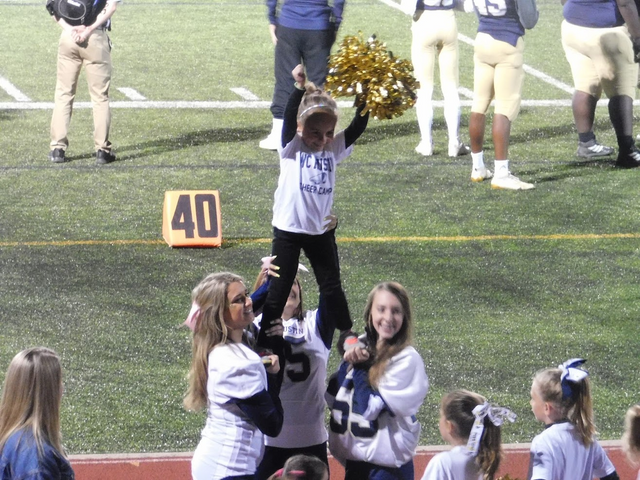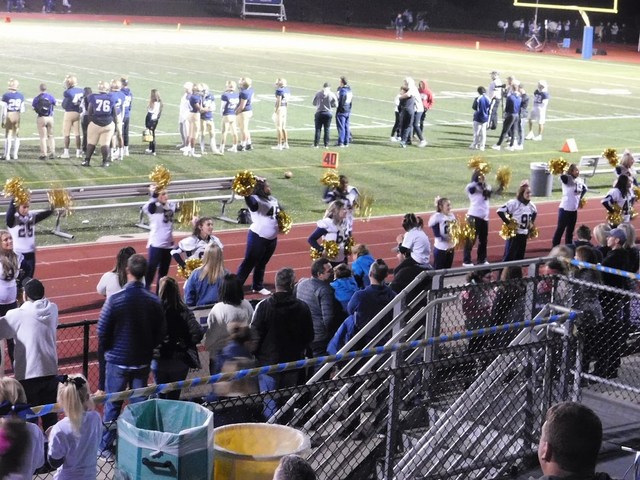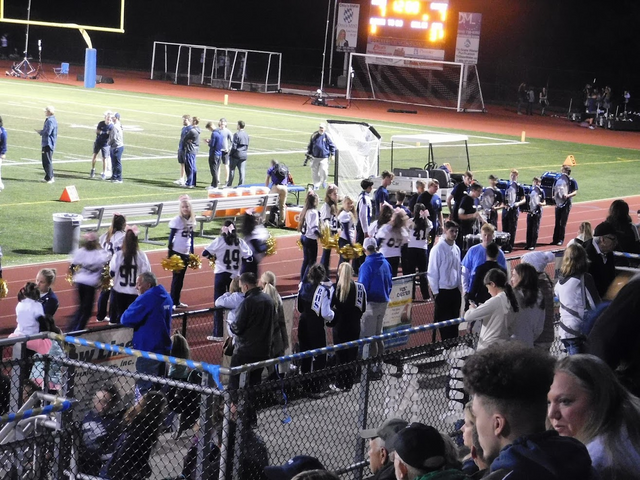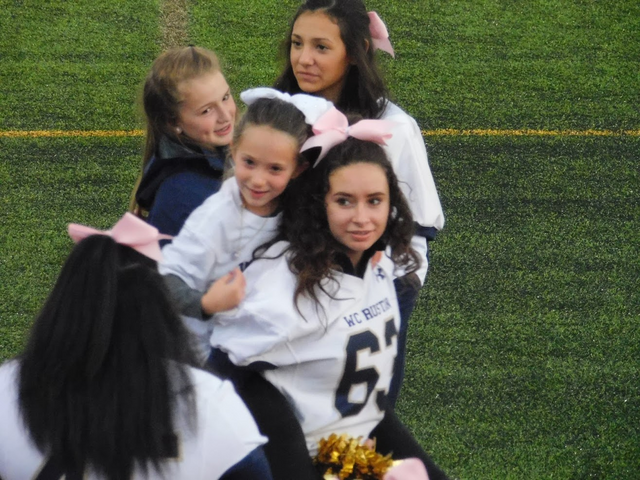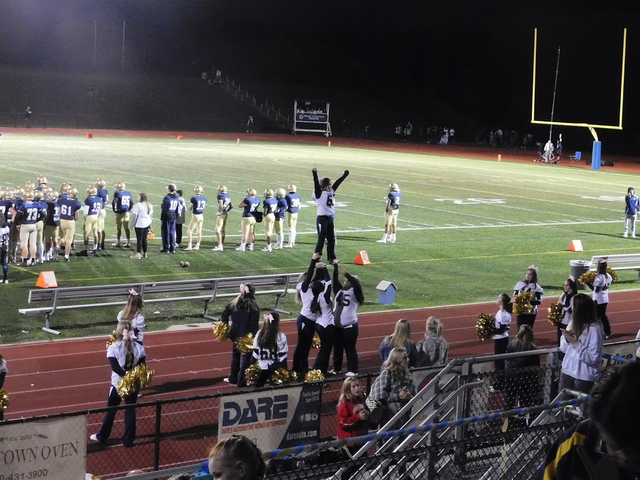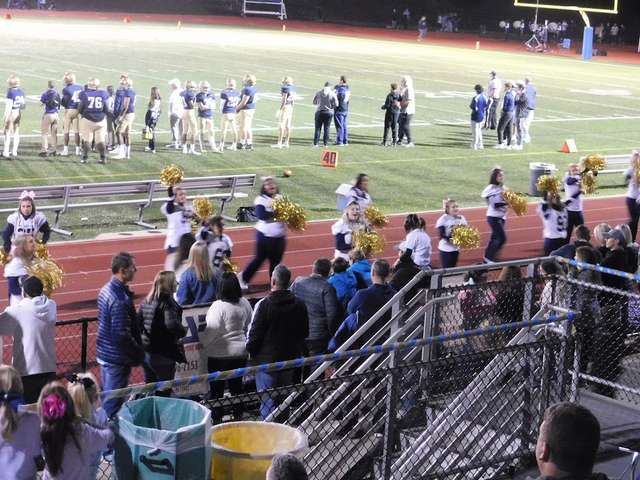 ---
Pep Music in the stands
Unionville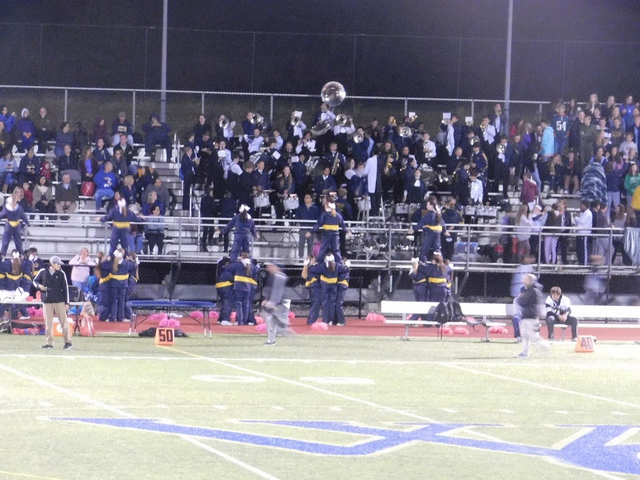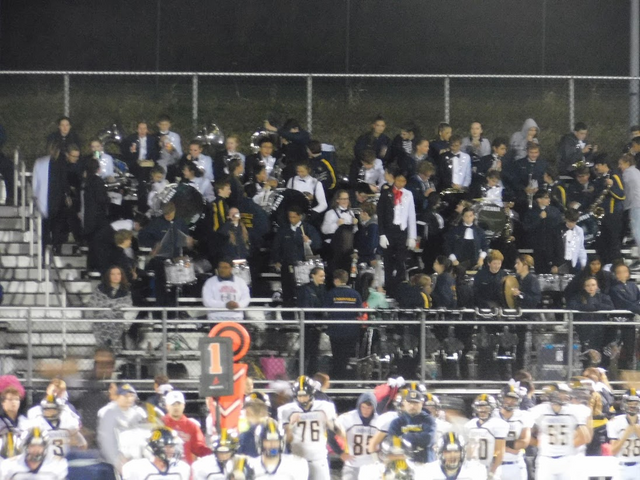 Rustin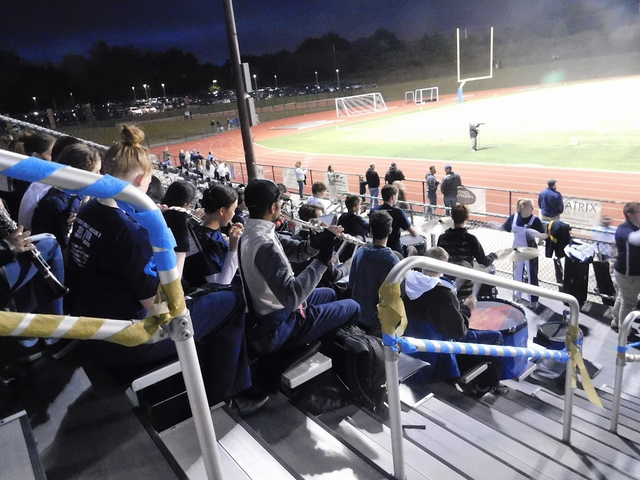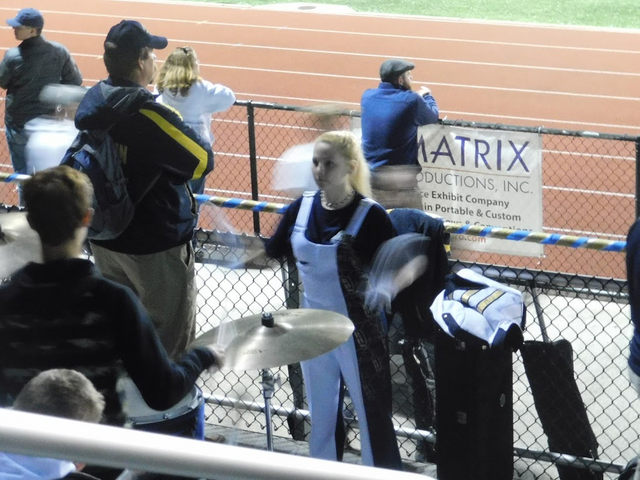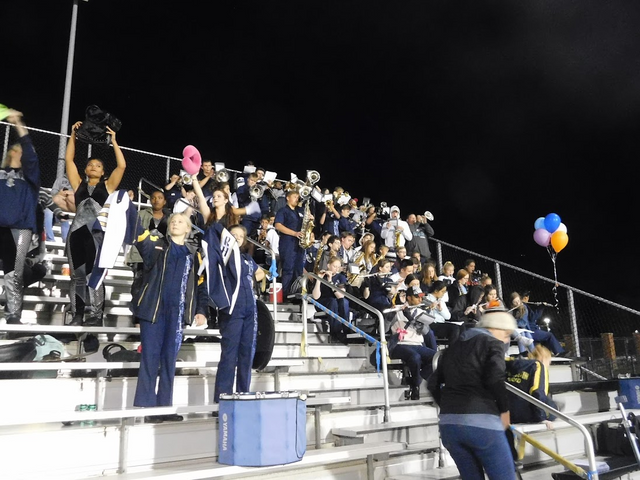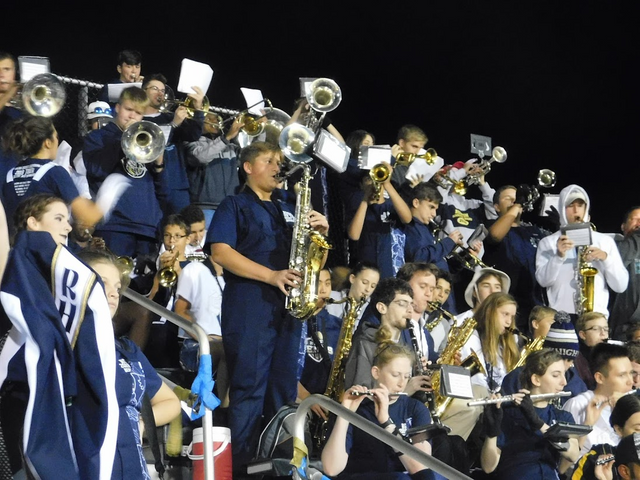 ---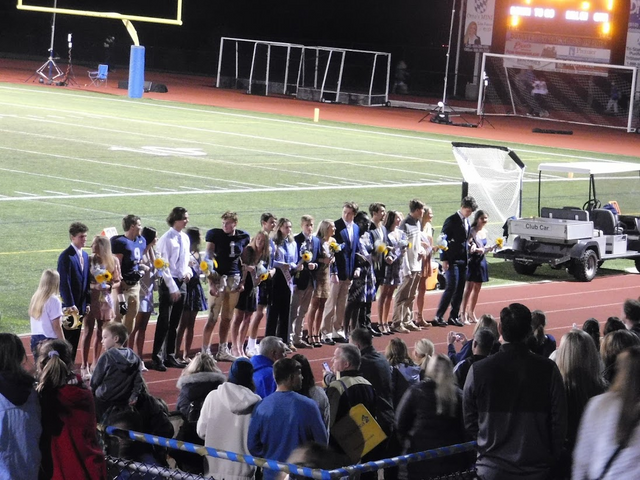 As of now, the computerized rank for the Golden Knights football team has not updated, so they're still showing as 3,929 in the nation, 123 in the state, and 30 in class AAAAA. Normally it updates late on Sunday, so we'll have to check back after that. The remaining two games are both home games, and they're against the other two highschools in the West Chester Area School District, West Chester East on October 18, and West Chester Henderson on October 25.
East is currently ranked at #53 in the state and #11 in class 5A, and they have a 5-0 conference record, so expect that to be a tough game. According to Maxpreps, East lost a non-conference game to Downingtown West on Friday, bringing their overall record to 6-2, tied with Rustin.
Notably, the marching band has the football game on Friday night and then the state band competition at West Chester University of Pa on Saturday, so they're in for a busy week-end.
---
And here is the rest of the 2019 schedule for the marching band
Saturday Competitions: (ALL)
- 9/28: USBands Competition @ Boyertown
10/19: PA State Championships @ WCU
10/26: HOME SHOW!!! USBANDS REGIONAL @ Rustin
11/2: USBands A Class National Championships (Allentown)
Parades: (All) Times TBD
- 7/4: Thornbury Delco 4th of July Parade
10/23: West Chester Halloween Parade
11/10: West Chester Veteran's Day Parade
12/6: West Chester Old Fashioned Christmas Parade
Here's the full 2019 football schedule:
all games are at 7pm
8/23 - AWAY @ Sun Valley - Rustin 53 / Sun Valley 7 (W)
8/30 - HOME vs Great Valley - Rustin 47 / Great Valley 7 (W)
9/6 - HOME vs Kennett - Rustin 7 / Kennett 12 (L)
9/13 - AWAY @ Oxford - Rustin 46 / Oxford 23 (W)
9/20 - HOME vs Avon Grove - Rustin 28 / Avon Grove 14 (W)
9/27 - HOME vs Coatesville - Rustin 7 / Coatesville 31 (L)
10/4 - AWAY vs Chichester - Rustin 28 / Chichester 6 (W)
10/11 - HOMECOMING vs Unionville - Rustin 28 / Unionville 7 (W)
10/18 - HOME vs WC East
10/25 - HOME vs WC Henderson
PLAYOFFS - 11/1 and 11/8
---

The @rgkmb-unofficial account is an experimental account that is operated by Steve Palmer (@remlaps). The account's purpose is to demonstrate the viability of a fund-raising model that is based on use of the Steem block chain in the community. For more information, see our introductory post: Introducing Steem to the Rustin Golden Knights Marching Band
---
Thank you for your time and attention.
---

Posted by Steve Palmer (@remlaps)