source
From the start I tell you, you will not find out who shot Kennedy or those who have ordered the assassination. Nor did you see on a Marilyn Monroe in Bobby's bed or any vent, 'to dress in the wind', since we had already been a year in posterity when the action takes place. "Action" may sound confusing, because it's not in the usual sense. However, remember that, they took something amazing on almost nothing: everything happens between the assassination and funeral and is more about feelings First Lady (played by Natalie Portman), but if you get caught, you will get a little disturbed after finish.
I say if you get caught, at all levels, the film is right from the start - and deliberately - monotonous, fragmented and avoid suspense. However, once you've discovered the hidden theme, delicate and cadence, you indulge in them.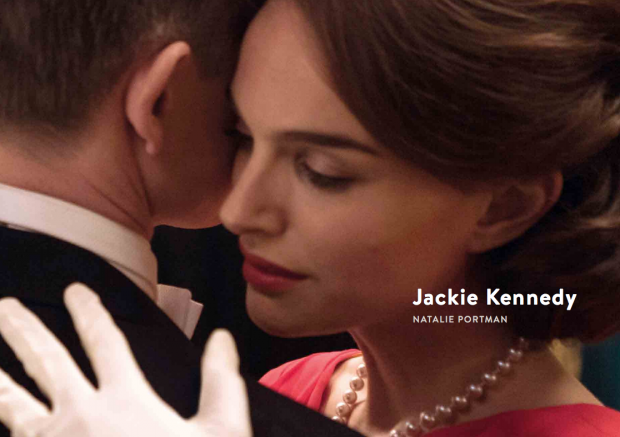 source
It is a story within a story that a reporter Jackie tells a reporter several years after the tragedy: only he will know "the truth", which by the way of facts, there can not be discerned and that will put into paper a way as to satisfy the public. This, as we know, like stories, meaningful beginning, middle and end. We experience something that can not be described in full: experiences of a complex women with pain, fears and her doubts about his role in the family, in world history - which is obviously just another story more credible. It lingers long on history: the parallels between Lincoln and the late John F. Kennedy is inevitable and is seeking answers, certainties, meaning something set up in the chaos of emotions that is the reality. In one of the most beautiful scenes, Jackie wonders why the room is (the one where Lincoln lived) so quiet, as if trying to make (material) history to 'throw' light on this. The White House is generally seen as a museum, the destiny of those who moved in there pass silently behind inscriptions " in this apartment lived Kennedys". It speaks about God and faith, in simple words, because the "why" is more important than a ton of sophisticated theological answers to questions that can bring comfort.
Again, it's not about knowledge, it's about direct experience.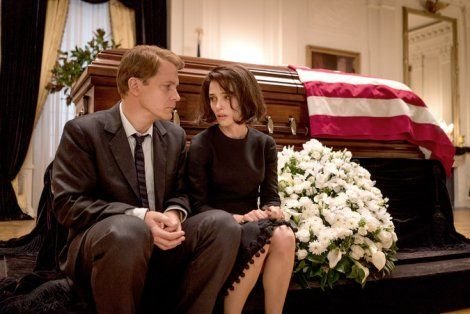 source
The way that collects feelings and historical reality, thus creating a feeling of authenticity, is a piece of music, his favorite Kennedy Camelot (a show on Broadway). A piece that makes Jackie a pick-up, while it is only in the presidential suite in the absence of the beloved in her absence that opened a gap of unfilled.
A conflict easier to see ( "more" objective) is related to the funeral: the team of the new president, Johnson does not want to meet the widow's wish to hold a procession (as was Lincoln), from overzealous paranoid: lest it should be any attack. It's no spoiler that Jackie finally get organizing the procession, at which time her image, dressed in black, his face covered by the veil, simply gives you chills. Like earlier, the image of Jackie in bloodstained pink costume, wandering the corridors of the White House.
Production data are downright intriguing: biopic of a historical figure of the stature of Jackie would have had to come over to Hollywood instead here we have the case of foreign production (including one French) and a director Chilean to rudder. Even more strange is that the script was left to Noah Oppenheim (Allegiant, Maze Runner), for which I had not put his hand in fire. Overall, I was puzzled by everything I got to know before viewing: notes are (rightly) pretty big, while the trailer is totally uninteresting.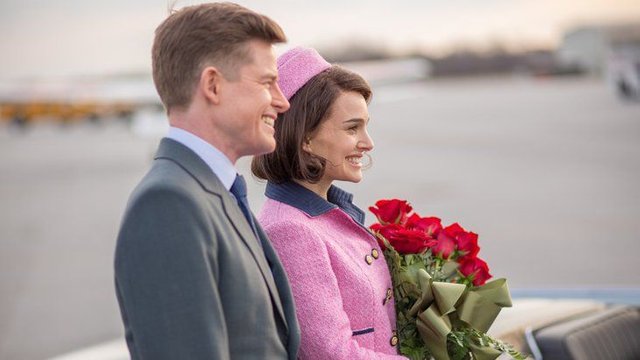 A subtle film, extremely sad, oppressive, but which nevertheless ends on an optimistic note, rather 'connaisseur' and / or those with propensity to melancholy, who used to visit cemeteries eventually fall. Filmed in retro format 4: 3, pale, diminished light, twilight, everything, every detail, evokes mourning: at some point you think you smell smoke candle.
Natalie Portman has exceeded my expectations: how to imitate Jackie's convincing and generally making a multidimensional character and nice illustrates the fragility, vulnerability strong woman.
IMDB mark 7.3/10
Metascore 81
My mark 8,6
Nominated for 3 Oscars.
Director: Pablo Larraín
Writer: Noah Oppenheim
Stars: Natalie Portman, Peter Sarsgaard, Greta Gerwig