Movie Review: ARRIVAL(2016) for Sci enthusiasts
Arrival –from November 11- 2016- and distributed by InterComFilm. Director Denis Villeneuve is known for Sicario and Prisoners, so it's understandable that the expectations Arrival arrive loaded with good film, but mostly curiosity, because we wonder what can bring Villeneuve in SF. The film helps us to get an idea of what will be the sequel to Blade Runner.
Director: Denis Villeneuve
Writers: Eric Heisserer (screenplay), Ted Chiang (based on the story "Story of Your Life" written by)
Stars: Amy Adams, Jeremy Renner, Forest Whitaker


source
The trailer appeared not long ago captured my interest. This time it is not an action packed SCI how we usually see, but apparently we have a calmer and more serious approach to the possibility of contact with other species in the universe.
The film is more than what it seems at first. Finally, you will ask questions about what exactly happened and especially about what course may have the same events if they actually ever spend. Undoubtedly, you will put in place the protagonist Louise Banks (Amy Adams) - and I do not mean the gift of knowing so much about communication and language.
Eric Heisserer's script is based on a short story signed Ted Chiang, called the Story of Your Life. The undersigned read a handful of stories of the author and was fascinated by them, reading them from a single reading each one, but did not tell the story that inspired the film.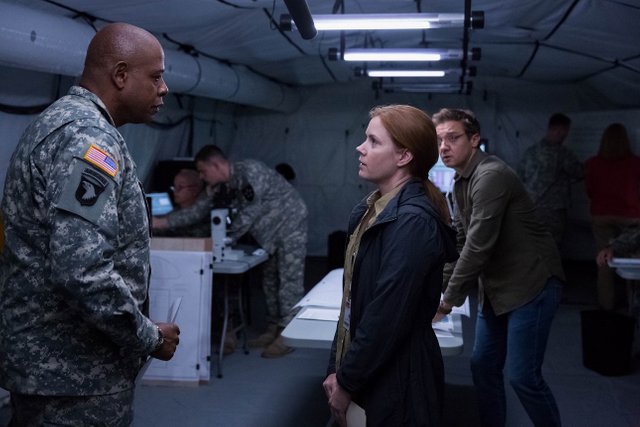 Whitaker in the type of role that defines him. | Photo Credits: InterComFilm
The story and ideas over those to which your imagination is heading up an unconventional script for the blockbuster and fascinating thinkers and consumers of SF books. I do not know how convincing is the scientific aspect of the cognoscenti, the fact is that everything that happens is plausible. Maybe less the disclosure from the end.
Even if progresses slowly, no time is illustrated not appear nothing. In fact, I think the film could be stretched to 10-15 minutes in order to deepen. Or, instead of stationary moments could come more explanation.
Some moments feel unnecessarily elongated or to put your patience to the test. At the same time they're sinking into a state of tension and anticipation cooperating with eerie music. This aspect is a minus that you can easily consider further. What matters and what state of mind and patience go to the movies. I admit that these calm moments put me to the test. Arrival's pace may seem unbearable after a lot of action. That makes it special, at least compared to what was recently released.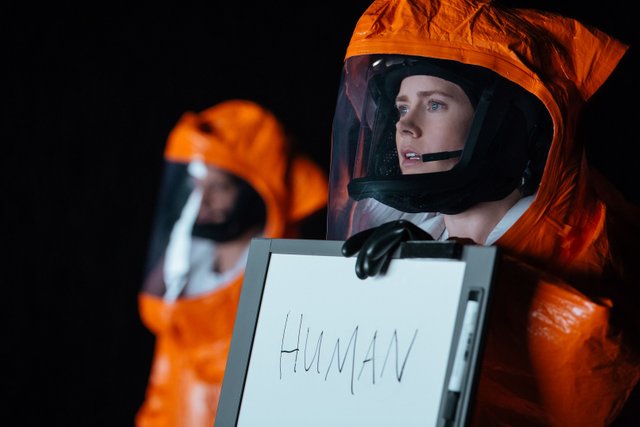 What's easier to learn their language or to teach them your language? | Photo Credits: InterComFilm
In addition to the three central players and a few secondary participating in the action, we see an army of extras. It is difficult not to think of Lois Lane and Hawkeye when they see Amy Adams and Jeremy Renner. The two form a pair of researchers enviable and are called by the US military to establish contact with visitors on one of the 12 ships that have emerged from nowhere on Earth. She is a linguist, he physicist. The manner in which the two are working step by step to reach the earnest înrtebare "Why are you here?" Quickly convince you that the two are some genuine passionate scientists. Forest Whitaker is already in a specific role his colonel, and maybe because of that and it plays so well.
When the three characters are introduced or when Colonel Weber recruits Louise and when the latter meets first with Ian Donnelly (Renner), I felt that the lines were written just to create a little tension between characters, communication does not just as I had imagined it in reality, but was possible.
Interacting with aliens is exciting without being strewn everywhere explosive moments. Creators showed imagination on the appearance of guests and their written and spoken language. All equipment used by the team of researchers are credible precisely because it does not look spectacular.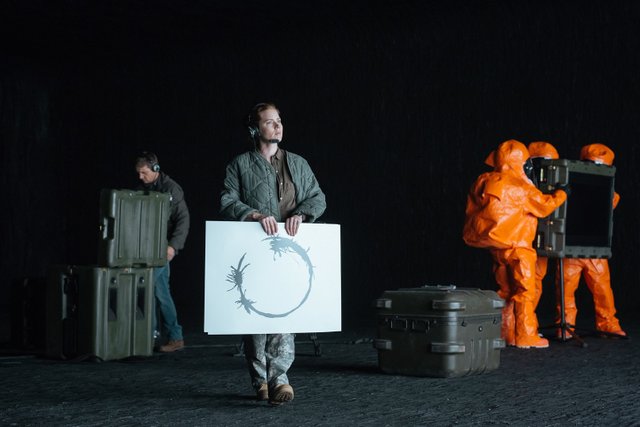 Nor can you believe that it's actually inside the vessel | Photo Credits: InterComFilm
Finally, I think the film could have become weirder than the last part becomes almost hypnotic, and especially would not have hurt more logical explanations. I refer not only totally unexpected surprises in the final act but also to decipher the language newly encountered along the way. I asked, "however, as they caught?". At the same time, as you put more questions, the subject becomes fasinant inspiring to extensive discussion after viewing. For all is more complex than let you think the trailer and the beginning of the film. The ideas revolve not only around the issue of interpersonal communication and addressing visitors from space, but including the perception of time discussing and circuit life.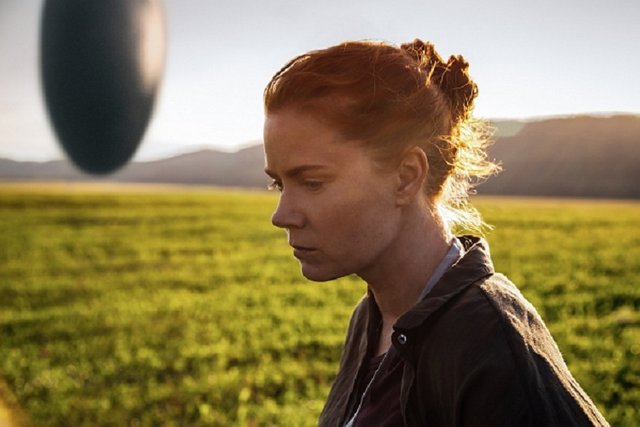 Director and screenwriter are certainly worth watching, and Arrival can be declared SCI of the year 2016 (there is not strong contest, that's right).
Louise can not be confused with Lois Lane | Photo Credits: InterComFilm
THE VERDICT
SF enthusiasts, anthropology, physics, literature, philosophy, communication and all that means Knowledge will enjoy this movie, but might not be for everyone patience, not just taste those who want more answers. One of the most interesting films of the final 2016.