MOVIE Review "Doctor Strange"(2016) perhaps the best superhero movie of the year
"You're a man looking at the world through a keyhole. You've spent your life trying to widen it. Your work saved the lives of thousands. What if I told you that reality is one of many?"
Director: Scott Derrickson
Actors: Benedict Cumberbatch, Chiwetel Ejiofor, Rachel McAdams, Mads Mikkelsen, Tilda Swinton, Benjamin Bratt, Benedict Wong, Scott Adkins
Genre: SF, Adventures
Country: US
Duration: 115 minutes
---
MARVEL universe continues to expand and reach with the launch of "Doctor Strange" the 14th film series started in 2008 with "Iron Man". Interestingly Cumberbatch's character has much in common with that of Tony Stark - arrogance, wealth, fame and even a similar trajectory in terms of how they change perspective about life. It becomes almost a reboot that corrects small gaps there and everything turns into a smart strategy. One betting on spectacular effects, good makeup and interesting uncompromising characters.
But until we know the protagonist of a film that functions as an origin story, we know that the fans expectations are huge and the studios have made so far, while a protototip on betting successfully. And make no exception this time either, combining adventure with dramatic moments, peppered with little specific humor and smart dialogue.
Benedict Cumberbatch quit British accent or to enter a character completely different from what he did so far checked his credits. Even may bring little role as detective Sherlock. This time we see him in the role of Stephen Strange - we know that an individual who is successful in his career, intelligent and known as a neurosurgeon with a promising future. After a serious car accident his nerves of the hands are strained and he can not practice surgery, so in frustration to find a pretext alienate everyone in his life. Stubbornly cling to anything to find a cure and follows rumors they send in Tibet, where it goes to a temple. Here he meets a hidden world, led by The Ancient One (Tilda Swinton very good). Skeptical and disappointed, choosing to stay at the refuge where mind-body connection is essential to deepen and learn the martial arts and misctice. Multiverse, travel in other dimensions, distortion or time are some of the magic that Handcrafts Strange begins to study, finding a formula to reinvent itself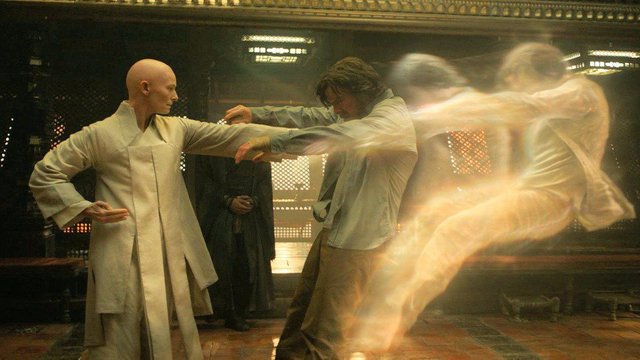 source
The film is worth seeing especially for sequences when the building's architecture and decoration of interior turns into a hallucinating kaleidoscope. Almost a "Inception" with hocus-pocus, perhaps one of the best films made in geek-nerd category: bizarre, magic, unconventional, unusual, chaotic and daring. In other words, it is one of the few productions which was invented 3-D that makes a real visual spectacle of special effects magic and sensational design.
Strange's journey to become hero is sometimes rushed, but if the destination remains the same, the result is more important. Like I wanted something more insistence on how much is affected by the character in the new world and who knows how the new knowledge accumulates. How exactly do I "surrender your ego and your power Will Rise".
With serious intent and a source of comic-strip bidder "Doctor Strange" marks the 14th film from Marvel series. The movie is crazy in terms of quality visual effects that have a staggering impact. Another advantage is the distribution of charismatic production - British Cumberbatch American accent that seems to have felt mighty good-looking androgynous, Tilda Swinton - terribly convincing and Mads Mikkelsen easily overlooked. If it fall back into the trap villain's motivations without strong. But stubbornly is handled by Mads, a cool makeup wearer.
Director Scott Derrickson subsides a little weakness for horror (Sinister, Deliver Us From Evil, The Exorcism of Emily Rose) and is training now for a film with a collage of adventures, spells, some philosophy, conflicts cosmic elements that Projectors astral art and mysticism . It traces the evolution of the protagonist and patient when they play nice when they dress their character with a superhero cape.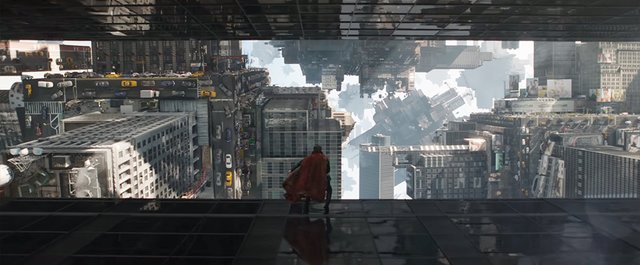 source
A production that seems to have found the cure to the monotony of films with heroes without somehow ruin potential despite a rushing sensation in terms of character development. Is a success in other ways, a success in the fantasy film category.
Very important to remember - stay till the end for a bonus: mid-credits scene and post-credits scene. They are, as usual, about the other chapters of MCU in Phase Three.
My mark 9/10
Watch the trailer: