All New Reviewhunt Launched 🔥- Simple and Fun Marketing Quest Hub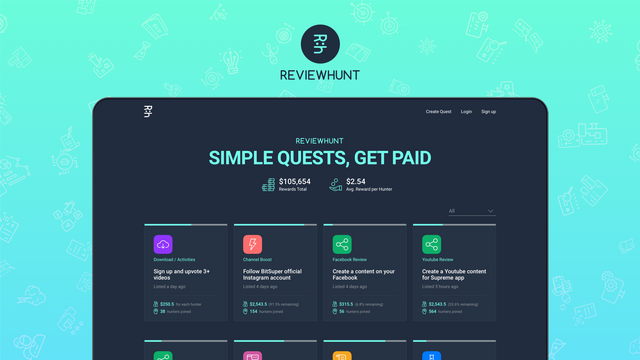 🥁 Drumroll please, today, we're launching a simpler, but greater Reviewhunt. We're trying to reinvent the bounty-based marketing platforms.
For busy people, this is a summary about why you should check out Reviewhunt.
Get paid for joining simple marketing quests.
Earn USD pegged rewards just 4 hours after you get quest approval.
Super simple interface to launch any marketing quest.
Zero fees to create a quest if you use HUNT tokens.
One account for hunters/makers. Earn rewards as a hunter and create quests as a maker all in one account.
We strongly believe that the new Reviewhunt is even easier to use and it's more effective for both hunters and makers compared to any other bounty platforms (plus, we're so proud of our simple/pleasing user experience design).
Take a look at the new Reviewhunt - https://review.hunt.town/
1. Get paid for joining simple marketing quests
In Reviewhunt, there are many simple marketing related quests you can join and earn rewards. In the beta period, a total of 10,514 quests were performed within just five months. In the new Reviewhunt, there are already 17 simple and fun marketing quests are ready for you. If you join and get approvals from all the quests listed now, you can get paid up to $80.1. We will keep promoting Reviewhunt, so that more quests can be generated constantly!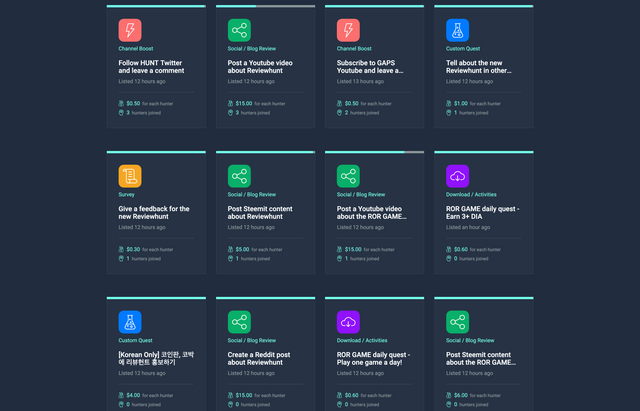 2. Get paid by USD Point / 4 hours payout period
After you've joined a Quest and successfully approved your proof submission, you will earn USD (United State Dollar) Point as your quest reward. If you've received a $10 reward from joining a quest, you will get $10 worth of HUNT tokens when you withdraw your reward, so you don't need to be bothered by the price fluctuation. Also, you will be paid 4 hours after your submission has been approved by the maker regardless of whether the whole quest has finished or not.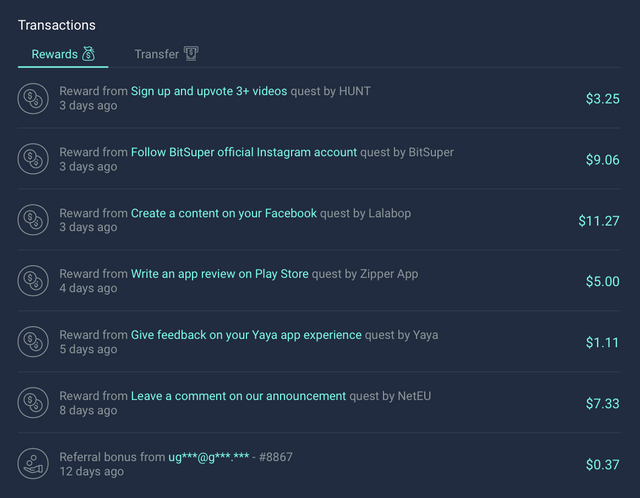 3. Super simple interface to create a marketing quest
Do you need new users? Followers? Subscribers? More review content? Any marketing mission you need urgently can be completed through a Reviewhunt quest with just a few clicks. Here are some examples of the quests you can run:
📱 Download / Activities
🚀 Channel Boost
✍ Social / Blog Review
🍏 App Store Review
📝 Survey
🧪 Custom Quest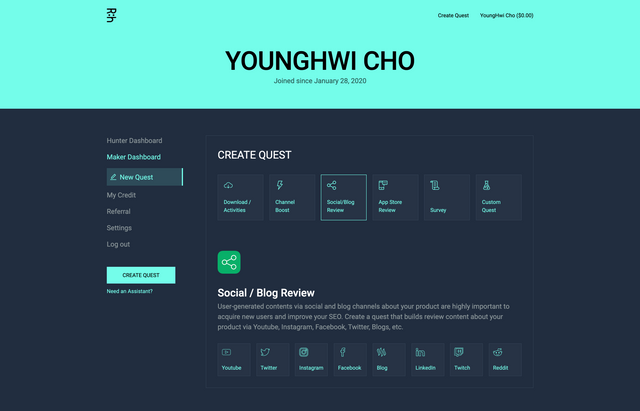 4. Zero fees to create a quest if you use HUNT tokens
After simplifying the quest creation process so that anyone can launch a simple task (like boosting your Youtube channel, increasing followers, etc.), we will also make HUNT token payment as the most lucrative option. If you use HUNT token to payout, you will have the 20% fee waived.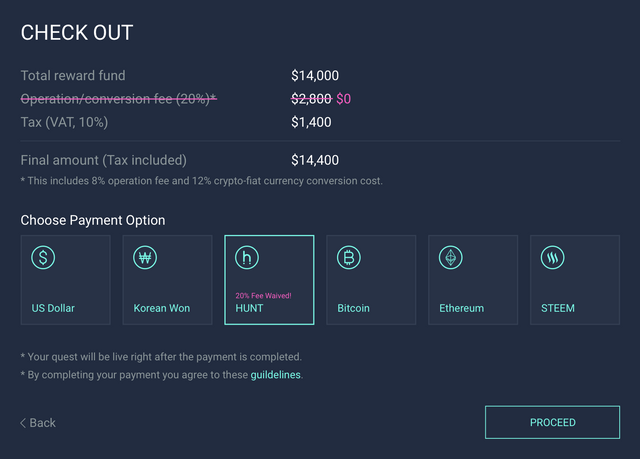 5. One account for hunters/makers → Requires you to re-join Reviewhunt!
The new Reviewhunt is using Blockstack auth that protects your digital right. With this new sign up system, we are now combining the Maker and Hunter account together. For this change, all user database has been rebooted and you are required to join Reviewhunt again.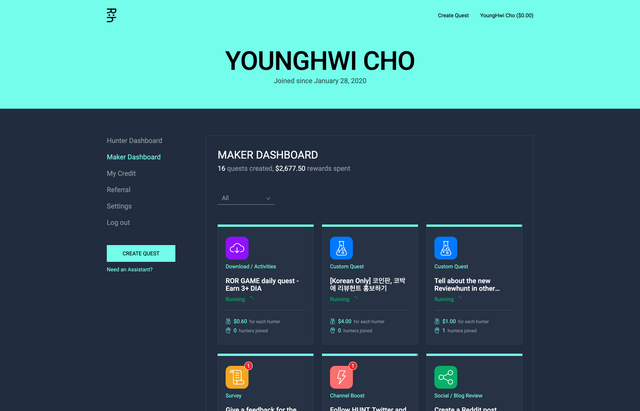 Are you excited about the new Reviewhunt? Then, please resteem this post so that many Steemians can know the news. You can also get rewards for writing about the new Reviewhunt by joining the quests for Reviewhunt.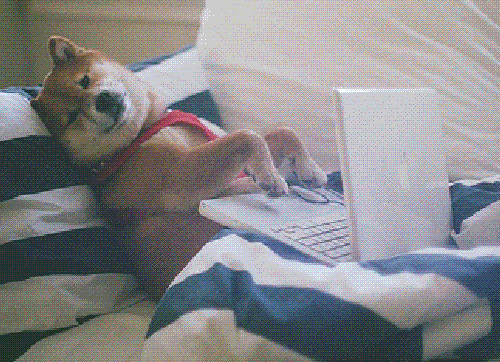 Reviewhunt - https://review.hunt.town/
---
Connect with HUNT:
Discord | Telegram | Twitter
Join Reviewhunt Now - https://review.hunt.town