My Experience with ReviewHunt - Why You Should Join Too!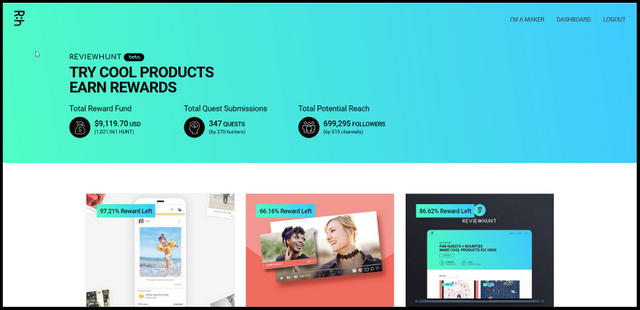 Source: Screenshot of ReviewHunt
---
Right after I'd read ReviewHunt's official launch blog, I immediately signed up on the ReviewHunt website and was pretty amazed by what I saw.
In case you don't know what ReviewHunt is, it's a very promising new platform which allows you to earn Hunt tokens for performing certain review-related tasks. I say review-related, because sometimes, all you need to do is simply sign-up for a service. Other times, you may have to post reviews to your social media channels or perform other tasks. Each task will reward you with a certain number of Hunt tokens, which can be exchanged for real money!
---
Adding 'Buzz Channels'
The first thing you need to do after you've signed up to ReviewHunt, is add your Buzz Channels aka your social media accounts. You can add just about any popular social media channel and you'll get a potential earnings quote for each channel, after you've added them.
Check mine out: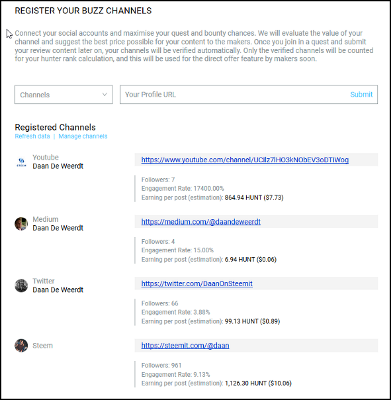 You see that I get many different earning estimations, they're dependant on the amount of engagement and followers I have on each social media account. I'd suggest just adding as many channels as possible, even if you do not have that many followers yet.
Joining Campaigns & Completing Quests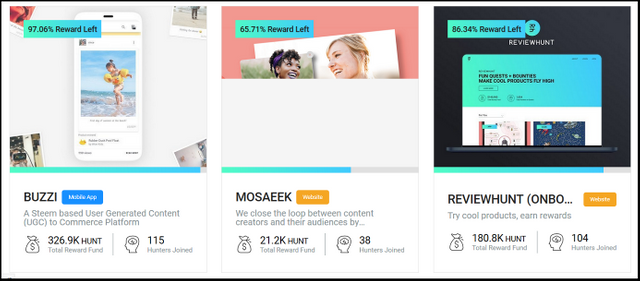 On the ReviewHunt homepage, you can find many campaigns to join. The first campaign I joined was the Buzzi campaign, which required me to install the Buzzi app from the Google Play Store. After I'd installed the Buzzi app, I could complete my first quest, which gave me access to more quests.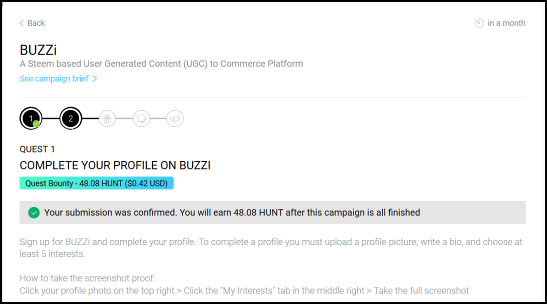 Always read the campaign requirements very carefully before you join a quest, because if you can't complete a quest, you can get penalty poins which may impact your account standing.
Quests are always explained thoroughly and you can also see how much you might earn after quest completion.
---
Conclusion
I would highly recommend joining ReviewHunt, in my opinion it's one of the most promising Steem-related platforms out there. According to their launch blog post, they currently have a whopping 117 interested companies that might be willing to join ReviewHunt. The earning potential is absolutely massive.
Another interesting fact is that they're planning to launch their tokens as SMTs, once SMTs are available. They're currently available as ERC20 tokens, but will be launched as Steem SMTs eventually!