Do Easy tasks and Start Earning Cryptocurrency today - Reviewhunt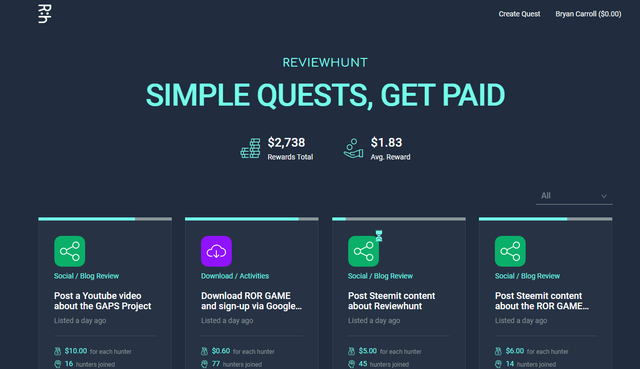 Start Earning Cryptocurrency today on REVIEWHUNT, you just need to do some easy tasks, called quests, do it, and earn hunt tokens.
You can start right now, Its easy, Fast, and FREE.
REVIEWHUNT SIMPLE QUESTS, GET PAID
Get paid for joining simple marketing quests
In Reviewhunt, there are many simple marketing related quests you can join and earn rewards. In the beta period, a total of 10,514 quests were performed within just five months. In the new Reviewhunt, there are already 17 simple and fun marketing quests are ready for you. If you join and get approvals from all the quests listed now, you can get paid up to $80.1. We will keep promoting Reviewhunt, so that more quests can be generated constantly!
if you love trying out cool new products and enjoy being an early-user of products that have the potential to be world famous, Reviewhunt is the right place for you. You can try out cool new tech products such as a mobile apps, games, web apps, gadgets, and so much more before they have gained mainstream attention and you'll also earn rewards!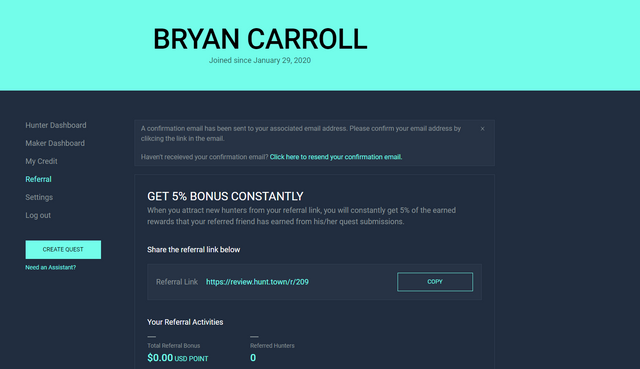 Turn your passion about new products and buzz creation into a financial reward by running fun quest missions.
Review Hunt is a platform that we can earn cryptocurrency for doing simple quests and reviewing products, apps, games and more, on reviewhunt you can start earning cryptocurrency today.
image.png
Reviewhunt enables tech makers to run review campaigns for their new products with unique quests and mission bounties so that they can easily build a strong early user base and community exposure, hunter is awarded in Hunt tokens.
So, What you can do with your Hunt tokens?
EASY! You can convert your hunt token into any cryptocurrency through an exchange.
Do Easy tasks and Start Earning Cryptocurrency today - REVIEWHUNT