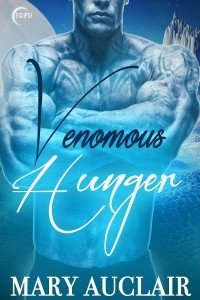 Check out the highlights on our official review of VENOMOUS HUNGER by Mary Auclair!
a fondness for sci fi romance between a human and another species.
Even more so when the human is cause for frustration and good-natured grumbling, such as the relative merits of celibacy versus dealing with a female.
the insta-attraction is held at bay in favor of developing the story.
I really enjoyed that it was a pirate, okay an honorable one, who came to the rescue of a dying species.
the seeming electrifying attraction between Kamal and Aliena was fun and got even better when they went into battle.
a fun read and comes with a momentous happily ever after.
Rating: 5 Stars
Reviewed by Gabrielle
for TheRomanceReviews.com
Catch the full review and details on The Romance Reviews website.
Now available on Amazon.com.
Photo credits: TheRomanceReviews.com