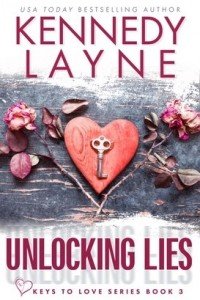 Check out the highlights on our official review of UNLOCKING LIES by Kennedy Layne!
drove me a little crazy in the beginning.
It felt like whole sections were missing from the story (despite being familiar with the overall series arc)
nothing about this story captured my attention, and I found myself really having to focus in order to get through it.
There was very little excitement or suspense other than the obvious underlying threat
If you're a fan of this series, I'd say this is a must-read, but as a stand-alone, I'd skip this one.
Rating: 3 Stars
Reviewed by Delta
for TheRomanceReviews.com
Catch the full review and details on The Romance Reviews website.
Now available on Amazon.com.
Photo credits: TheRomanceReviews.com