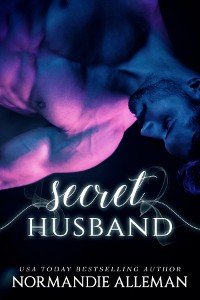 Check out the highlights on our official review of SECRET HUSBAND by Normandie Alleman!
Psyche 'Kiki' Armstead is a beautiful and popular actress who never wanted the fame that she has attained.
When she is pledged in marriage to settle her father's debts, she's more than willing to give up her acting, and to focus on her art, which is her true passion.
Kiki's new home is sumptuous, and she's all set to meet her new husband, only to find that he's..........invisible.
Cupid, or 'Q', as he invites Kiki to call him, is smitten with his beautiful new bride, but there are circumstances surrounding their marriage that he can't reveal.
He also can't reveal himself to Kiki, so he makes love to her in the dark.
They share a steamy passion, and seemingly are happily in love, until social media clamors for a picture of Q.
THE SECRET HUSBAND, while very short, is a sexy and entertaining read, which parallels the mythological story of Psyche and Cupid.
I love the humor, the romance, and the fun of this unique and very enjoyable story.
Rating: 4 Stars
Reviewed by Blue
for TheRomanceReviews.com
Catch the full review and details on The Romance Reviews website.
Now available on Amazon.com.
Photo credits: TheRomanceReviews.com