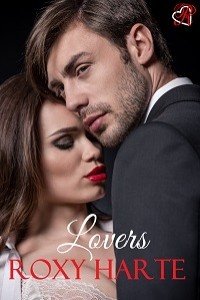 Check out the highlights on our official review of LOVERS by Roxy Harte!
I've had mixed experiences with Ms. Harte's writing, some I absolutely adored, and some I had to put on my DNF list.
This one had elements that I loved (the poly lifestyle) with elements I loathe (adolescent role playing).
There's a lot of players in this book, and if you're not familiar with how polyamory works, you may find yourself out of your depth on this story.
It was very emotional, lots of drama and jealousy, which didn't do much for me this time.
My biggest personal issue with LOVERS was Toby. She and Adrian were into adolescent role playing, with her being the boy. I can appreciate non-gender conforming sex, but the whole kiddie thing (even though everyone is far more than legal) is something I can't stomach.
That said, I did somewhat enjoy every other relationship dynamic.
Overall, this wasn't my cuppa, but it certainly was interesting.
Rating: 3 Stars
Reviewed by Delta
for TheRomanceReviews.com
Catch the full review and details on The Romance Reviews website.
Now available on Amazon.com.
Photo credits: TheRomanceReviews.com