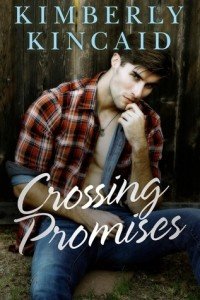 Check out the highlights on our official review of CROSSING PROMISES by Kimberly Kincaid!
one I've really looked forward to, mostly because Owen has been the biggest douchenozzle in earlier books, and I figured SOMEONE had to love the curmudgeonly dude.
Sadly, Owen didn't get much more lovable in this book
I struggled with Cate as well. While my heart broke for her losses, she just wasn't a super lovable character.
She didn't have a lot of depth, and her character was pigeonholed.
For the most part, CROSSING PROMISES was really just…boring. I really had to push myself to read this and not get distracted by Twitter or Expedition Unknown or twiddling my thumbs.
It's not that this is a bad book, it's not, it's just that it's exceedingly average.
No excitement, no dynamic characters, no real conflict, just, blah.
Not the best addition to this series.
Rating: 3 Stars
Reviewed by Delta
for TheRomanceReviews.com
Catch the full review and details on The Romance Reviews website.
Now available on Amazon.com.
Photo credits: TheRomanceReviews.com