Appeared on screens in late 2015, Spotlight tells the story of a real journalistic investigation. Boston Globe is a local newspaper with some seriously tradition involved in social life, struggling to stay on the market in fighting online media. Revival begins with the arrival of the leadership of Marty Baron - a relocated Jew in a Catholic majority city. The first important proposed topic under the new leadership is about child molestation by Catholic priests.
Top Rated Movies #194 | Won 2 Oscars. Another 115 wins & 129 nominations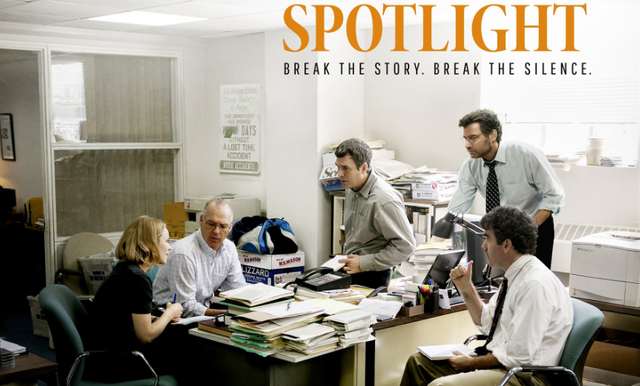 source
25-year old story and well hidden under the rug respectability is removed now and revealed by the Boston Globe. Investigations department of the newspaper - Spotlight - have 4-5 dedicated journalists who performs a stunt to reveal the moral misery of the Catholic Church. A sensitive subject, especially as the victims are from poor part of society, and the perpetrators are Catholic priests - favorites of a company with fanatical tendencies. A scandal that has rocked the Catholic world by revealing abuses of hundreds of known and hidden at the highest level.
The film takes place in the second half of 2001 and virtually has no risk of falling into ridiculous controversial topic after the event of 11 September, when all the press was seized by terrorist bombs. Yet journalists from Spotlight continued investigation. They gave everything exposed in January 2002 after the winter holidays - both religious and socially sensitive.
Spotlight is a very good movie! (For my taste). With an unusual subject, a dynamic pace, well played by actors, famous or not. 8.2 grade-rated on IMDB, Spotlight brings to the fore the famous Michel Keaton, John Slattery and Liev Schreiber - known series Ray Donovan.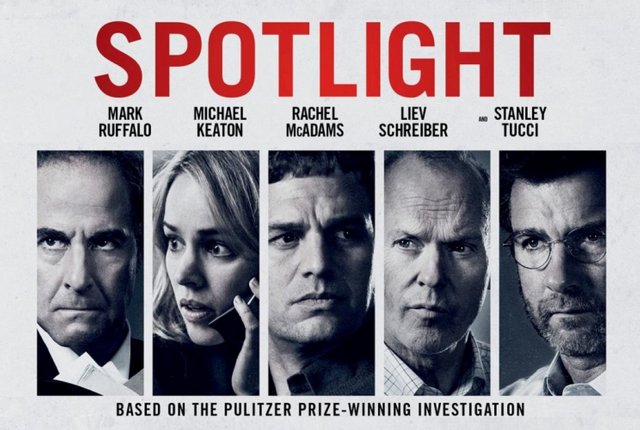 source
Sympathetic Bloopers:
good part of the film sees Matt Carroll's office a cup Dunkin 'Donuts inscribed "DD Perks" - a program introduced in 2014, and the action of the film takes place in 2001
when Mike Rezende downs a taxi and enters the premises Globe logo is seen behind supermarket Star Market. It was created in 2011.
towards the end of the movie, Boston Globe newspapers are loaded into trucks for distribution. These are Ford models appeared after 2010.

None of this does not diminishes quality and originality of the theme of Spotlight.