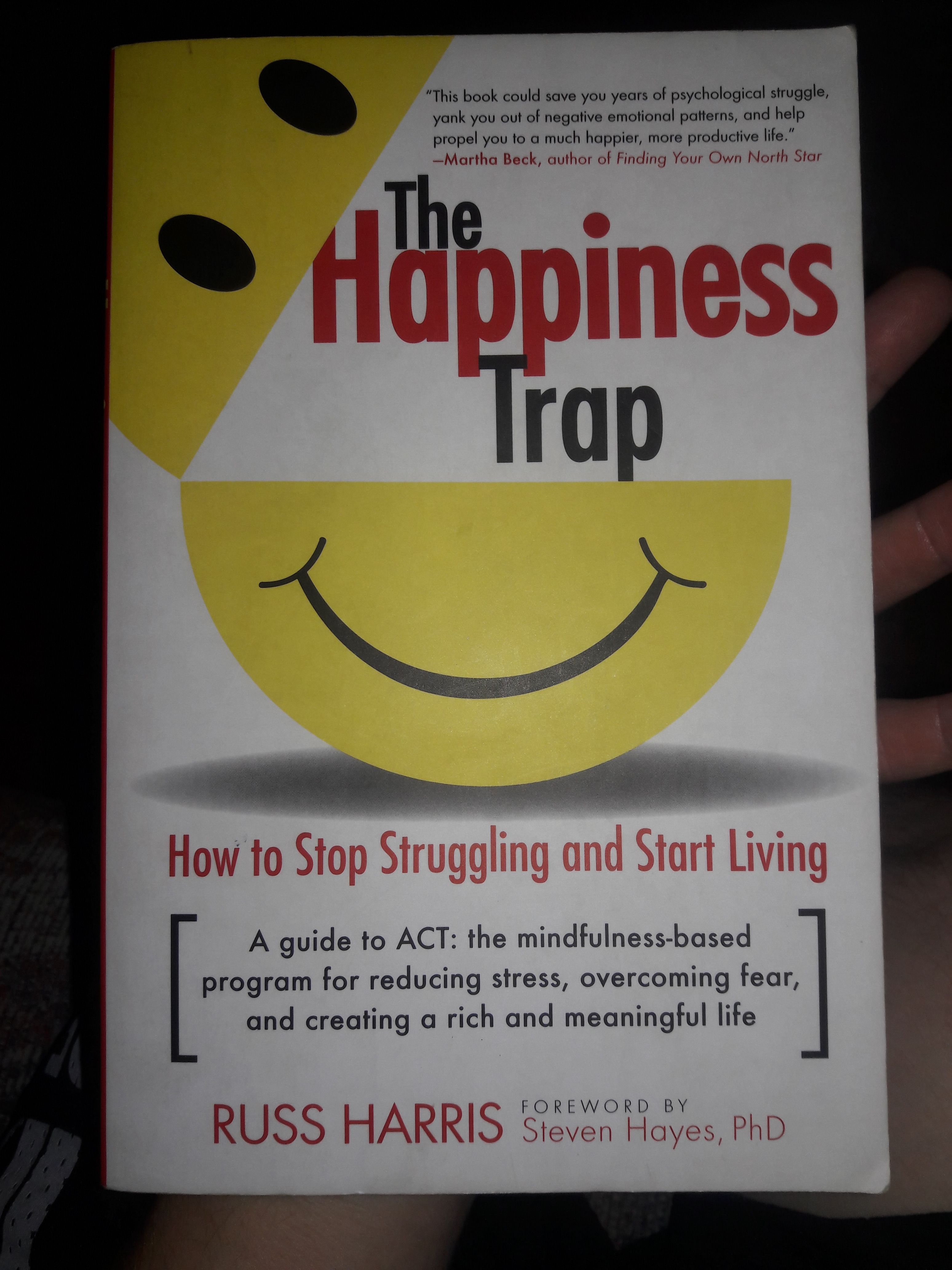 WOULD I ENCOURAGE OTHERS TO READ IT?
Most definitely. I firmly believe public schools would benefit the mental foundation of the children greatly if this were reading material. It is easy to be picked up and encouraged by the author to slowly proceed through the book. Honestly, ANYONE would benefit from reading this book.
WHAT DOES THE BOOK DISCUSS
This book is a guide to ACT therapy.
Accepting Thoughts and Feelings
Connecting To Your Values
Taking Effective Action
It also talks about:
-Defusion
-Expansion
-Connection
-THE OBSERVING SELF
-Values
-Committed Action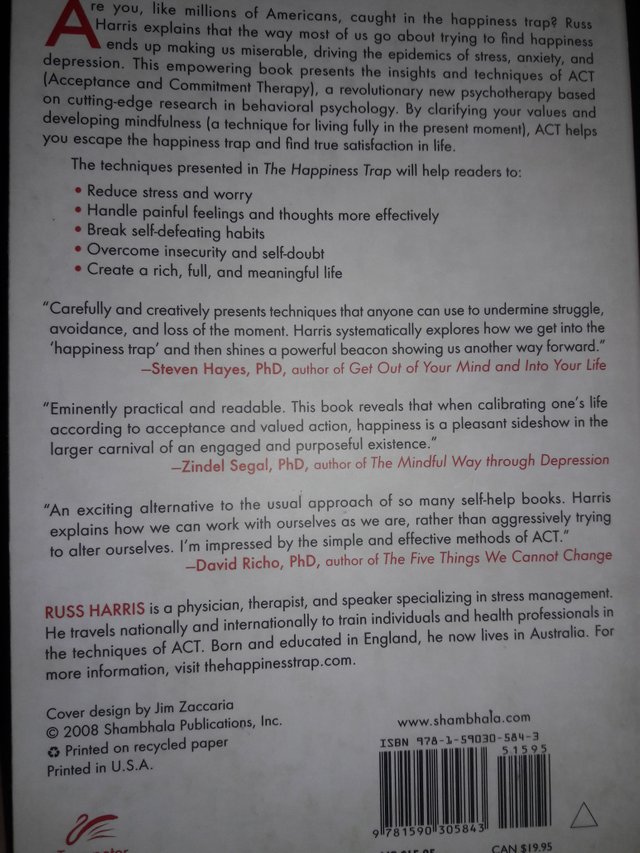 It offers several different techniques one can employ to defuse as best they can from uncomfortable thoughts and feelings. Some of them are:
Naming The Thought, Musical Thoughts, Naming Your Stories, Not Taking a Thought Seriously,Silly Voices
The bulk of the book covers ways to shift your mental perspective, for example: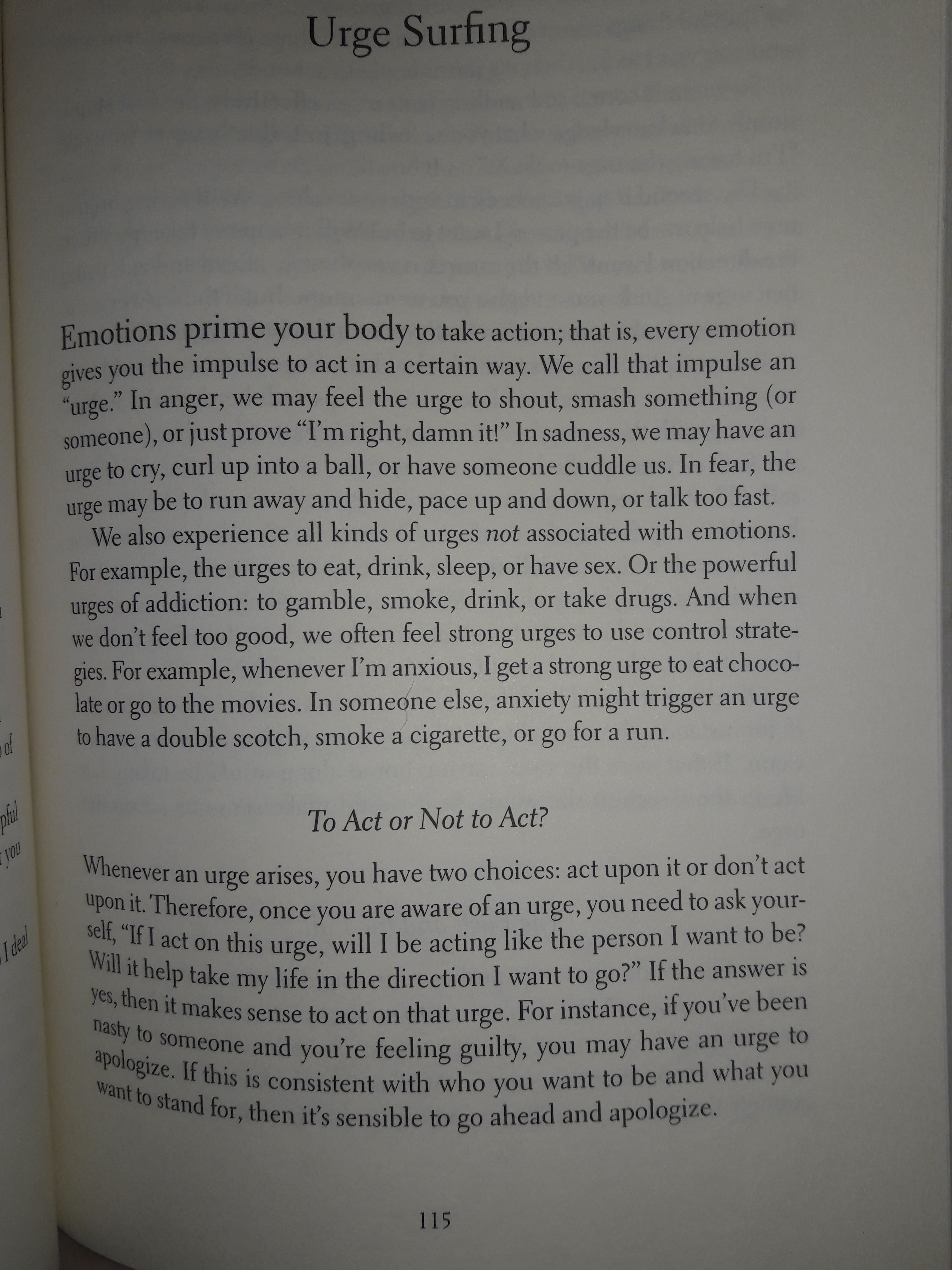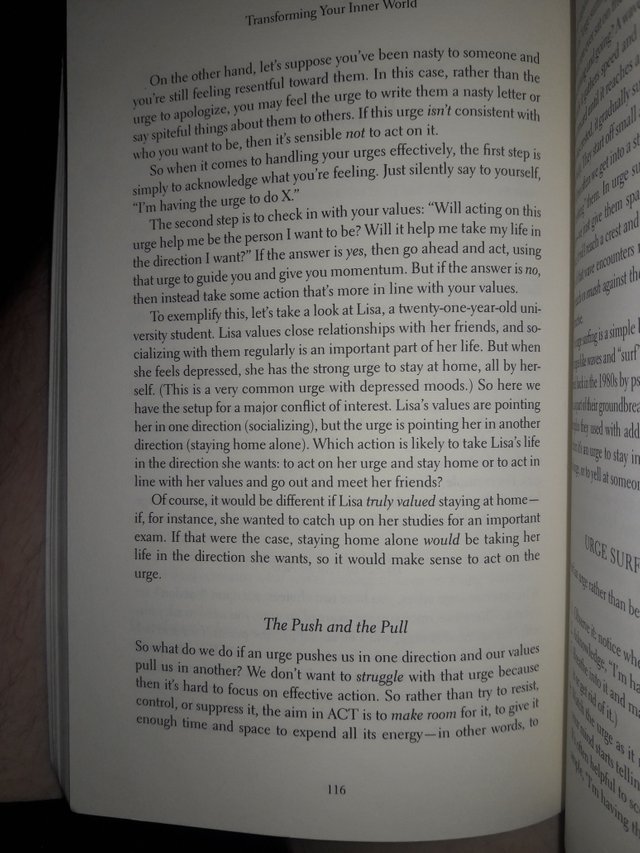 The last third of the book encompasses getting to the core of what you truly value, what you would look back on and wish you did. He encourages you to write the answers to the questions instead of just thinking them over. This part of the book is most important, it helps you lay out a fair set of short term goals that tie into your most important values. Things that excite you and fulfill you will be tied to your actions, mostly. When it comes to how you view the world, handle a conversation, deal with thoughts, or observe the world around you, taking a step back and seeing the bigger picture and inner workings turns out to be quite beneficial. Suffice to say the book is very deep.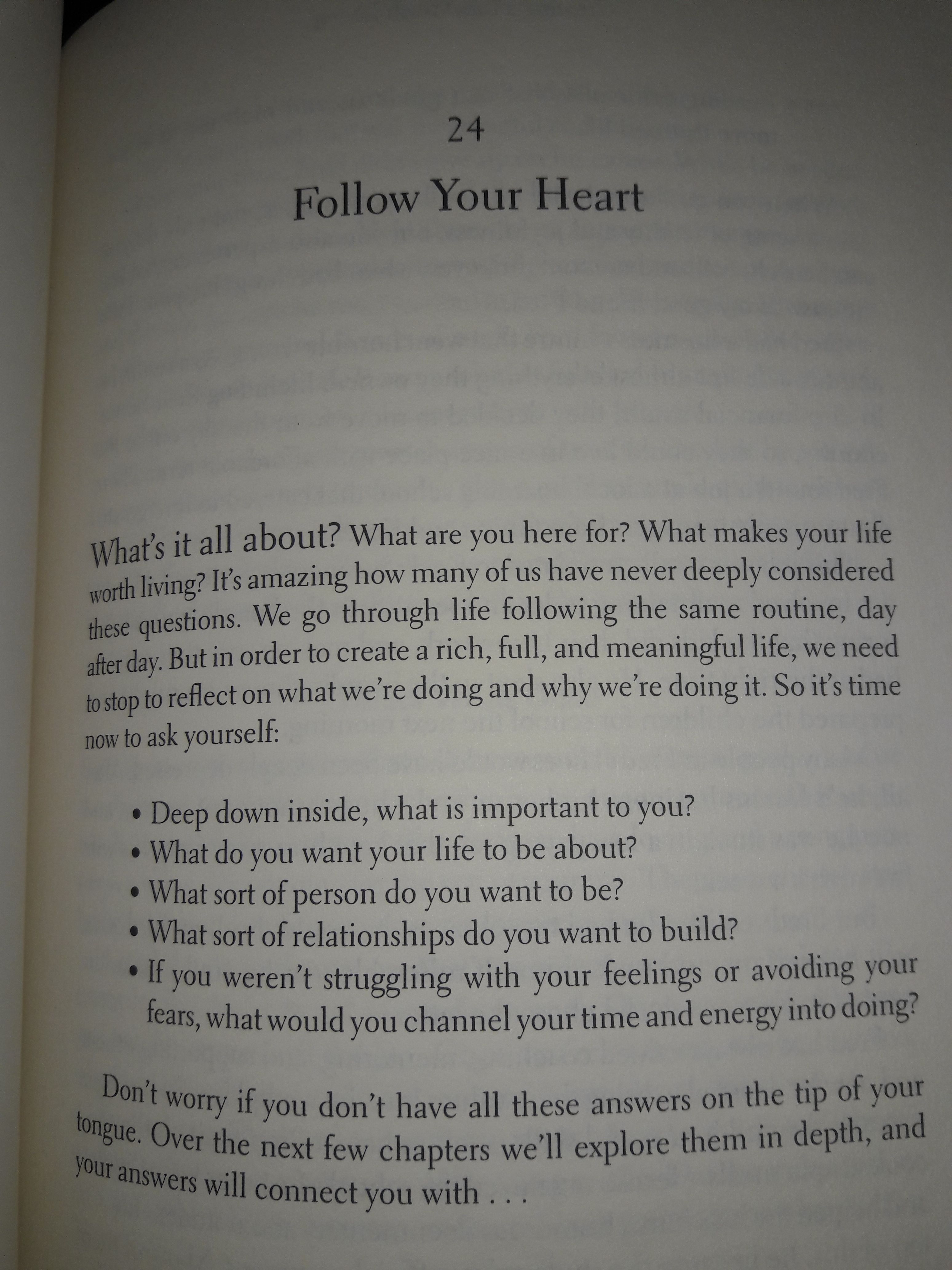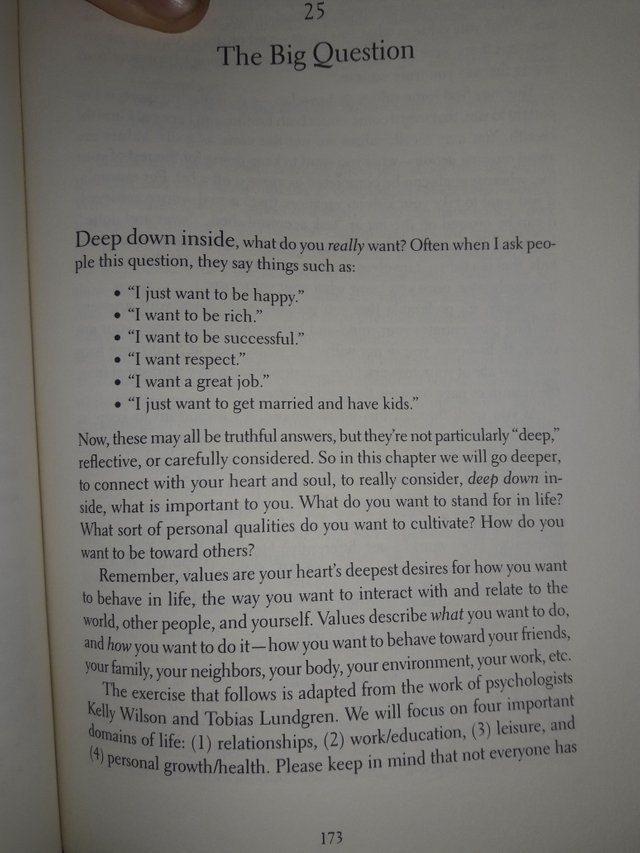 This book is chock full of perspective changing information
WHAT IMPACT HAS IT LEFT ON ME?
I have read this book two times. Once in the fall of 2016, and then in May 2017. The first time i read it i was blown away. I took my time on it and tried to let as much sink in as possible. I related to a lot of what the author spoke about and dscribed. The exercises were perspective altering and enjoyable, very quick. Being someone that personally suffered through deep depression/anxiety from age 16-24, I found the book impactful and empowering. It gave me the ability to see thoughts how they REALLY are, MERE WORDS, stories our brains continually conjur up, like a radio. We can choose at what volume the radio plays at, and how intently we listen in. Reading the book the second time was a wise move. The author insists on using the book after initial reading as a reference guide. To refamiliarize yourself with certain aspects if forgotten. Helped engrain more of it's teachings. Will definitely pick this book back up again.
RATING AND CLOSING THOUGHTS
10/10 MUST READ
This book was suggested at just the right time in my life. I was no longer afraid to try to help myself mentally, strengthen my mental foundation and be more resilient to hardship. EVERY being on this planet would find something worth remembering and implementing in their own lives. CANNOT stress enough that kids and teens of any age should have this be a mandatory read in school. They aren't given the knowledge needed to deal with the difficulties that lie ahead, whatever they may be.
Feel free to grab a copy for you and nab a second copy for gifting! 😀 ⬇⬇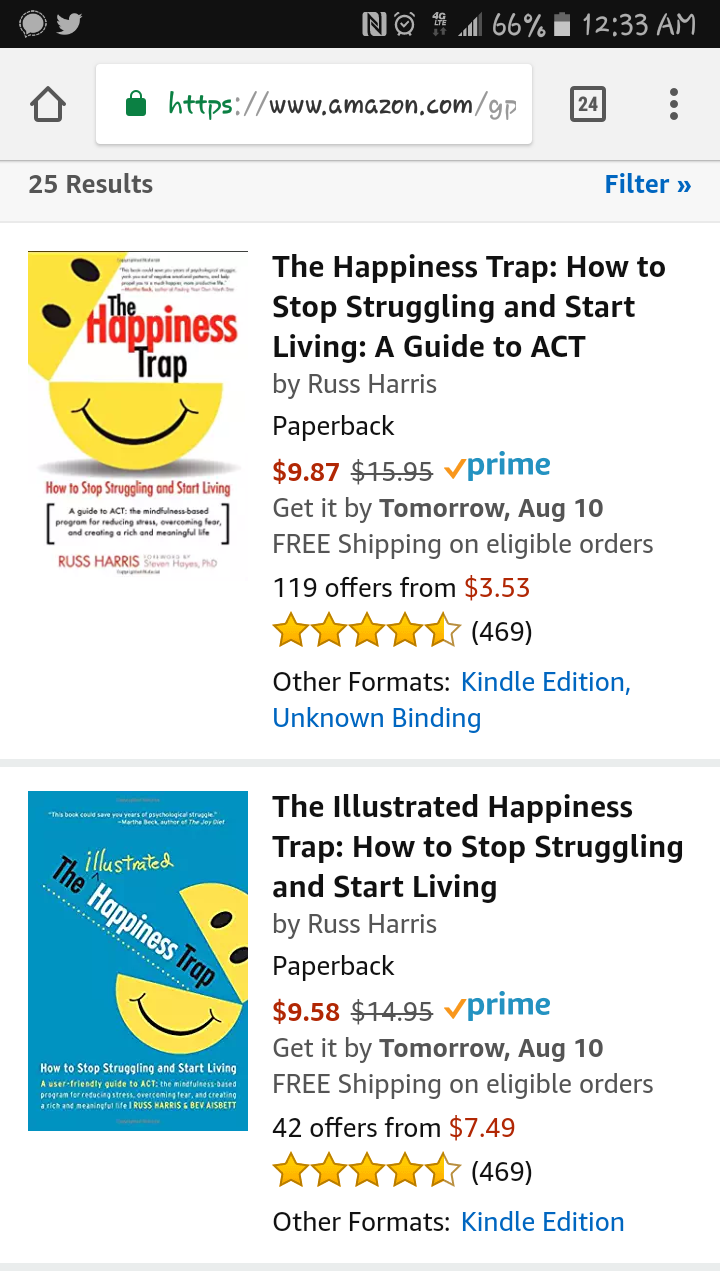 https://www.amazon.com/gp/aw/s/ref=is_s_ss_i_0_19?k=the+happiness+trap+by+russ+harris&sprefix=the+happiness+trap+
**If you don't want to support Amazon:
https://www.goodreads.com/book/show/3250347-the-happiness-trap