Vivaldi The Powerful New Web Browser Alternative - Outshines Chrome, IE And Firefox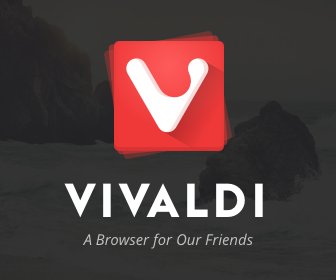 Due to my career I spend allot of time online, if I am not working then I am either checking out new coins, block chains and software, recently I came across a new web browser called Vivaldi after some testing I was so impressed I decided to make it my default web browser and here is why.
Vivaldi
Some say Vivaldi is a brand new Web browser that wants to bring back all the old features of Opera 12 however I disagree, yes it has some features of the old Opera 12 but it offers a whole lot more, It is truly a power users browser with some amazing features that makes me think... why in the world would anyone not want to use it.
Vivaldi Is based on Chrome with Opera browser thrown in on top of it, almost as if the two have been mushed together to create something totally new using some unique JavaScript and React to create the user interface with the help of Node.js and a list of NPM modules, what is truly great is that I have found that all chrome extensions actually work great with Vivaldi so you can add all the features you would like to have from the chrome store.
Main Features
Adaptive Frontend
Vivaldi 's color scheme will adapt as you browse the web, this is really cool almost as if it finds the mail color used in a website then uses that to change the way it looks
Amazing Bookmarks Manager
One of the features I really love is the powerful bookmarks manager, it really simplifies the whole process of storing links to your most valued sites and resources.
Mouse Gestures And Keyboard Shortcuts
There are mouse gestures and shortcuts for almost anything you may want and if there is something specific you would like your Vivaldi to do then there is the option to create your own
Web Panels
Yet another great feature is the web panel, here you are able to pin all your favorite websites such as steemit, click on the panel then opens it up moving the web page you are on just a little out of the way, this is especially great for keeping an eye on things.
Notes
Everyone Need to make a note at some stage whether it be a website link, some text whatever it may be Vivaldi makes this easy with a built in notes app which already has proven more than its worth to me and honestly its a feature every browser should have.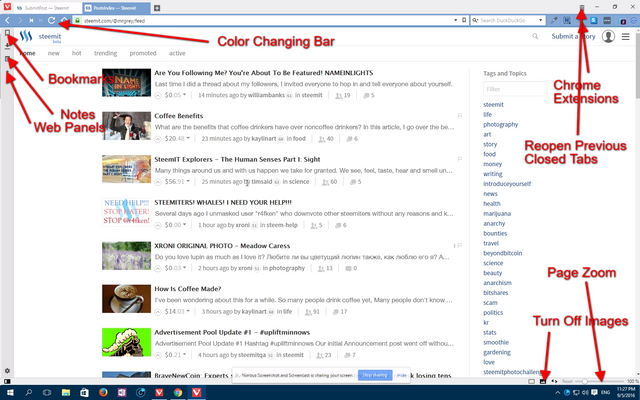 Performance
After reading a few forum comments regarding Vivaldi being a bit sluggish I decided to give it a little test, I installed good old Ghostery and Disabled webrtc and took it for a spink around the web for me personally the speed was impressive, it did slow down a little having 22 tabs open then again who does that ? so in terms of performance visually without graphs and tech specs I am happy to say Vivaldi appears every bit as fast as Chrome browser if not even a few split seconds faster.
So Who Created Vivaldi ?
It may surprise to many as it did me but this new browser has been founded by non other than Ex-Opera CEO, Jon S. von Tetzchner and Tatsuki Tomita and having seen what these visionaries have done in the past I can only think that a bright future lays ahead for this powerful web browser
With tons of privacy and security along with a stack of useful features get yourself some Vivaldi magic you will not regreet it.

Please Review My Post And Leave Your Review In My Comments #reviewme