Review of the film "Dolittle" (2020)
Greetings, dear readers!
The world premiere of the film "Dolittle", created by filmmakers in the United States, China and the United Kingdom in the genre of fantasy, Comedy and adventure for family viewing, took place on January 1, 2020. In the Russian box office, this film appeared on February 20, 2020, and it can also be found on the Internet on sites that provide services for viewing movies online.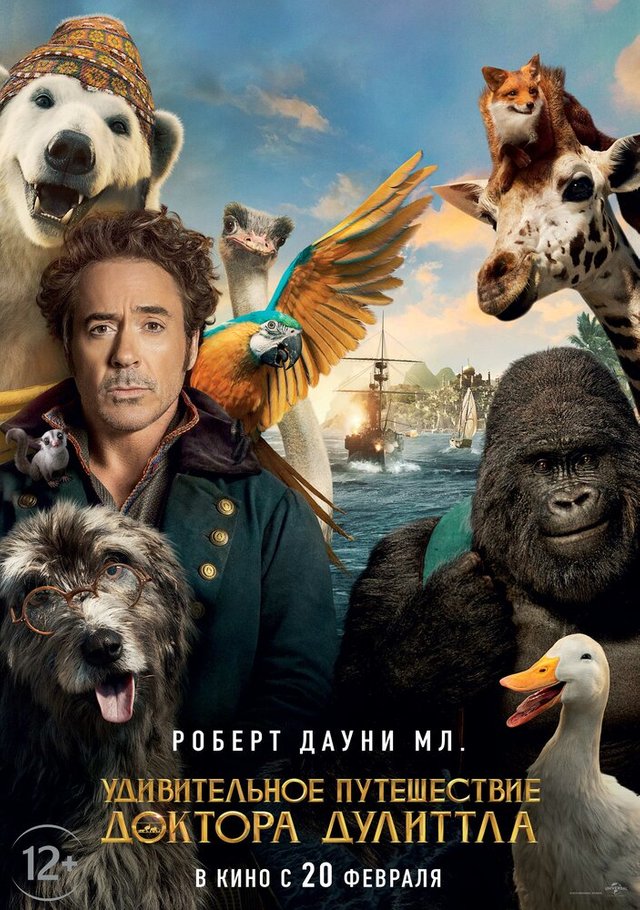 Photo
I want to say right away that this film is unlikely to qualify for any prizes or film awards. Nevertheless, it will definitely give pleasure to both children and their parents or grandparents who will watch this picture with them. And remember:
"The good doctor Aybolit
He's sitting under a tree
Come to him for treatment
And the cow and the she-wolf..."
These are the lines that came to my mind when watching this rather entertaining film. And that, unless Dr. Dolittle is very different from our Dr. Dolittle? Well, except that he does not sit under a tree, but receives his patients in a luxurious mansion, given to him for special services by the English Queen.
However, after his wife died in a shipwreck seven years ago, the famous veterinarian fell into a depression, closing himself off from the world. Only the animals that he had once treated stayed with him and helped him with the housework. In fact, they did everything for the beloved doctor. It is difficult to say how long his seclusion would continue. But he had to go back to work, saving the young Queen from certain death. Moreover, in order to help the Queen, the doctor will have to go on a dangerous journey, in which he will be helped by his faithful friends-the blue and yellow parrot Aru Polynesia, the polar bear Yoshi, the dog Jeep, etc.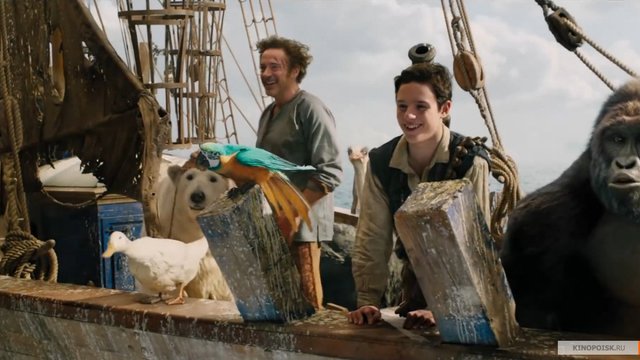 Photo
The heroes of the film are waiting for a lot of adventures, from which they will come out with honor. I liked the various animals created with the help of computer graphics, and the beautiful landscapes presented here.
It is quite interesting and consistently develops the plot itself, which has a lot of humor, funny scenes, no one will be bored for sure. However, it seemed a bit boring to me at the beginning of the film, but then, about 10-15 minutes later, the events of the film began to develop rapidly.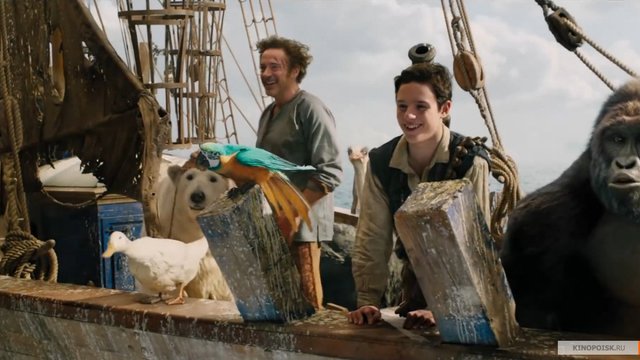 Photo
The film starred and also voiced animals Robert Downey Jr., Antonio Banderas, Michael Sheen, Jim Broadbent, Jesse Buckley, Harry Collett, Emma Thompson and other actors who did a good job with their roles, making their characters cute, funny and quite vital creatures.
I recommend this movie to watch, I liked it!
Pleasant to you of viewing!
Thank you for your attention, see you soon!
With respect to you, @mrfantastis.