MOVIE REVIEW-Lego DC Comics Super Heroes: The Flash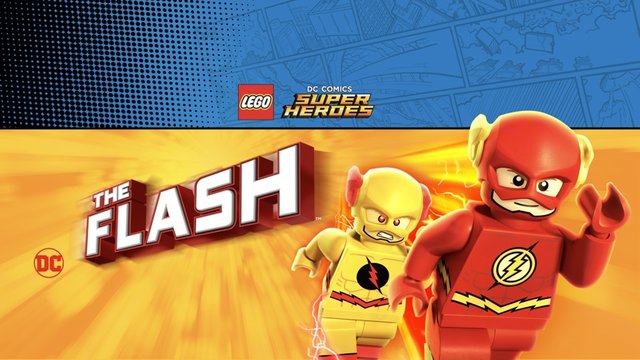 Image Credit: Apple TV
---
Overview
   Due to the Covid-19 lockdown, I have decided to stay at home and explore the world of films. I told myself I won't just live watching the movies. I will also give reviews so others can also join me in this adventure yet here I am with the first movie from my adventure into the world of films. This is my first review, I hope you all will like it and will be able to watch the movies on account of my reviews!
   DC has been prominent comic incorporation as we know it along with its fame and superheroes. I have always admired Marvel movies and comics over DC but I didn't know about DC going top rated with its DC Animated Movie Universe in the race of animation. If we take a look at DC's animation corner it seems like they are doing pretty good whereas we see the very little appearance of animated movies in the Marvel Cinematic universe as compared to that of DC.
Voice Casts*
*Referred to IMDb for cast.
---
---
M

O

V

I

E

 

R

E

V

I

E

W
Introduction
   Lego DC Comics Super Heroes: The Flash is an action and adventurous movie based on the character Flash from DC comics that has been released with DC comics Incorporation, Lego Brands and Warner.Bros Entertainment. The movie was released on 13 February 2018 and after a month DVD edition was released. the director of the movie is Ethan Spaulding and the story for the plot has been written by James Krieg and Jeremy Adams.
Story
   It is a normal routine for everyone in Lego Metropolis as well as for the Justice League, ready for an ambush by any supervillain or criminal. Atom is on his tour to join the Justice league when Joker appears and it seems like it is time for some action! the only superhero that Justice league lacks is Flash, can you believe a superhero! the fastest superhero has the trait tardiness. Flash arrives for help but he takes all the credit to undo the clownification that Joker did to Metropolis.




   After defeating the Joker Flash sees his rival, a villain called the reverse-flash who proclaims that Flash is not the fastest man on Earth and he is. Flash follows the reverse flash to catch him but instead, he gets tricked and in full potential, he tries to gain on the reverse flash into the speedway (a path) to the Speed Force zone but he gets stuck in some sort of time loop and every day repeats on again and again but he thinks this is a Deja vu. He follows the Reverse-Flash again and again in the time loop. This time when Flash enters the speedway to the nexus of speed, he cleaves his powers. After this, he gets everyone turned against him.



   Only Atom knows about innocence of Flash but he is too diminutive to be seen or heard but he still helps Flash. Reverse Flash manages to replace Flash. At the same time, Flash is trying to restore his powers. Dr. Fate, a magician helps Flash to restore his powers. Dr. tells him about speed force and how he got gifted with these powers. Flash can unlock secrets of his power when he passes the tests in the speed force zone but he faces Reverse-Flash again who takes the nexus of speed and tells flash about his mastermind evil plan.


   Being dejected flash remembers his silly mistakes and behavior when he used to abuse the super-speed powers. He returns to the Justice League and leads them to stop the Reverse-Flash with the help of the speed bricks. This is where he tricks the reverse flash and gets the Nexus back defeating Revere-Flash and saving the day once again and so they celebrate their victory!
   The things that we may don't know about the movie is that it won an Emmy Award for its amazing sound editing. The story is well-written but still, there are some events where things aren't much intelligible. While making a Lego movie there are challenges for the depth of field, lens breathing, and other elements, etc. as told by Lego Corporation. Visualizing photography and events are applicable. Another thing that is seen is realistic Physics.
---
---
Screen clipping
   Overall, it is evident that the cinematography of the movie is up to the mark. The character's casting is eligible, for example for Batman's voice Troy Baker was chosen and for Flash James Arnold Taylor was fine.
---
---
Screen clipping
   Emotions are an important effect in a movie to make it more realistic as we can see below there isn't any deficiency of them. The character designs also confound the spoilers. the costumes are well-designed and are similar to the other animation movies of the Justice League.
---
---
Screen clipping
Opinion
   According to me this animated movie of DC representing Flash was fine but I think it lacked the action for me because I like action movies for sure. The Lego animation seems to be fine but I would like the water below also to be made of Lego.
---
---
Over-all it fills the effects and elements for being a good movie. For me, except action, there was everything that should have been there.
   You should watch the movie from the beginning because the action mainly sets in during the first 4 minutes. The movie also contains an important message let me high light it for you Slow down be aware of your surroundings and always have a plan. This quote is very helpful stating that never makes hasty decisions because haste makes waste. So other than being a good movie it also gave a lesson. Other than this it also asks you to be creative........Watch the movie to find about this fact.
I would give 8/10⭐ rating for this movie
T

R

A

I

L

E

R