This is the summary of Usain Bolt's Autobiography. The 100m event was not Usain's favourite event. He decided to train for 100m in order to escape the 400m which coach Glen Mills suggested he should take up another event. Usain said to his coach let him try the 100m instead and his coach reluctantly accept it. The reason why Usain dropped the 400m due to the harsh & torturous interval training as compared to 100m training.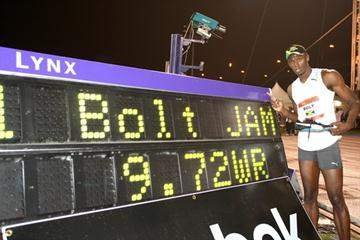 He won the 2008 Reebok Grand Prix in New York defeating Tyson Gay few months before the Beijing Olympic. During that time Usain was still very inexperience in that event. Tyson didn't expect this and he was really unhappy. Usain felt that this was the end of their friendship because the expression from Tyson's face was so upset. When Usain finished the race, then he looked at the clock it stated 9.74 seconds. Oh My God, that a new world record. He didn't know how to react to that moment and the crowd went crazy. He and his coach never expected a new world record.
During the Olympic period, Usain was fully prepared and psyched for his 200m and 100m event. The only problem for him in Beijing was the food. He was not used to Asian food and for the entire Olympic period, he only eaten chicken nuggets. He was quite disappointed during the 100m because Tyson Gay didnt qualify to the final, and it cant be helped. The only rivals during the final was fellow countryman Asafa Powell and Richard Thompson of Trinidad & Tobago. The two of them were sprinting powerhouse.
While all of them were warming up, coach Mills talked to Usain that everythings was ok and just good to go. His coac looked really calmed and Usain just need to believe his coach. Looking at his countryman Asafa, he looked really nervous and Usain tried to chill him up but few minutes before the event started, Asafa looked nervous again. Asafa was nervous because he was one of the favourites and former record holder.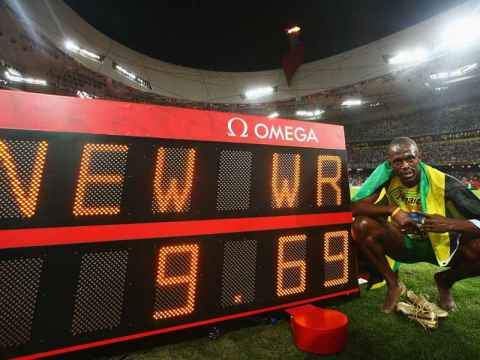 When the gun went off, he was off his block late and Thompson dash out like a bullet. Usain maintain his composure and back to his form but didnt see Asafa. After 50m, usain was leading, after 70m he peeped to see others but he actually turned over his whole shoulder at 80m to see was there anyone next to him and still wondering where was Asafa Powell. At 90m, he knew he was going to win the race, he opened his arms wide open and slapped his chest through the finishing line. He was so happy but then he looked at the Olympic Timer, a new world record at 9.69 seconds. To him winning gold was the "cake" and smashing world record was the "icing" because winning gold was history and a world record can be broken at anytime.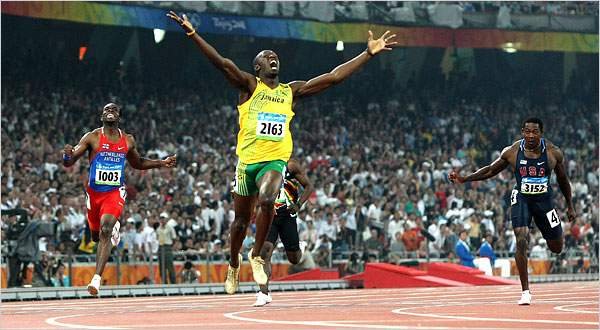 Few days after the 100m, it was the moment of Usain's favourite event the 200m. Again, his coach told him everything was good and showed him a thumbs up👍 before the race. When the gun went off, he blasted ridiculous fast like a rocket and not even a single runner could catched him. After 150m he knew he had won the race because everyone was out of sight. When he crossed the finishing line, all he can see was flashlight and big sound. It was 19.30 second, a new world record. He was totally lost and didn't know what to do as he had broken the world record of this idol Michael Johnson at 1996 Olympic. It was the happiest moment of his life staring at the two Olympic gold medals.
Posted using Partiko Android