Book Review Roundup - Economics and Philosophy, 23rd September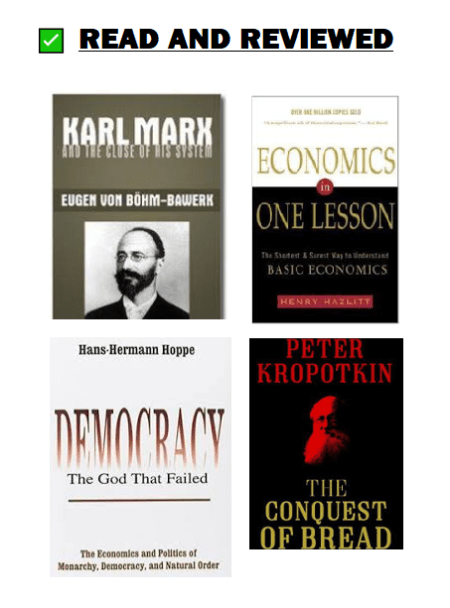 Here is a quick run-down of the 4 latest books I've read and reviewed in my mission to build up my personal library. I'm also sharing my reviews. If you have any suggestions to books I should read, please leave a comment! What do you think about this selection? 
"Economics in One Lesson" - Henry Hazlitt [My Review Here]
This is one of the books that made me think "Why didn't I read this earlier?". It was such a joy to read it and made me add more Hazlitt-authored books to my To-Read-Pile.  This is one of those books that open up your mind and is a great one to beginners guide to modern economics, written clearly and without going too deep  - opting instead to tie concepts together for a wholesome experience.
"Democracy: The God That Failed" - Hans-Herman Hoppe [My Review Here]
One of the most iconic books about modern libertarian/anarcho-capitalism views by Dr. Hoppe that still has made the right-wing liberty minded people split, for that alone its worth a read. Filled to the brim with footnotes that reference other thinkers and books - I will revisit this book after reading the literature referenced to get the full scope. As a stand-alone its spicy and there is so much food for thought packed inside. Only downside is that its very repetitive after a while.
"Karl Marx and the Close of his System" - Eugen Böhm-Bawerk [My Review Here]
Böhm-Bawerk isn't talked about too much by the Austrian School economists, but this book is an important piece to have read if you are interested in the conflict of "Marxism versus Classical Economists", as it is the benchmark for critiquing Karl Marx's economical model. If you have no interest whatsoever about that, this book is skippable.
"The Conquest of Bread" - Peter Kropotkin [My Review Here]
Most often referred to as "the bread book", is somewhat of a bible for parts of the anarcho-communist community (used as guidance by the Mexican Revolutionaries, among others).  I wrote a piece on my beef with one of the main concepts presented in the book, 'Common Inheritance', but the book itself is a solid piece of literature - Very artistically written. 
--- Alex Utopium
Find me here: