MOTO X3M WINTER - Game Review
If you are looking for the perfect game to keep you relax in your leisure time, then you've come to the right post. MOTO X3M WINTER is web based. You don't need to download anything to enjoy it. All you need to do is enter their website and get started. You will be welcomed with a guy on a bike with a play button on it.
The advancement in technology is now getting amazing. Gone are the days when you will go through a lot of process to enjoy the things on the internet. Now, they are available for you without specific process. This game is available to you on a platter of gold. You don't even need to subscribe to anything to enjoy the full package. All you need is a browser and an internet connection. Let's dive into the game.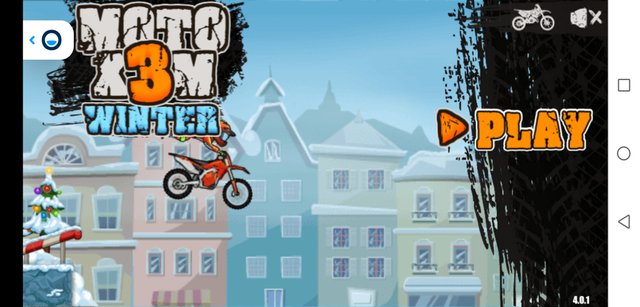 source
Playing it on mobile gives you this view. It automatically rotate your screen into a landscape view and takes the whole screen. Once you click on play, you automatically get an account. Anything you do will be saved on your browser. You can play a stage today and come back the next day to continue. You don't need to sign in or log in. Just head over to the website and you will be prompted to continue from where you stopped. That's one beauty of the game.
The game allows you move the guy on the bike. You will encounter several obstacles on the road and some skills is necessary to make you scale through. You have four controls to play with. A forward and backward button to move the bike, a up and down button to do skills. You need them when jumping or sliding over a cliff or rope.
There are twenty five stages in the game. Each stage have stars you can earn. The faster you are, the more stars you get. Here is a screenshot of my current stage.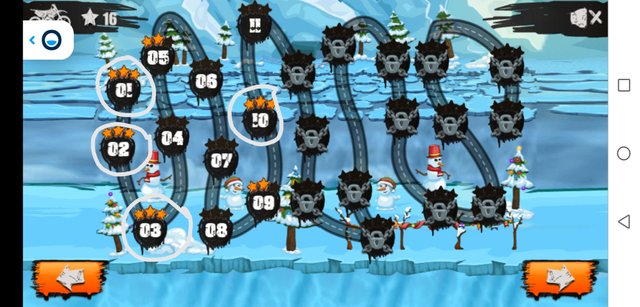 My current stage
I'm currently in stage 11 and I've gathered 16 stars so far. Another thing you get to do is changing bikes. If you are not comfortable with the default one, you can just change it and continue.
Head over to MOTO X3M WINTER and enjoy this.