Hi friends.
These are exciting times for Steemit, right?
Both price and user activity are skyrocketing.
All cryptocurrencies are going down, dragged down by Bitcoin, but Steem is soaring high.
Truly exciting times!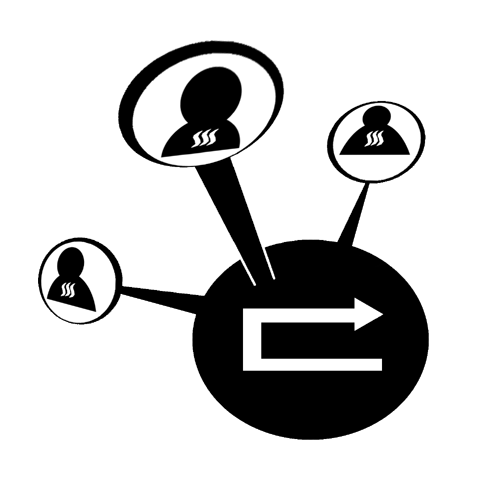 Yet... l want to walk out. I am forced by circumstance to walk out.
I am in an urgent need of money. I am about to buy an apartment for my family and my savings don't seem to be enough.
The @resteembot bot is one of the few things I could sell for some money that would actually make a difference.
A few huge upvotes might solve my problem, but... I'm no blogger - I doubt I'll get more than 150$ from upvotes even in a post such as this one, where one of the well known bots is being sold...
RULES
The bot will Be sold to the highest bidder and this auction will end when a bidder offering a satisfying bid appears.
The starting price is 2000 STEEM, or the equivalent in another currency.
The minimum step up when voting to pay more than someone is 100 STEEM (meaning that it is not allowed to bet just 0.001 steem more than the person before you)
My aim is to get between 2500 and 3500 steem, but I have no idea what will happen.
@resteembot (as far as I know) is the first of it's kind. The first bot for paid resteems.
Of all resteeming bots I've seen @resteembot has the most complete feature set. It does automatic refunds, random bonus upvotes, newbie-friendly reputation-based pricing, etc...
It is a newbie friendly bot in general. This was its strategy from the start - to attract newbies when they register, so that the same people will be loyal customers when they grow.
@Resteembot is the most used resteeming bot I've seen. It wrote 19500+ comments so far, most of which are notifications for actual resteems. While many other bots have more followers, they are not even close when it comes to how often they are being used.
It has 4500+ followers, all of which are true followers. @Resteembot never used 'follow 4 follow'.
@Resteembot acts in real time! A user only needs to wait a minute when the bot is active, and the bot will respond to his request.
The bot also has advertisement features but they are turned off at the moment.
The bot is small and resilient. It runs on my own mini-computer (raspberry py). Power cuts or lost internet connectivity do not bother it, as it simply restarts automatically and continues from where it left. Even if the Steem server is down (or the program throws some kind of error), it simply restarts itself and continues to try, until it can continue working.
to protect against hacks and exploits, the bot has an auto-withdraw feature on each 5 SBD or STEEM
HOW MUCH MONEY DOES IT MAKE?
At the moment it makes between 5 and 10 STEEM per day. With the price of steem being around 5, the bot makes between 25 and 50 USD daily!
Since this bot is cheap, it is not strongly affected Steem price volatility. People use it the same way with 5 dollar Steem as they did with 1 dollar Steem.
If you manage to grow the bot's popularity, it will earn even more, but it is also OK if you leave it to work and generate passive income as it is.
With the current speed, the bot will generate 200+ steem per month.
If you buy it for 2000 Steem you will have your money back less than 10 months. After that you start earning income.
This is a of an SQL query about the bots earnings, grouped by month: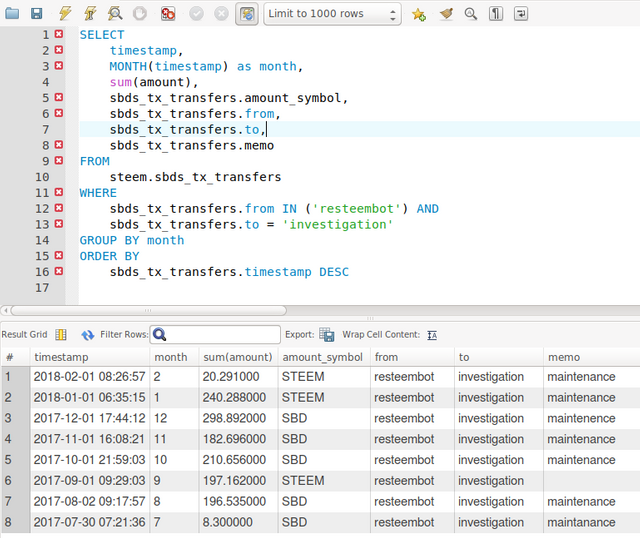 As you can see, from it's second month, the bot has been earning a steady income of +/- 200 Steem or Sbd per month. December was the craziest. The bot earned 240+ SBD, when the price of SBD was soaring, compared to Steem's.
Feel free to verify the data by doing a query of your own. ;)
WHAT AM I SELLING?
I am selling you a whole package. Profiles, programs, instructions for usage and additional scripts like advertising and stuff.
Here is the complete list of goodies:
@Resteembot (code, instructions and account)
@Reblogger - a second resteeming bot with slightly different functionality (code, instructions and account)
@Greetbot - a bot that gives score on people's English writing and rewards those with good score - very good program for curators (code, instructions and account)
volunteer advertisement bot program (code and instructions)
GreetUI - user interface for automatic greeting of people's posts - supports following, upvotes, resteems, tips and filters by different criteria (code and instructions)
The rights to all artwork (avatar images and banners).
FAQ
Q: How do people bid?
A: They just need to write a comment like 'I offer 9000 steem'. They must have the money they offer!
Q: What will happen with the bot after it's sold?
A: Probably nothing. The current way of working is pretty stable and the buyer has an economic incentive to keep it up.
But... at the end it's up to the buyer. There might be changes.