Solar Generators receive $2m from Solar Cryptocurrency in 2017
A cyptocurrency foundation gave solar generators nearly $2 million in 2017, latest figures show. The SolarCoin Foundation (SCF), which oversees the #SolarCoin cyptocurrency, gave generators the currency based on each megawatt hour they produced, and issued a total of 3,615,843 SolarCoins.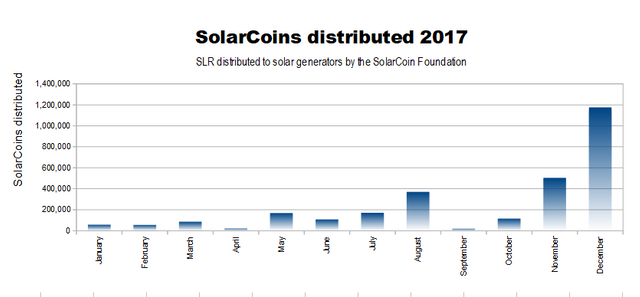 The currency is readily exchangeable for Sterling, Dollars or Euros on exchanges, and at today's rate those coins are worth $1.92 million.
The rate at which the SCF distributes the currency is rising. In January only 50,724 SolarCoins were distributed ($26,000 at today's exchange rate), while in December more than twenty times that amount were handed out. The increasing number of distributions demonstrates the initiative's increasing popularity - the more distributions the more megawatt hours of solar production represented. 
Anyone with solar PV installed is eligible for free distributions of SolarCoins. Indeed, the currrency has been created specifically as a means to reward solar energy generation. The technology behind the currency is similar to Bitcoin, and PV owners become eligible for SolarCoins simply by generating solar electricity; the SolarCoin foundation then pays them at the rate of 1SLR/MWh
Francois Sonnet, Advisor to the SolarCoin Foundation, said "So far SolarCoin has incentivised 3.188 GWh of solar energy has in 51 countries. This solar energy production is roughly 1% equivalent of current world solar capacity production."
The value of each coin has risen alongside the number of SolarCoin in issuance. During 2017 the price of a SolarCoin was $0.06, to its current rate of $0.53 today. Twelve months ago the market capitalisation was $2.3m. At the end of November it stood at $18.7m.