Img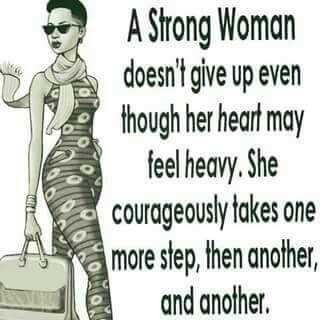 It is a known fact that your relationship should support, encourage, uplift, and challenge you to become a better person, and not drain you of energy or make you feel bad about yourself.
Unfortunately, what we see around these days in many relationships and marriages are far from encouraging. Many women are dying slowly in relationships with men who are suffocating their dreams and stifling their growth.
Young lady, you must not give up being who you are because you want a man to marry you. The right person will love you for your full, authentic self. Also, the right person would never want you to change, because they truly enjoy your genuine essence, without you having to change a thing.
Don't change yourself for an insecure man. Don't claim he will change after marriage. Don't deceive yourself that your love will change him––marriage will make him worse!
Many women are unhappy in their marriages. They are having sex and making babies with men who don't want them to be more successful than they are. They are sharing their lives with men who want them to remain small and dependent on them.
If you constantly have to check in with your partner or feel guilty about going somewhere with friends or family, this shows that your significant other lacks confidence. Dealing with a possessive partner is terrible. You are always walking on egg shells.
Possessive behaviour points to an extreme internal insecurity. If he acts as if he owns you, you shouldn't marry him. Even though he deserves love and kindness, you need to cut ties with him before he drains you emotionally.
This is not to say that you won't make efforts to meet your partner halfway regarding issues in your relationships, but changing who you are because of a man is a bad idea. In the end, it will backfire.
You don't have to give up your happiness for any relationship. If someone doesn't enhance your life and add to your joy, then what purpose do they serve in your life? Must you remain in a relationship where tears and pains are your food? You are hurting yourself.
women shouldnt give up their dreams because one man dangled marriage before them. If he doesn't want you to pursue that career you toiled for in school, let him go. If he wants you to give up your business, tell him to go far.
An ideal relationship consists of two people on the same mission supporting each other every step of the way. These two people might have different dreams, but they still encourage and cheer each other on.
If you don't have someone on the same path as you, or even someone who has your back, don't hesitate to leave the relationship. What you want out of life makes up a large portion of who you are, and you don't need someone who dismisses or bashes your goals.
Your partner should allow you to have friend and family time without getting possessive and trying to control who you hang out with and when. Make sure you have an understanding, confident partner who doesn't need you around all the time to be happy.
Your partner should make you feel a deep sense of calm that makes you forget about the chaos around you. They shouldn't make you anxious, nervous, or angry a majority of the time. Your partner should have peace within him or herself, and reflect it on you as well.
Key to note...
Your relationships with friends and family shouldn't have to suffer just because you have a boyfriend, girlfriend, fiancé, or spouse.