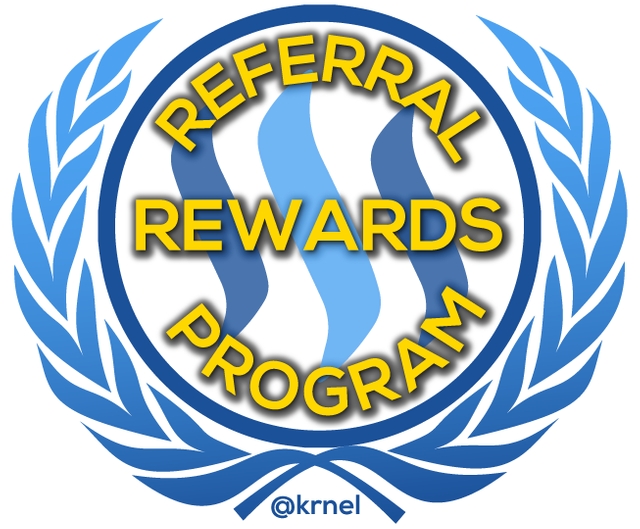 Do you want to work to get good new users into Steemit, but want some reward for it? Then I have an offer for you!
I've heard people request or show interest in referral programs again today. This is something people seem to want to have on Steemit, as I have heard it several times.
I'm not a rich man by any stretch, on Steemit, nor in real life. But here is what I am willing to do...
I will send you and your new recruits a signup bonus of $1SBD each. But you have to meet the requirements.
---
Requirements
Get people to join who have an existing real social media profile for verification of their new Steemit account. They need to make a post on Twitter, Facebook or other social network account, with the name of their new Steemit account soon after they create it (within days).
You also need to have an existing social media account as well so that I know you just didn't create a new Steemit account and posted it to your own social media account.
Also, the account needs to be active, posting and curating, for at least 1 week. However long it takes a user to get there, is up to them and you. I'm not going to give away SBD to people who just want a free lunch. So they need to be making a real post each day (not copy/paste, links, etc.), and curate other people as well, each day. When they are doing this for 7 days, they will qualify and you will get your rewards. This will show me they want to be part of Steemit.
---
Payment
Send me an email at:
steemit.quality@gmail.com
with the links to:
The new users account (active, posting, curating, 1 week).
Your account.
The new users existing social media account (including a post to their new Steemit account when they created it).
Your existing social media account (to prove you are not them).
I will check all of the criteria and make sure it matches.
Payment can increase depending on funds received from others to help in this effort, and other factors. Maybe $1SBD is OK now, but not later... who knows.
---
I say minimum 1 week if you are eager and really think the user has done the work to show they want to be part of Steemit. But it could take them 2 weeks, or 1 month, to be active and post content of their own. Then, send me an email with the 4 requirements. They need to be active, and it may take them some time to understand how Steemit works. That's on you if you want the reward.
This is not freebie money for any freeloader to join Steemit. It involves effort on their part, and yours as well. This is not an automated system within Steemit. Maybe it can get there in the future (hopefully).
If someone doesn't meet the criteria, then they, and you, will not be getting the referral reward. What guarantee do you have that I will pay honestly? Because I am a man of my word. But don't blame me for not meeting one of the requirements, when I put it out, upfront for anyone to read. You can always email me and ask me any questions or seek clarification. Please do not hesitate or be shy.
So... please don't get lazy half-assed people to join. Put some effort to find good people to join. This is a voluntary recruitment and reward effort on all our parts. There is no guarantee.
---
I will make a new post each week to confirm who received referral rewards. This will also serve as a reminder that this program is temporarily in effect until Steemit Inc. employs something of their own.
---
[Image source for laurel wreath]
---
Thank you for your time and attention and any support, suggestions or criticism you can offer! Take care. Peace!
50/50 Payout Selected for more SBD
---
If you appreciate and value the content, please consider:
Upvoting

,    Sharing

and   Reblogging

below.

me for more content to come!
---
@krnel
2016-11-27, 2pm