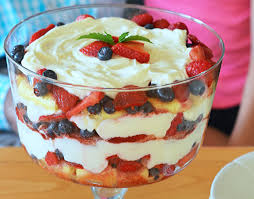 2 Pks (3.4 oz each) Vanilla Instant Pudding Mix
8 ozs Frozen Whipped Topping Thawed
14 ozs Pound cake
1/4 cup Low Sugar Strawberry Preserves
4 cups assorted fruit like slicked kiwifruits, sliced plums and blueberries
Method:
Prepare pudding according to package directions.
Fold in whipped topping.
Trim cake and cut length wise into 3 slices.
Spread 1 slice with 2 tbsp preserve. Top with second slice. Repeat
Cut cake into 1 inch slices...and halve diagonally.
Arrange in a trifle dish against the sides of the dish.
In the center of the dish, layer half remaining cakes, half pudding mixture and half fruit. Repeat and enjoy!
Recipe : Mine
Image source: Pixabay.com