This tofu is the perfect pair to vegetable fried rice. It's got everything you could want out of a tofu marinade, with a combination of sweet, salty, and just a little spicy and a slight zippy tanginess.
The tofu is great, but honestly this marinade is so fantastic that I wanted to drink it up all on it's own. In the future, I will definitely be using this marinade on roasted vegetables, tempeh, and pretty much anything I can get away with marinating.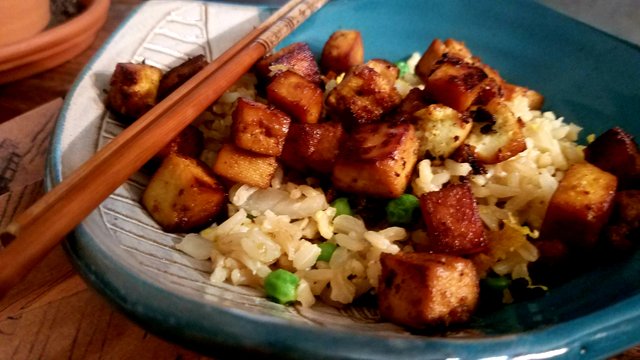 Ingredients:
1 block extra firm tofu, pressed and diced
3 tablespoons pineapple juice
2 tablespoons soy sauce
1 tablespoon olive oil
½ teaspoon garlic salt
½ teaspoon onion powder
¼ teaspoon ground ginger
¼ teaspoon ground turmeric
¼ teaspoon ground marjoram
1 teaspoon lemon juice
Combine 1 tablespoon of the olive oil with pineapple juice, soy sauce, garlic salt, ginger, onion powder, ginger, turmeric, marjoram, and lemon juice. Whisk to combine.

Pour marinade on to the tofu, stir to coat evenly. Marinate for a minimum of half an hour.
In a large skillet, heat the remaining olive oil. Add tofu to skillet and cook for 15-20 minutes, stirring occasionally. Allow to sit in the pan with the heat off for 5 minutes before serving.