Mediterranean Tossed Spaghetti Squash
Tired of pasta but love the effortlessness of tossing some ingredients into a frying pan with pasta and cheese? This recipe takes the ease of a simple pasta dish, but gives it a whole new flavor perspective by using spaghetti squash instead of noodles and good news, it's gluten free!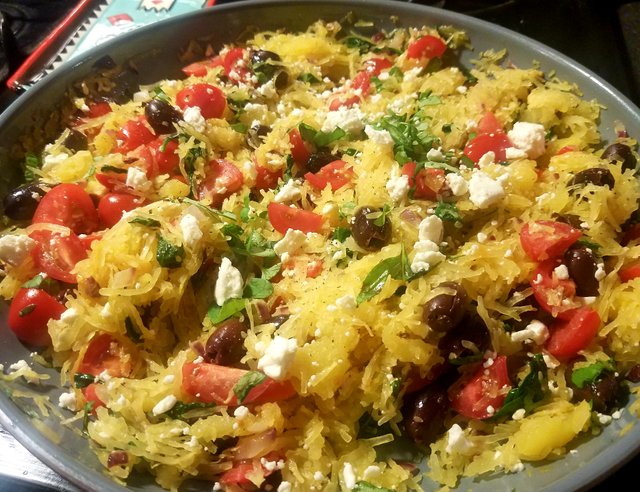 Greek Tossed Spaghetti Squash employs all the mediterranean flavors you love: fresh tomato, aromatic basil, and rich kalamata olives. The roasted spaghetti squash lends a sweet essence to the dish, while borrowing a subtle spiciness from the red onion and garlic.
Ingredients:
1 large spaghetti squash
1 ½ cups cherry tomatoes
3 cups of fresh baby spinach
¼ cup fresh basil leaves
¼ cup pitted kalamata olives
-½ red onion
1 clove garlic, minced
3 tablespoons olive oil
¼ cup of feta cheese
salt and pepper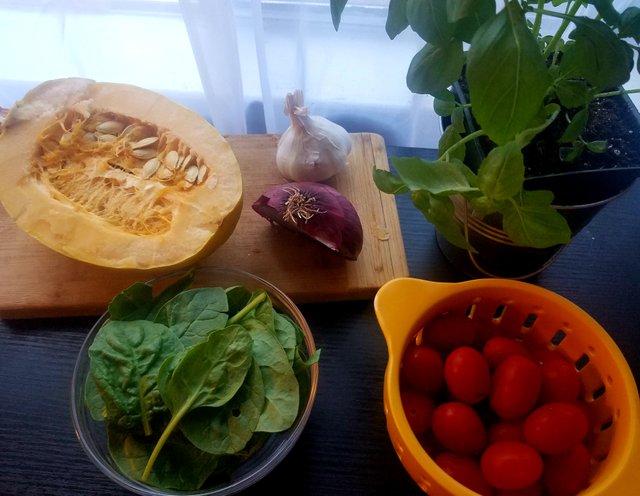 Preheat oven to 400℉ . Cut the squash in half lengthwise. Place halves on a baking sheet, center side up, and roast spaghetti squash for 45 minutes. Squash will begin browning around the edges when it is done.
Allow the squash to cool for ten minutes. Using a fork scrape the contents of the squash into a bowl. Set aside innards, discard husk.
Halve the tomatoes and olives, chop the basil and dice the onion, set aside.
In a large skillet, heat 2 tablespoons of the olive oil on medium heat. Add the onion and garlic, cook for one minute. Add the spinach and cook until the spinach has reduced to half its volume, for about four minutes, turn down heat to low.
Add the spaghetti squash to the skillet, stir in tomatoes, olive and basil, cook for one minute on low heat, stirring to fully incorporate all ingredients.
Remove from heat, add the remaining olive oil, feta, and salt and pepper, stir well. Add the feta and stir.
Serve warm and enjoy!