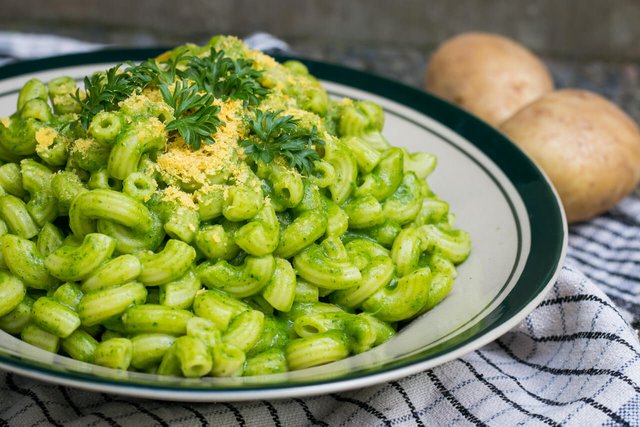 Ladies and Gentleman, may I present to you: the veganized version of the yummy comfort food "Mac & Cheese"! The original contains cheese and butter and is anything but healthy or cruelty free. But my plant-based version is - it is not only vegan but also low fat and glutenfree. Enjoy!!!
[You can find a link to the German version of this recipe at the end of this post.]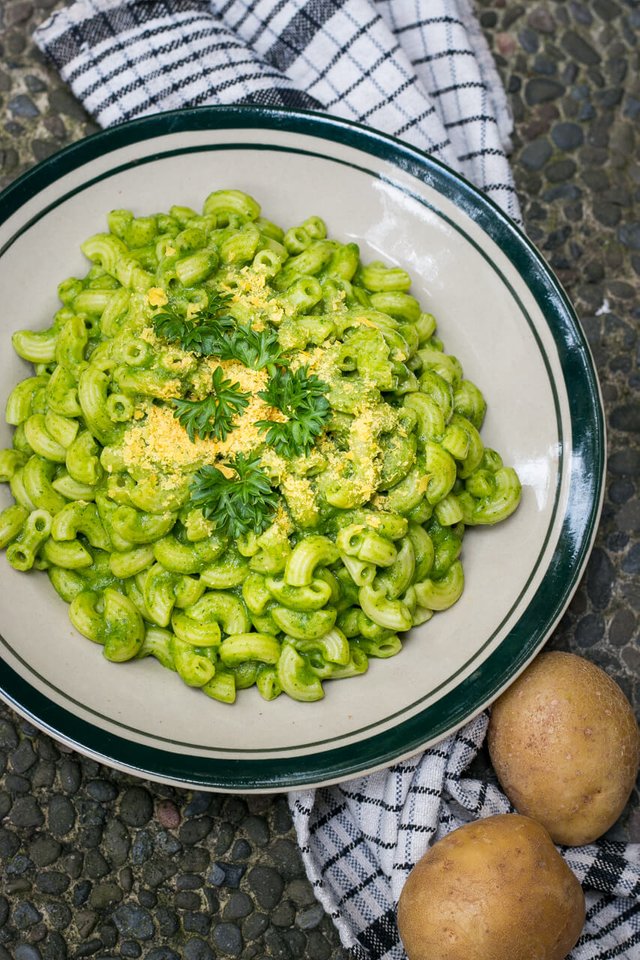 Ingredients
500 g glutenfree pasta of choice
500 g potatoes
250 g spinach (fresh or frozen)
1 handful of parsley (or arugula for a stronger taste)
200 ml water
2 cloves of garlic
1 tsp salt
5 tbsp nutritional yeast flakes
1/2 tsp pepper (optional)
1/2 tsp paprika poweder (optional)
Instructions
Peel potatoes, cut into cubes and cook for around 10 minutes/until soft.
Cook the pasta according to package instructions.
Put the water, chopped spinach, parsley, garlic and spices into a blender and blend smooth.
Add the soft and cooled off potato cubes and the nutritional yeats and mix well.
Drain the pasta, add the sauce and mix well.
Optionally, add more nutritional yeast to taste.
You can find the German version of this recipe >>here<<.

If you like this recipe I'd appreciate your upvote, follow and resteem! 💚
I hope you'll give this yummy recipe a try and I can't wait to hear how you liked it!
Have a great day everyone!
Yours, Sofia