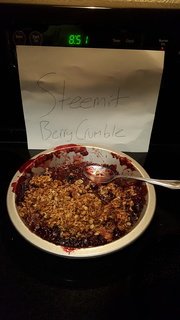 INGREDIENTS
2 cups blueberries
2 cups blackberries
2 cups strawberries
1/4 cup sugar
1/4 cup all-purpose flour
1/4 teaspoon cinnamon
Crisp topping:

1 cup rolled oats
1/2 cup all-purpose flour
1/2 cup brown sugar
1/2 cup sugar
Pinch of salt
1/2 cup (1 stick) cold unsalted butter, cut into small pieces
Whipped cream or vanilla ice cream, for serving
 Blackberry season is on and it is time to collect some fresh blackberries to make something tasty to eat. There is something special about being able to pick your own berries fresh off the bush, especially when it's free and grows naturally.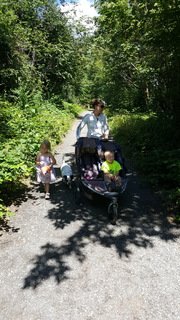 We headed down a road that follows a creek that is filled with blackberry bushes.  At first it was very hard to find any good blackberries to pick as they all seemed to be growing up high which would require us to climb through the bushes and up a hill.  So onward down the road we go. Every so often a tasty morsel would poke out from a bush somewhere and I just had to eat them. Too good to pass up.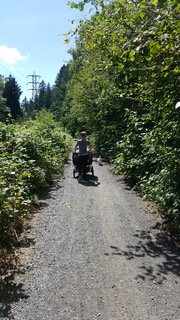 Finally we came across a really good row of blackberry bushes filled with fatties. This was about a 30 minute walk down the path so less people had made their way to this area. Plenty to eat and pick. I could feel my belly starting to get full from fresh blackberries, with an ouch here and an ouch there, a couple pricks of thorns and the pale started filling up with a little help from Annabelle and Aiden.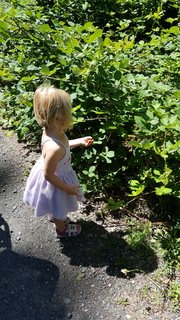 While munching down blackberries along the way I came to the strange realization that not one blackberry I ate tasted exactly the same. I began to realize that their were many factors that went into the way each blackberry tasted. From the shade of a leaf over the berry to the position of the plant in correlation to the creek, each berry holds a unique recipe that could be tasted.  With that I thought,  I suppose you can become a connoisseur of anything if you eat enough. Was I becoming a blackberry connoisseur?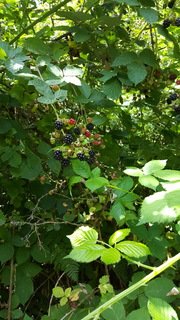 Unsure of what to do with my new powers of observation it was back to the house to make the blackberry crisp. Once home my wife Allison took over on the important task of making the crisp. Thankfully she is a good cook and I was looking forward to what she would make.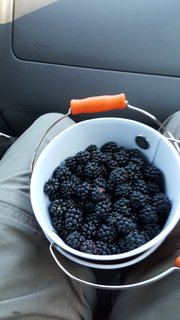 About two weeks ago we picked fresh blueberries and strawberries so Allison decided to add that into the mix.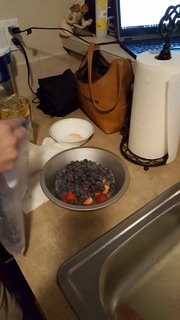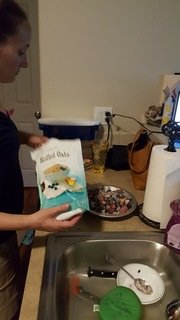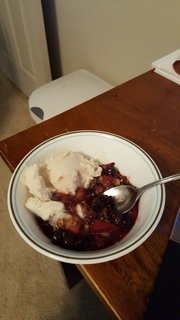 A short time later and it was ready, and I was ready to give it the taste test.  Oh boy! This is good. I was in love,  I needed another serving. Great tastes of berries meddle filled my mouth and honestly I have never had this before.  It tasted similar to some cobblers I have had before but this was much more berrylicious.  All in all I think I have to give this a 10 and will be going on future berry adventures.