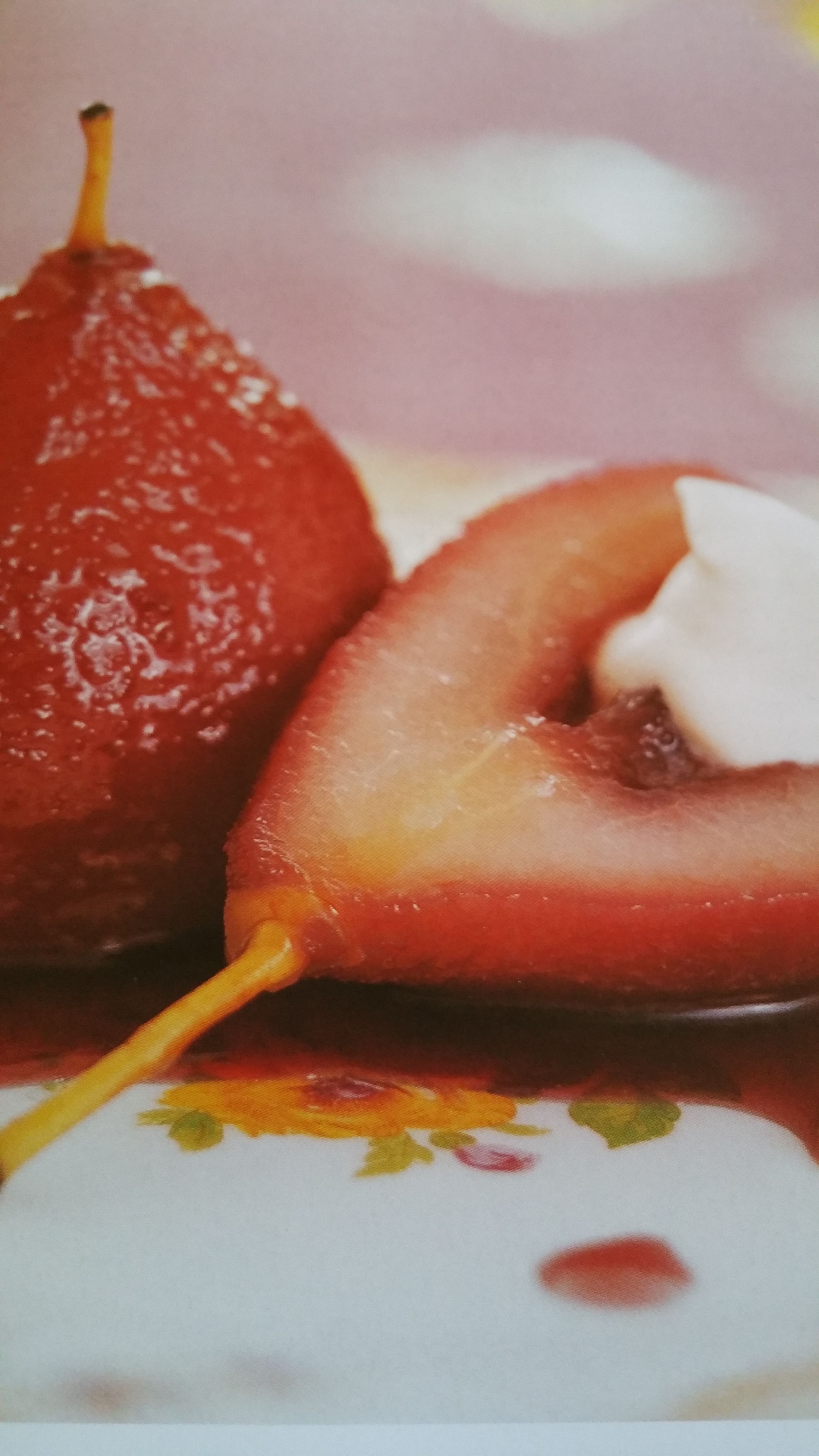 These pears are so decadent. Soft, sweet,
melting in your mouth pears! 
 Red wine Pears 
6, small  firm pears,  peeled but keep stem on.
500 ml (2 cups) red wine
250 ml (1 cup) white sugar
10 cm piece lemon peel
1 whole peace cinnamon
3 whole cloves
5 ml (1 tsp) corn flower
 JOGURT CREAM 
250 ml (1 cup) cold cream
15 ml (1tbsp) powdered sugar
5 ml (1tsp) vanilla essence
250 ml (1 cup) plain yogurt
Mint leaves for garnishing (optional) Clean out the core of the pear with a sharp knife.
Heat the wine, sugar, lemon peel, cinnamon and cloves together. Stir till sugar is disolved.
When it starts to boil, put pears in boiling syrup.
Lower the heat and simmer for 30 - 45 in till soft and cooked.
Take pears out with spoon with holes,
Keep pears aside.
Mix corn flower with little bit of water, and stir it into the syrup.
Simmer till cooked and glossy and pour some of the syrup over pears. Let it cool down. YOGURT CREAM Whip cream just before serving the pears and fold the powdered sugar and vanilla essence into the cream.
Stir the yogurt into the cream and spoon into each serving dish.
Place the pear on top and drizzle of the syrup that's left, over the pears.
You can heat the syrup little bit if it's to thick.
Garnish with mint leaves (optional).
Gives you 6 portions. 
Have a great small Saturday!