🍲 Macaroni in Chicken Fillets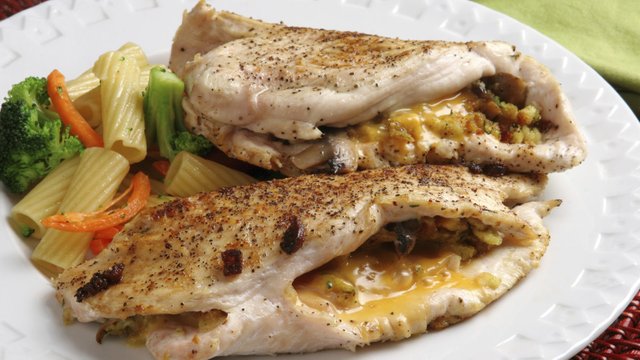 Cooking 45 min Preparation 30 min Number of portions 4
This tempting chicken dish is made very easy and the cedar nuts typical of Italian cuisine give it an irreplaceable charm and charm. A magical dish, which we can safely make among the masterpieces of Italian culinary art!
Ingredients
1 pinch of red pepper
1 pinch Black pepper
150 g Cow butter
2 pcs. Carrots
Chapter One Onion
100 g Mushrooms
50 g Raisins
100 g cedar nuts
200 g of Macaroni
4 pcs. Chicken fillet
1 pinch of salt
Method of preparation
1. Fold the fillets in salted water for about 10 minutes. Drain and into the same water are the macaroni.
2. Carrots, onions and mushrooms are finely chopped, nuts and raisins are added and all is suffocated. Sprinkle with salt and pepper.
3. Add the macaroni and stir well.
4. Chicken fillets are carefully cut off on one side, filled, spread with oil and sprinkled with red pepper.
5. The remaining stuffing is distributed around the meat. Bake in a preheated, moderate oven to a pleasant golden tan.
Support me and my work by voting for me
@thealpha