Dark chocolate Pie!!!! Recipe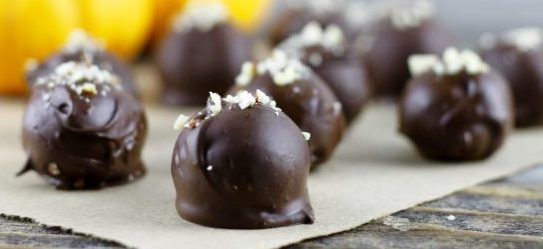 Fixings
¼ glass almond margarine
¼ glass pumpkin puree
¼ glass coconut margarine
2 tsp. maple syrup
¾ tsp. pumpkin pie flavor
Squeeze of ocean salt (if almond spread is unsalted)
1 Tbsp. coconut flour
6 ounces dull or white chocolate chips (1 container, for example, Enjoy Life! chocolate pieces or Sun Spire White Chocolate chips for this formula
¼ tsp. coconut oil
Hacked almonds, sprinkles, and so on for embellish
Directions
Place almond spread, pumpkin puree, coconut margarine, maple syrup and pie flavor in the bowl of a nourishment processor. Process until smooth, halting to rub drawbacks as required.
Stop processor and include coconut flour. Process until a marginally batter frames.
Move mixture between your palms to frame 12 rise to measured balls. Place on plate in the ice chest and permit to chill no less than 30 minutes.
At the point when prepared to plunge, put chocolate chips and coconut oil in glass bowl set over a skillet of stewing water to reproduce a twofold heater. Mix once in a while until totally liquefied and smooth.
Utilizing a fork or wooden stick, painstakingly plunge truffles each one in turn into the liquefied chocolate, rolling and dunking until equally covered on all sides. Sprinkle with slashed almonds, sprinkles or extra pumpkin pie flavor, if wanted.
Exchange to a material lined heating sheet and come back to the ice chest until the point when chocolate solidifies.
Store truffles in a shrouded compartment in the ice chest for up to 2 weeks