---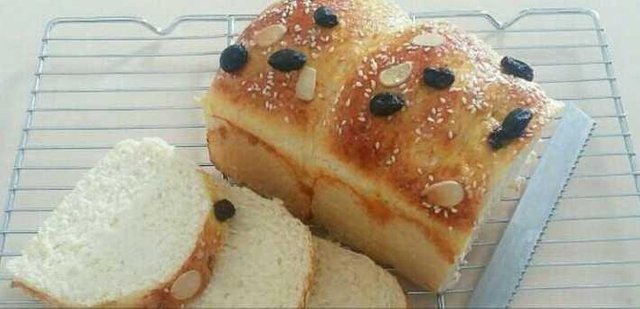 ---
Ingredients
5 grams of yeast
25 grams of sugar
1 egg, shake off
30 ml of vegetable oil, such as Canola
125 ml of warm water
3/4 tsp fine salt
340 grams of versatile flour, my chakra
1 egg yolk for spread
taste sesame seeds for sprinkling
to taste the big granulated sugar for sprinkling
taste raisins for sprinkling
to taste almond slice
toping please adjusted with each stock
---
How to Make
Activate yeast. Mix warm water, yeast, and 1 tsp sugar. Stir well, let stand 10 minutes.
Mix flour, sugar, salt, eggs, oil and yeast mixture. Mix well with hand until well blended and not sticky in hand. If the dough is a bit hard to blend, add a little oil and water until the dough is moist enough, while continuously in leveling. Movement folded.
Cover the dough with plastic wrap, in a container already in oil. Let stand for 2 hours.
Boxing dough, move to the work table that has been fluted
Thread a hand with thin flour. The dough will be fibrous, gpp because it does not go through the ulen stage.
For 3 doughs, round. Arrange in baking loaf which has been in basting margarine and in baking sheet. Can also make a shape of braid, so ga use a loaf pan, use cookie cake also can.
Allow the song to expand. Cover clean napkins. 30-60 minutes
Apply egg yolks, sprinkle sesame, raisins, almonds and sugar. No toping can also, so like fresh bread, stay smeared jam / butter.
Bake 180'C 30 minutes, or adjust each oven. Do not overbake yes, later the bread is hard. My oven 25 minutes 180'C is ripe.
---
Good Luck