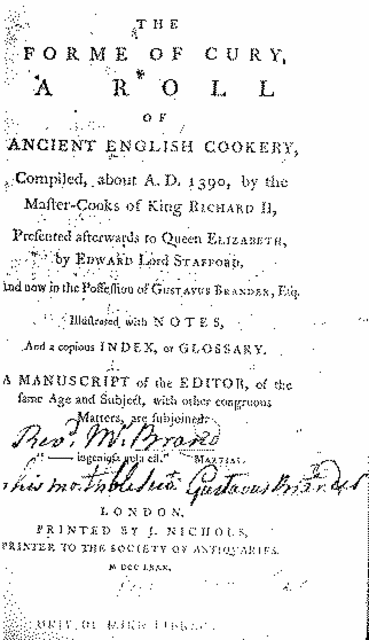 (see above)
The
Forme of Cury,
A Roll
Of
Ancient English Cookery,
Compiled, about A.D. 1390, by the
Master-Cooks of King Richard II,
Presented afterwards to Queen Elizabeth,
by Edward Lord Stafford,
and now in the Possession of Gustavus Brander, Esq.
Illustrated with Notes,
And a copious Index, or Glossary.
A Manuscript of the Editor, of the
same Age and Subject, with other congruous
Matters, are subjoined.
London.
Written around 1390, the Forme of Cury is a medieval scroll of recipes used in the royal kitchens of Richard II of England. It is thought to be one of the oldest manuscript cookbooks in the world.
It is available online in its entirety in written format here-
University of Manchester- http://www.library.manchester.ac.uk/inthebigynnyng/manuscript/ms7/
or here http://www.pbm.com/~lindahl/foc/
also http://www.fullbooks.com/The-Forme-of-Cury.html
The scanned pages are available here-
and a translation is available by Project Gutenburg e-book project- http://www.pbm.com/~lindahl/foc/8cury11.txt
In its original format, it is a wonderful example of a primary source of evidence of how royalty lived (and ate) during the late 1300s.
I would invite you to spend some time scrolling through the Forme of Cury. Like myself, you may benefit from a glossary such as http://www.thousandeggs.com/glossary.html so that you know that 'Connynges in cyrip' means 'rabbits in syrup'.
You see the importance of honey as a sweetener, the emergence of sugar from the Indies (East) and how even English nobility knew about what rice was and how to prepare it.
Salt was an extremely important commodity of these times and if you research you will see show how it was used to exhibit wealth and for commerce. Spices are on another level of expensive, and it is interesting to correlate Richard II's expensive tastes with the increase in taxes and riots of the time.
Personally I just love the spellings. ....cubebs, grains of Paradice, nutmeg, caraway, powder-douce..... Love it.
Love and light,
platel3t