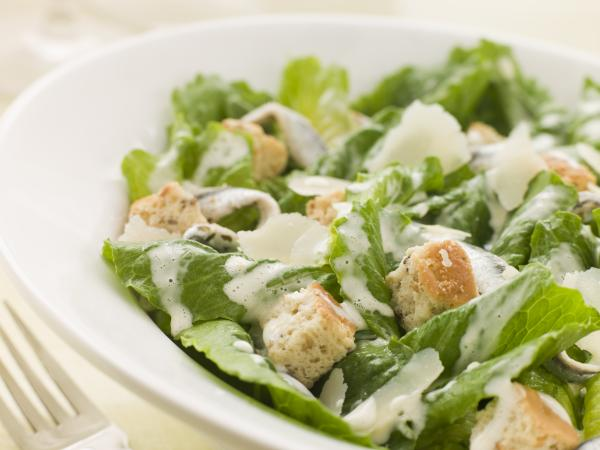 Source
I share today this very rich recipe, it is one of the most popular salads in the world, the César salad is easy to prepare and its ingredients can be bought at any supermarket. The Cesar salad is very versatile as it is very provocative and we can eat it if it is to our liking as a main course since it gathers ingredients that satisfy our hunger.
The recipe has been modified from the original with the passage of time to include pieces of chicken meat (usually roasted), boiled egg, crispy bacon, shrimp and other ingredients. So here our creativity plays a very important role.
Let's step step of this delicious Cesar salad.
Ingredients:
1 egg
2 tablespoons of vinegar
2 tablespoons of lemon juice
5 tablespoons of water
2 teaspoons of sugar
1 pinch of mustard
White pepper
1/2 teaspoon salt
1 can of anchovy fillet
3/4 cup grated Parmesan cheese
preparation:
Wash, drain and chop the lettuce with your hands. Brown the bread cubes in the 3 tablespoons of butter and 1 tablespoon of English sauce. Cook the egg in boiling water for a minute and cool. Apart prepare the vinaigrette with the oil, the vinegar, the lemon juice, the water, the English sauce, the mustard, the sugar, the pepper and the salt, beating very well.
Rub the salad bowl with the cloves of garlic, add the lettuce, the vinaigrette, the chopped anchovies and the cheese.
Mix gently and finally add the egg and toast.
Serve immediately.
As you can read here, our creativity plays, placing ingredients that are liked by the family.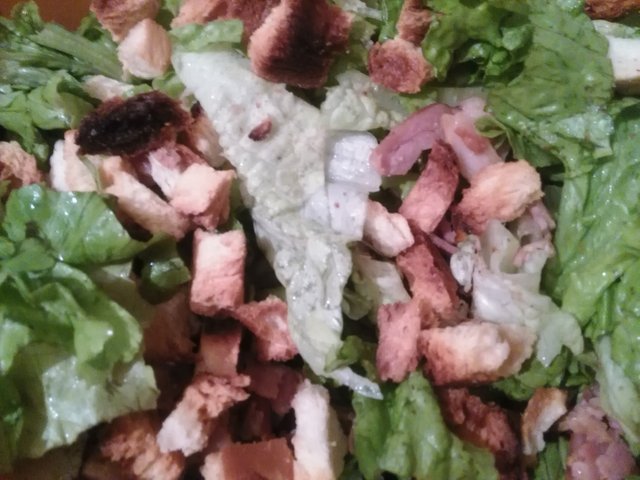 The final result, I hope you like it.
¡ And good profit !
Image taken by me with my mobile Alcatel Pixi 4