Meringue At Home: Recipe
Meringue At Home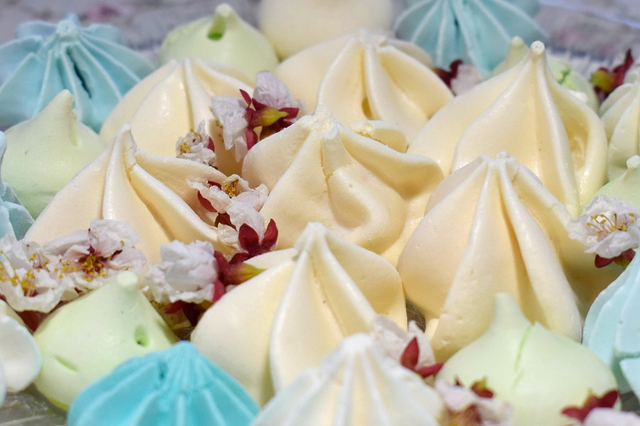 Image Source
Ingredients:
3 egg whites;
180 g of powdered sugar.
What else can you add to your meringue?
The taste and appearance of the classic meringue will help diversify:
vanillin;
cinnamon;
food extracts or flavors (vanilla, almond, mint, fruity and so on);
food colorings (gel dyes will make the meringue more shiny, and powder - dull);
fruit or vegetable juice;
crushed nuts ;
cocoa;
coconut shaving.
Preparation:
Separate the proteins from the yolks. Beat the squirrels with a mixer first at a low speed for about 30 seconds. When the proteins just start to foam, increase the speed to medium and whisk until a thick white foam forms.
Then gradually add the powdered sugar. Turn off the mixer and mix the base for the meringue with a spoon, collecting from the walls the protein mass that was sprayed during whipping.
After that, whisk for a few more minutes at high speed. You should get a thick foam of a uniform consistency. Check the readiness of the basis for meringue, oddly enough, by raising the capacity with it upside down: the protein mass should remain in place.
Put the prepared base in a culinary bag. You can do with an ordinary spoon, but the dessert will not be so beautiful.
Preheat the oven to 100 ° C. Cover the baking tray with parchment paper and form a meringue on it.
Put the baking tray in the oven for an average of 1-1.5 hours. The cooking time depends on the size of the meringue: the smaller they are, the faster they will be ready. For too large meringues, it takes about 2 hours.
Do not open the oven during cooking. Due to the temperature difference, the meringue may crack. The finished meringue should be easily separated from the parchment.
After cooking, turn off the oven, slightly open the door and leave the meringue inside until it cools down for a few hours.
---

Thanks for following.