Chickpeas with Spinach Recipe
Chickpeas with Spinach Recipe
Chickpeas with spinach is one of those complete recipes. Especially on the days of autumn and winter. Hot dish, nutritious, full of chickpea proteins, which can reach 20g per 100g of this legume and vitamin C and calcium from spinach. In addition, it will also have other nutrients from other vegetables that we will add, such as vitamin A from the carrot and the infinite properties of garlic.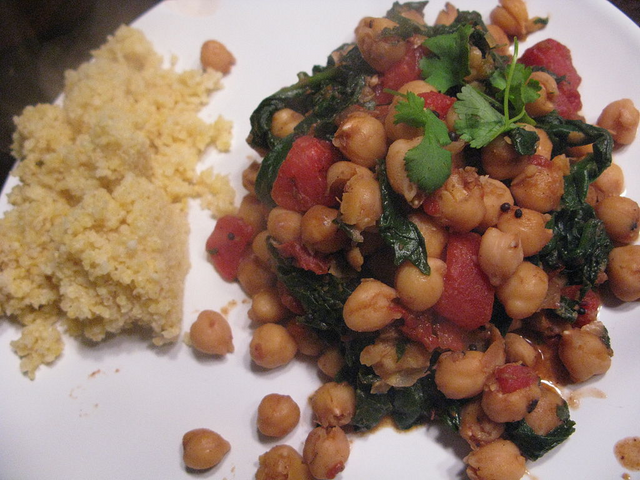 Image source
Ingredients
400g of chickpeas
300g of spinach
2 carrots
2 cloves of garlic
1 teaspoon sweet paprika
1 tablespoon fried tomato
salt and pepper
Olive oil
Preparation
1.- The previous night, we put the chickpeas in soaking. And we do it with plenty of water, covering them more than enough. At least two fingers above as the chickpeas will grow and absorb enough water. Add a teaspoon of baking soda or a handful of salt and leave overnight.
2.- The next day, we drain them from the water. We give them a wash with fresh water and put them in a pot. We add the paprika, the carrot cut into slices and the garlic. If you do not like the taste of garlic very much, you can throw it whole. If you love it, pinch it and add it that way. It will melt and give its touch to all the stew. Add a drizzle of olive oil, which will give it its special touch and then cover with plenty of water. The chickpeas will absorb a lot of water so do not cut yourself. Two or three fingers above them. Add a handful of salt and freshly ground black pepper.
3.- Let cook over medium heat. If you do it in an express pot, half an hour will be fine. If you do it in the conventional way, about 1 hour and a half or two hours. Until they are soft. However, not all chickpeas take exactly the same time to cook. Some brands take longer than others. If you buy in bulk, the same thing happens. It is best to try to find the exact point but it will vary between 30-40 minutes if you do them in a pressure cooker or between an hour and a half or two hours if you do them in a conventional way.
4 .- Once cooked, you can add more water if you see that you had been short before. We also add the tomato spoonful that more than flavor, will give it, next to the paprika, a touch to the reddish caldito and we also add the spinach. Mix well and let cook two or three minutes more. Until the spinach has shrunk and they have integrated well with the chickpea stew.
---

Thanks for following. Hope you like the article.