English
Deutsch
---
Hi, here I come again with an idea for a BBQ-party with your loved one 😊.
This pictures were taken few days ago when it was really hot outside so that I even set a paddling pool for my daughter to play, the weather was perfect for a sun bathing in the garden and grill something then playing with water 😁.
This is an indonesian style seafood BBQ, so we are not using deboned fishes. Those living near the sea should better get the fresh fish, cos it will give you the best taste 😊. Unfortunately I could only use frozen Dorade for my BBQ.
However according to my experience up to now, Dorade is the only fish species commonly found in Germany supermarket which is resembling the taste of Asian fishes nornally used for BBQ the most.
But if you have many varieties of fishes in nearby market, you can choose one of these fishes too: snapper, tilapia or carp.
Let's just jump to the recipe!
Our ingredient lists are as follows:
2 Dorade (ca 1 kg in total)
1 pc lemon/lime
For the marinade:

1 tbsp coriander seeds
3 cloves garlic
1 big onion or 2 shallots, medium size
1 chili (optional)
1 tsp ground tumeric (optional)
0,5 tsp salt
Grind all the ingredients using a mortar and then set it aside until it's time to marinate the fish.
Clean the fish, and scrap the scale then rub it with lemon or lime juice thoroughly. It doesn't only wipe away the fishy smell but also add some taste to the fish.
Put the fish in the fridge for at least 30 minutes and then we can marinate it thoroughly.
Leave the fish in the fridge again for atleast 1 hour before we can grill it.
While grilling you can brush the fish with a layer of "sambal kecap" (or butter in case you choose to make sambal terasi instead).
There are few options for salsa and the one in the picture is called: "sambal kecap".
But I will give you another additional recipe for salsa here in case you can't find indonesian style of sweet soy sauce for the sauce I used in these pictures.)
A. Sambal Kecap:
2 pc Thai bird eye chilis or jalapeno (throw away the seeds if you want it less spicy)
1 big onions or 3 medium size shallots
1 big tomatoes or 6 cherry tomatoes
2 cloves garlic (optional)
a cup of indonesian style sweet soy sauce
0,5 tsp of keffir lime juice (optional)
a pinch of salt
Note: If you like it, you can add a table spoon of peanut butter but it's not really necessary. Just chop the onion, garlic and tomatoes then mix all the ingredients for the dip in a small bowl and serve it with the grilled fish
B. Sambal terasi
Note: Terasi is fermented shrimp paste. It tastes good but it's rather smelly, so you can just skip this if you dislike the smell.
Without it of course one can't really call this sauce "sambal terasi" anymore, neverthless it is still tasty anyway.
The ingredients are the same like "sambal kecap", but without the sweet soy sauce and using 0,5 tsp terasi (shrimp paste), 1 tsp brown sugar and 0,5 tsp salt instead.
Grind all of the ingredient using a mortar and then you can sautee the sauce in a skillet with a table spoon of canola oil or you can also just serve it directly without frying.
The grilled fish will be served traditionally with plain steamed rice, raw white cabbage or lettuce, sliced cucumber and tomatoes, asian basilikum and the salsa.
I didn't have cucumber nor basilikum at that time so I just made a standard western style salad but sprinkle some sesame seed and sesame oil on it.
Have a nice BBQ everyone and thanks for your upvotes 😊!
Hallo, hier komme ich wieder mit einer Idee für eine BBQ-Party mit eurer Liebsten 😊.
Diese Bilder wurden vor ein paar Tagen aufgenommen, als es draußen sehr heiß war, so dass ich sogar ein Planschbecken für meine Tochter zum Spielen aufgestellt habe. Das Wetter war perfekt, um unter der Sonne im eigenen Garten zu liegen, zu grillen und dann mit Wasser zu spielen 😁.
Dies ist ein Fisch-BBQ nach indonesischer Art, daher verwenden wir den ganzen Fisch statt Fillet.
Diejenigen, die in der Nähe des Meeres leben, sollten sich besser frische Fische besorgen, denn so bekommt man den besten Geschmack 😊. Leider konnte ich für mein BBQ nur gefrorene Dorade verwenden.
Nach meinen bisherigen Erfahrungen ist Dorade jedoch die einzige Fischart, die in Deutschland im Supermarkt leicht zu finden ist und die dem Geschmack der asiatischen Fische, die normalerweise zum Grillen verwendet werden, am meisten ähnelt.
Aber wenn ihr viele verschiedene Fischsorten auf dem nahe gelegenen Markt habt, könnt ihr auch einen dieser Fische wählen: Schnapper, Tilapia oder Karpfen.
Jetzt lass uns einfach zum Rezept springen!

Unsere Zutatenlisten sind wie folgt:
2 Dorade (insgesamt ca. 1 kg)
1 St. Zitrone/Limette
Für die Marinade:

1 Esslöffel Koriandersamen
3 Zehen Knoblauch
1 große Zwiebel oder 2 Schalotten, mittelgroß
1 Chili (auch ohne, wenn ihr kein scharfes Essen erträgt)
1 Teelöffel gemahlenes Kurkuma (optional)
0,5 Teelöffel Salz
Alle Zutaten mit einem Mörser zermahlen und dann beiseite stellen, bis der Fisch mariniert werden kann.
Reinigt den Fisch, schabt die Schuppen ab und reibt ihn gründlich mit Zitronen- oder Limettensaft ein!
Das wischt nicht nur den Fischgeruch weg, sondern verleiht dem Fisch auch etwas Geschmack.
Legt den Fisch für mindestens 30 Minuten in den Kühlschrank, dann können wir ihn gründlich marinieren!
Lass den Fisch nochmals mindestens 1 Stunde im Kühlschrank, bevor wir ihn grillen können!
Während des Grillens könnt ihr den Fisch mit einer Schicht "Sambal Kecap" (oder Butter, falls ihr stattdessen Sambal Terasi zubereiten möchtet) bestreichen.
Für die Salsa gibt es bei uns viele Optionen, und die auf dem Bild wird: "Sambal Kecap" genannt.
Ich werde euch hier noch ein weiteres zusätzliches Rezept für Salsa geben, falls ihr keine indonesische Art von süßer Sojasauce finden könnt, die für "sambal kecap" benötigt wird).
A. Sambal Kecap:
2 St. Thai-Chili oder Jalapeno (wirf die Samen weg, wenn ihr es weniger scharf wollt!)
1 große Zwiebel oder 3 mittelgroße Schalotten
1 große Tomaten oder 6 Kirschtomaten
2 Zehen Knoblauch (kann auch weggelassen werden)
ca 235ml süße Sojasauce nach indonesischer Art
0,5 Teelöffel Keffir-Limettensaft (kann auch weggelassen werden)
eine Prise Salz
Hinweis: Wenn es euch gefällt, könnt ihr einen Esslöffel Erdnussbutter hinzufügen, aber es ist nicht wirklich notwendig.
Einfach Zwiebel, Knoblauch und Tomaten hacken, dann alle Zutaten für den Dip in einer kleinen Schüssel vermischen und mit dem gegrillten Fisch servieren.
B. Sambal terasi
Anmerkung: Terasi ist fermentierte Garnelenpaste. Sie schmeckt gut, aber sie riecht ziemlich stark, so dass ihr dies einfach weglassen könnt, wenn euch der Geruch nicht gefällt. Ohne sie kann man diese Söße natürlich nicht mehr wirklich als "Sambal Terasi" bezeichnen, aber sie schmeckt trotzdem noch.
Die Zutaten sind die gleichen wie bei "Sambal Kecap", aber ohne die süße Sojasauce und stattdessen mit 0,5 Teelöffel Terasi (Garnelenpaste), 1 Teelöffel braunem Zucker und 0,5 Teelöffel Salz.
Alle Zutaten werden mit einem Mörser zermahlen, und dann in einer Pfanne mit einem Esslöffel Rapsöl angebraten, oder ihr könnt sie auch einfach frisch servieren, ohne zu braten. Angebraten wird die Söße aber länger haltbar.
Der gegrillte Fisch wird traditionell mit gedünstetem Reis, rohem Weißkohl oder grünes Salatgemüse, Gurken- und Tomatenscheiben, asiatischem Basilikum und Salsa serviert.
Damals hatte ich weder Gurke noch Basilikum, also habe ich einfach einen Salat nach westlicher Art zubereitet, aber mit Sesamkörnern und Sesamöl bestreut.
Als Getränk habe ich ein Früchtcocktail gemacht.
Ich wünsche allen ein schönes BBQ und danke für eure Upvotes 😊!
---
Our little princess is ready to enjoy the fish!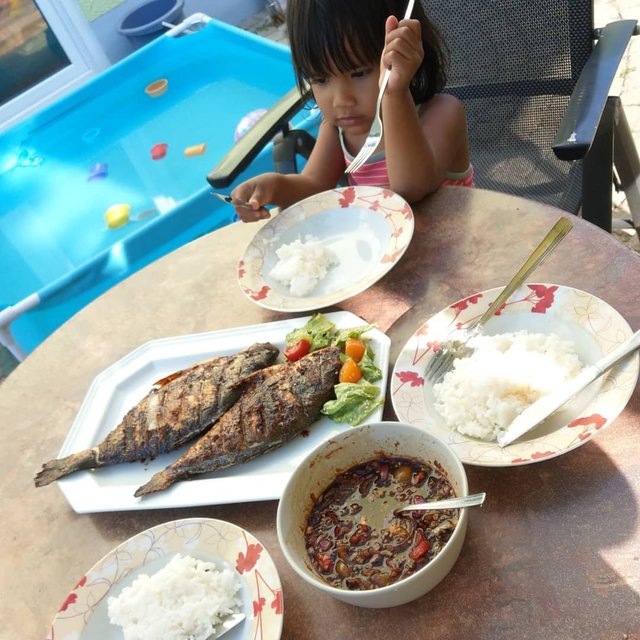 ---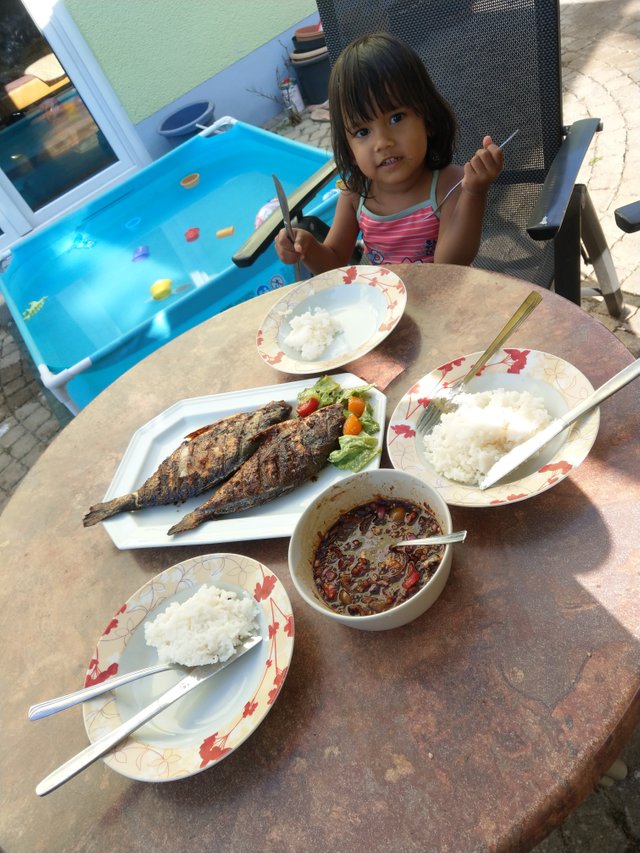 ---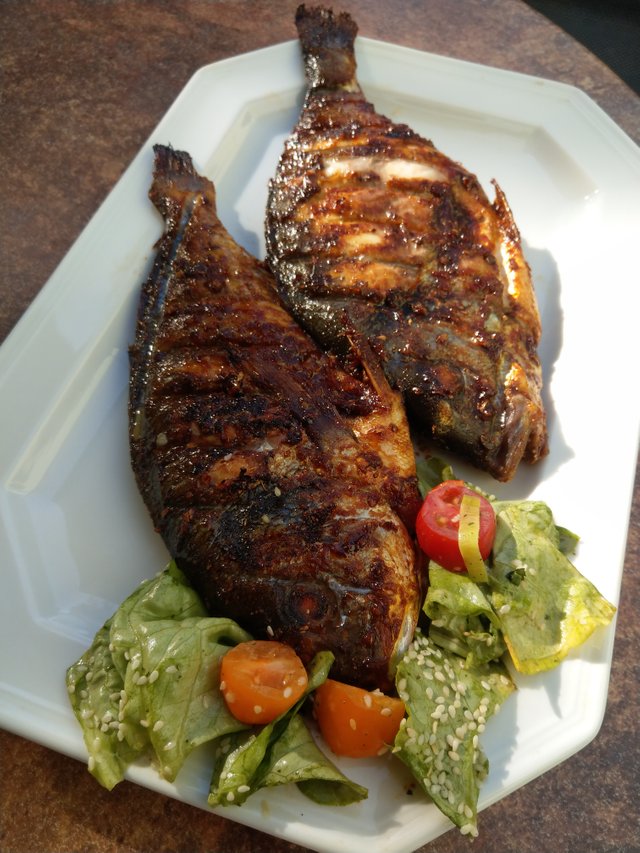 ---
Fruitcocktail: mango, basil seeds, rapsberry, strawberry, mint and rubharb syrup.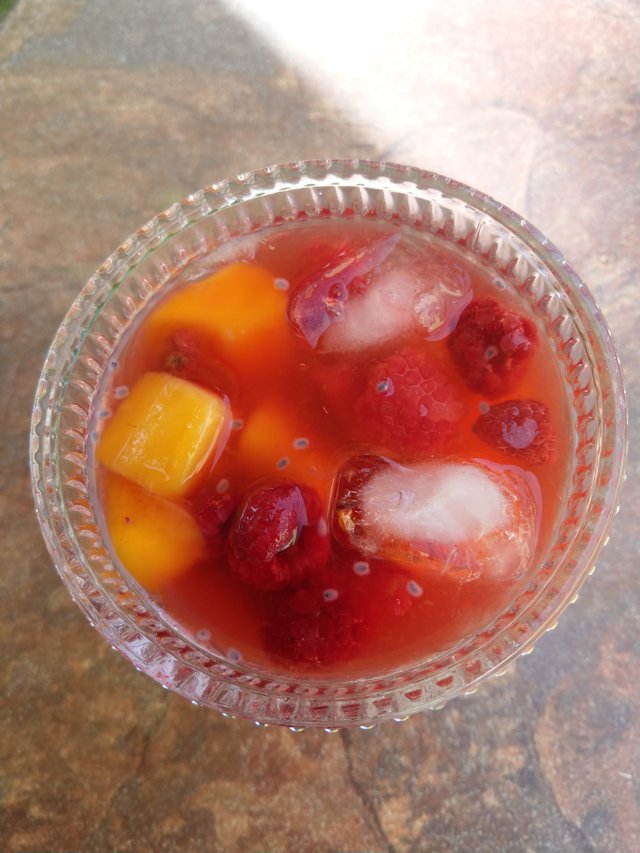 ---
Sambal Kecap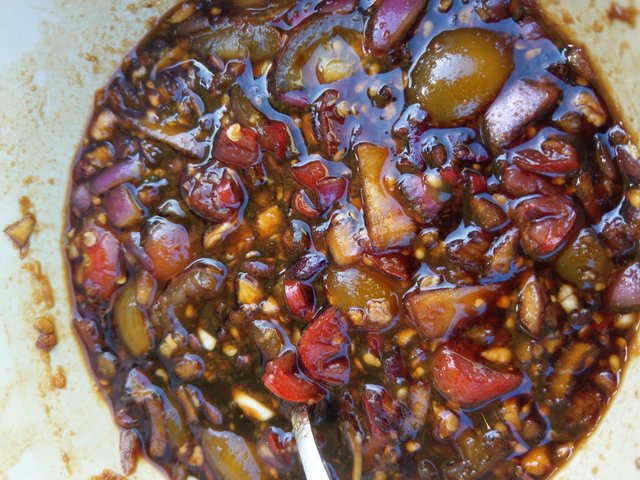 ---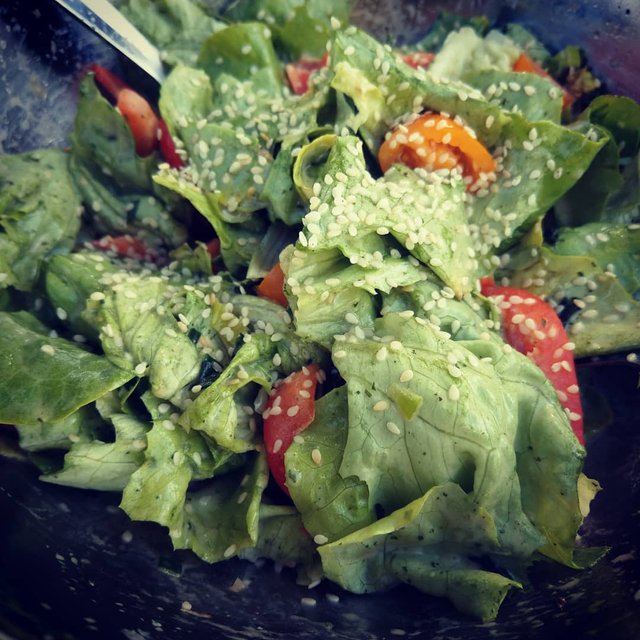 ---
Our little girl has been decorating our sidewalk around the house with alphabets while waiting for the fish to be done 😅.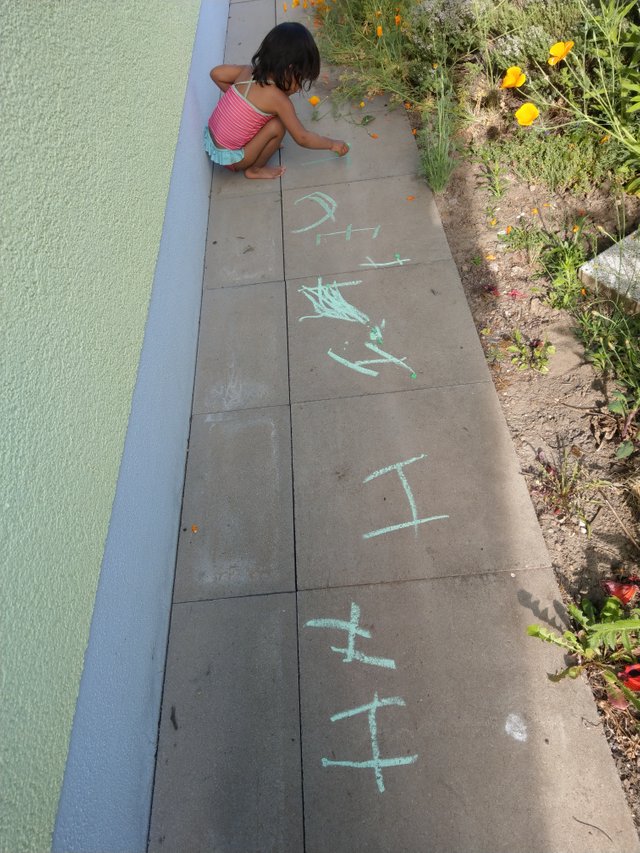 ---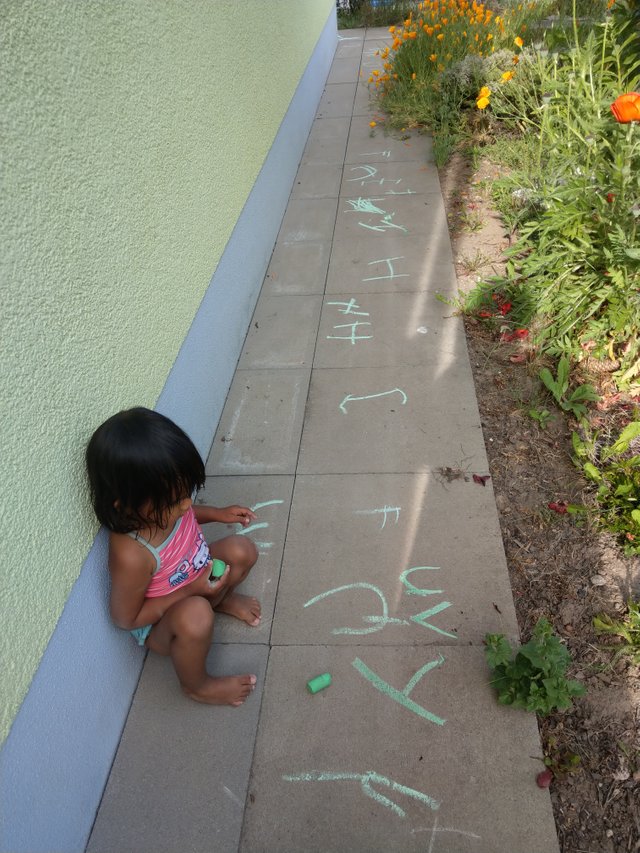 ---