Creamy, dreamy, delicious hot cauliflower soup !!!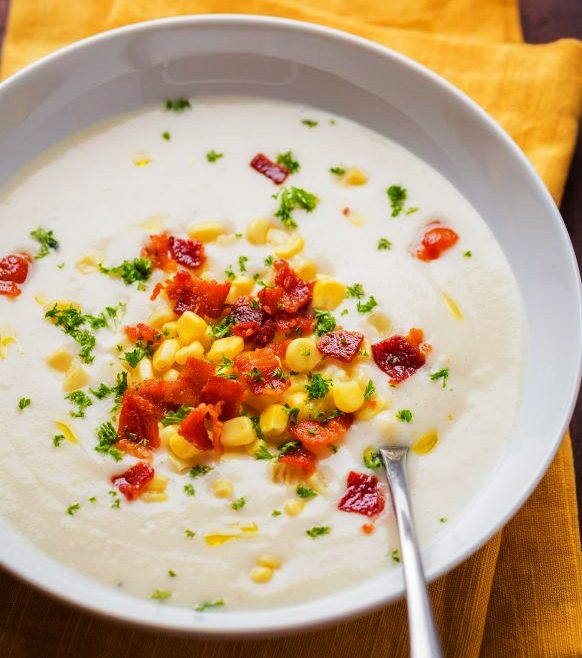 Fixings
12 oz bacon, cut into ½" pieces
1 medium onion, diced
4 medium reddish brown potatoes, peeled and hacked into ½" thick pieces
1 medium head cauliflower, cored and cleaved into florets
7 mugs warm water
1 glass overwhelming cream
4 tsp salt or to taste
½ tsp ground dark pepper
¼ to 1 tsp cayenne pepper, or to taste
2 to 3 mugs corn pieces (cooked from new or solidified)
1 Tbsp parsley, finely cleaved - discretionary trimming
Guidelines
Cook bacon in a 5½ qt+ substantial bottomed soup pot or dutch stove over med/high warmth until seared. Expel bacon with opened spoon to paper-towel-lined plate.
Empty the bacon oil into a bowl. Spoon 3 Tbsp of bacon oil again into the pot and dispose of the rest. Include diced onion and sauté 5 min or until delicate.
Include hacked potatoes and cauliflower, 7 containers warm water alongside 4 tsp salt, ½ tsp dark pepper and cayenne pepper to taste. Mix and heat to the point of boiling. Include 1 container cream, diminish warmth to a stew, cover and cook until the point when potatoes are cooked through (around 15 min).
In the interim cook your corn. Deplete and cover to keep warm.
Puree the soup in bunches in a blender until totally smooth (ensuring your blender has a bit of breathing gap at the best so you don't make a suction vacuum from the hot fluid. Return soup to the pot and season to taste (for a grown-up soup, we include another 1/2 tsp cayenne). To serve, Ladle into warm bowls and topping liberally with bacon bits, cooked corn bits and crisp parsley.